---
Previous Article: "Apple (AAPL) Sellers' Target & Buyers' Hope"
---
Resistance to Overcome (Daily)
Currently Apple (AAPL) is sitting just below this falling-downtrend resistance.  This is prominent level of resistance for the fact that it has been acting as strong resistance since July of 2015; also, as long as the stock is below this level, the intermediate term sentiment is bearish with lower-highs in place.  If the buyers wants to see more confidence from the investors and traders on Apple, we must conquer above this level with volume to nullify this downtrend resistance.  If we can able to clear above this resistance (and stay above it), I do think $120ish is very possible.  But opposite is also true that if we get rejected at this level, $100ish will be next level of support to watch.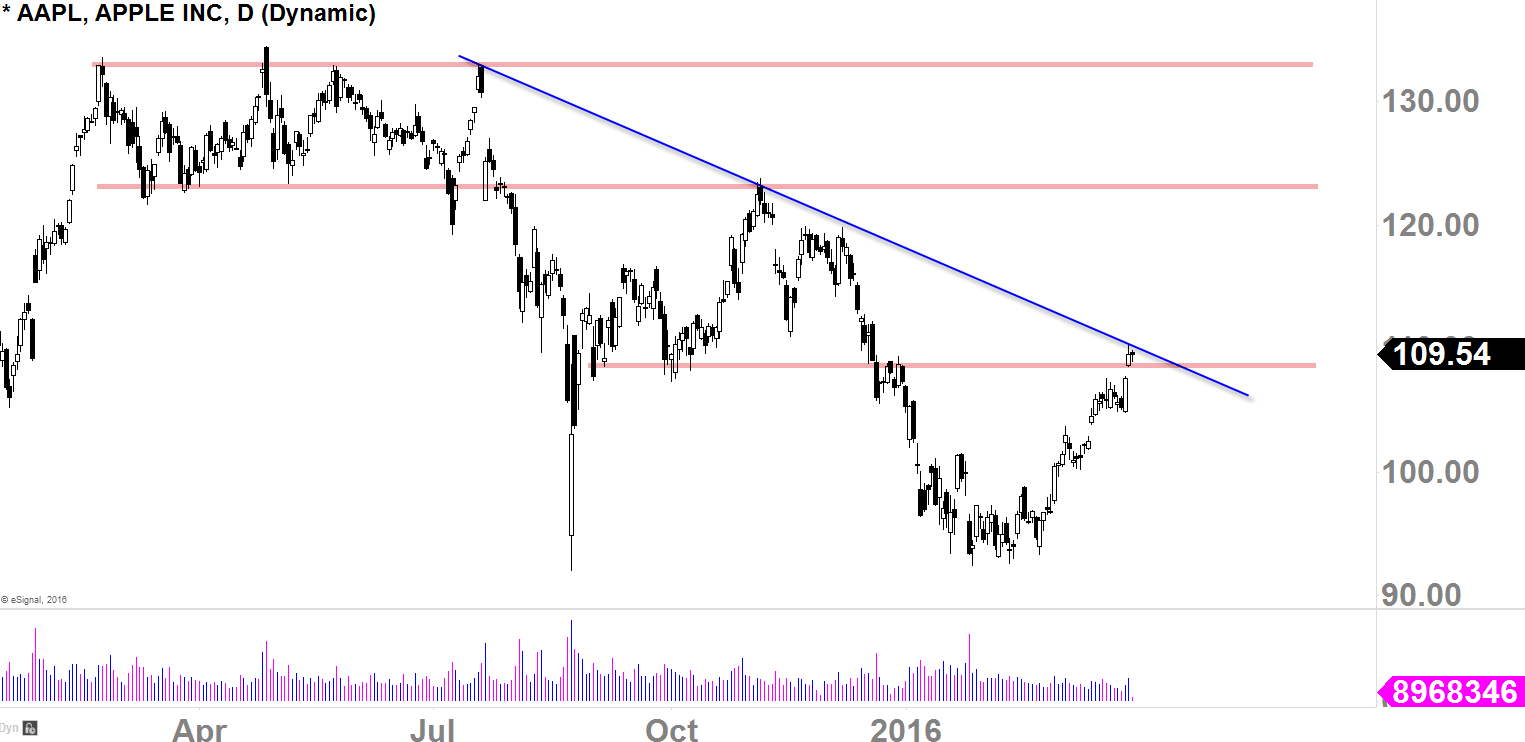 Bullish Candles (Monthly)
When it comes to the Candles, location is everything.  For the fact that we have formed (this month is ending today so that current monthly-candle is solidified) a Morning Star reversal candle on a prior resistance ("old resistance") level (which could turn into a "new support" level), it heightens the legit-ability of that pattern.  If we see a follow through (to the upside) candle by the end of April, that Morning Star reversal candle will be confirmed.
Bullish Signal (Monthly)
This is our proprietary indicator specifically reconfigured to call major tops and bottoms.  As we compare the sentiment from the 2013 price-action, you can see how we are starting to bounce right on that "support" level this year.  I think this signal is that much more significant for the fact that we have formed Morning Star candle patterns on top of this signal.
---
Also seen on Investing.com
---