---
Previous Article: "Google Getting Ready for a Big Move (Long Term Analysis)"
---
Our Holdings
We've been long on Alphabet Inc (GOOGL) since March 19 of this year as the buyers were slowly accumulating this stock on their portfolio.
There were much fear since the late-2014 correction as this stock dipped as low as $490ish in early-January of this year, which at that point, the stock was still in a downtrend and it would've been a foolish thing to buy at that level (because it could continue lower, we must ascertain the reversal with tangible data before engaging instead of guessing the bounce).  We wanted to wait and see if we can able to cultivate some kind of intermediate-term uptrend first before even thinking about initiating.
As you can see in the chart below from March 19, once we've started to form major-bottoming pattern while cultivating intermediate-term uptrend, we've decided to pull the trigger at $563.03 to hold towards end of this year.
Few things we were looking for was, positive Earnings Report reaction from the public, so the stock can able to use that environment as a catalyst to thrust higher and get out of this mess from late-2014.
With July and October's positive ER reaction, GOOGL started getting into that "Public Participation" phase, and at this phase, the stock is presumed to be in a strong bullish uptrend
Our target price was $800 (see article), but we've decided to close about 70% of our holdings here and ride the rest to about $800 before completely closing it out
Daily Chart with 50EMA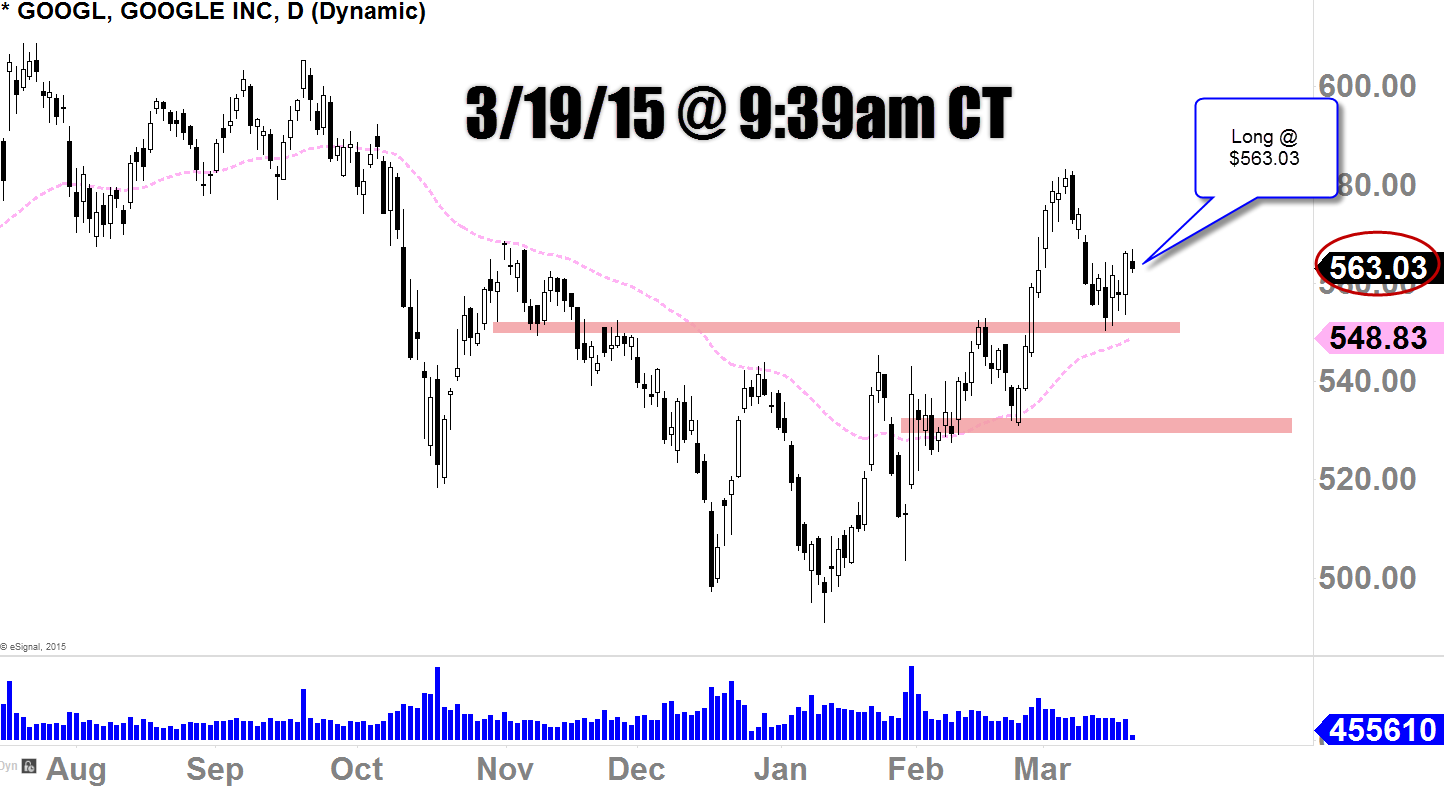 Little More Room
Looking at the long-term perspective chart below, we can see that we may have little more room to go here according to the Stochastics.  Once the Stochastics reaches about "100" level, we may encounter some distributional phase in the intermediate-term.
Keep in mind, we are still in a primary-term uptrend, and trend is still looking healthy as of today.
Weekly Chart with Stochastics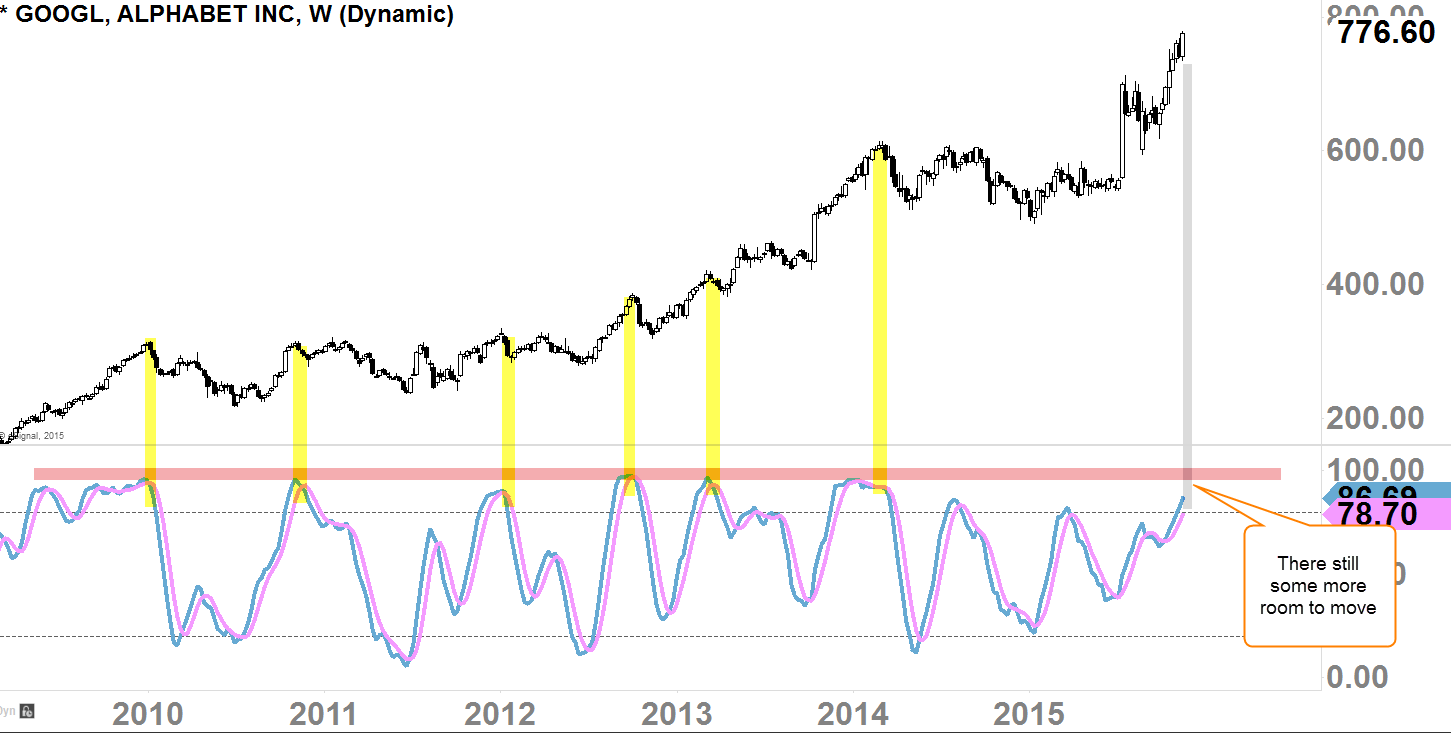 ---
Post Update: 12.29.15
---
Remaining Positions Closed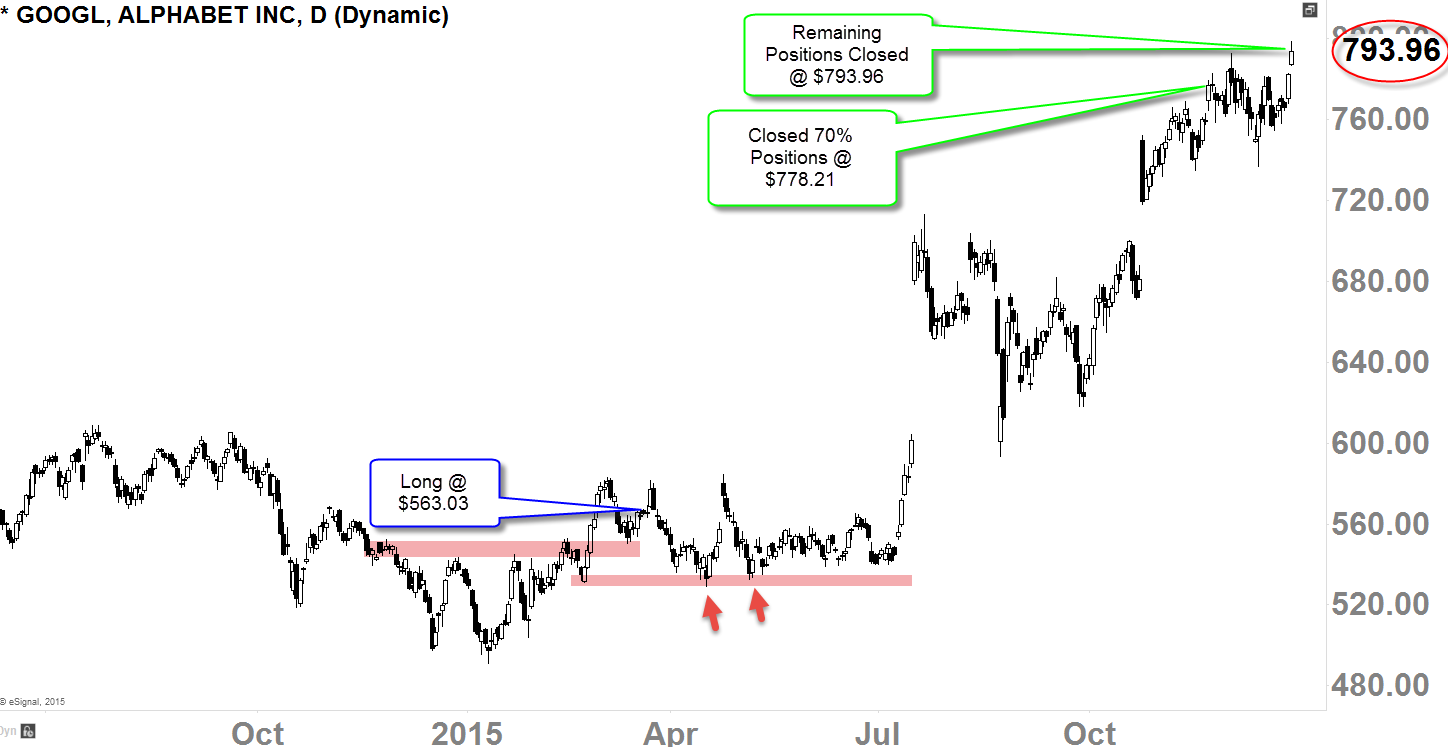 Our target was $800 (see previous article), and today, we've decided to close all of our remaining positions at $793.96.  We've been long since March 19th of this year, so we held our positions about 9 months.  I think Google can continue to grind higher, but we are very satisfied with taking profits here at this level; and we do not have any plan to go back long on Google anytime soon.