---
There is interesting development happening in the Utilities Select Sector (XLU), so I wanted to present to you the arguments from the both sides (buyers and sellers) looking at the weekly-chart perspective.  Keep in mind though, price-action has not been confirmed on either direction, but it's definitely worth watching for the opportunity in the coming months.  I am leaning slightly to the upside, but regardless on it's direction, I think it will give us a good opportunity on both directions once it confirms.
---
Bullish Argument
As you can see, the chart is still bullish; we are still in the primary-term uptrend without a confirmation of a reversal as of today (I mean we are testing that last level though, but definitely not fully confirmed yet).  This means, as of today, looking at a long-term, benefit of the doubt still goes to the buyers until wee see a clear signal that it has been reversed.  As you can observe in the chart below, the rising-uptrend support and the horizontal support seem to be holding so far as the buyers are trying to protect this level.  This does not mean it's "bullet proof", and that's why we need confirmation if this level is going to hold for a continuation.
Here is my thought on this: If we do recover from this, while there are much fear in the market, I think Utilities (XLU) will thrive indulging this fear as catalyst to move to the upside.
But, ultimately, the dictatorship goes to the overall market; if the overall market re-stabilize itself, I have no doubt that the Utilities (XLU) will bounce back up.  And conversely, if the overall market tanks, Utilities probably going to tank as well.
Weekly Chart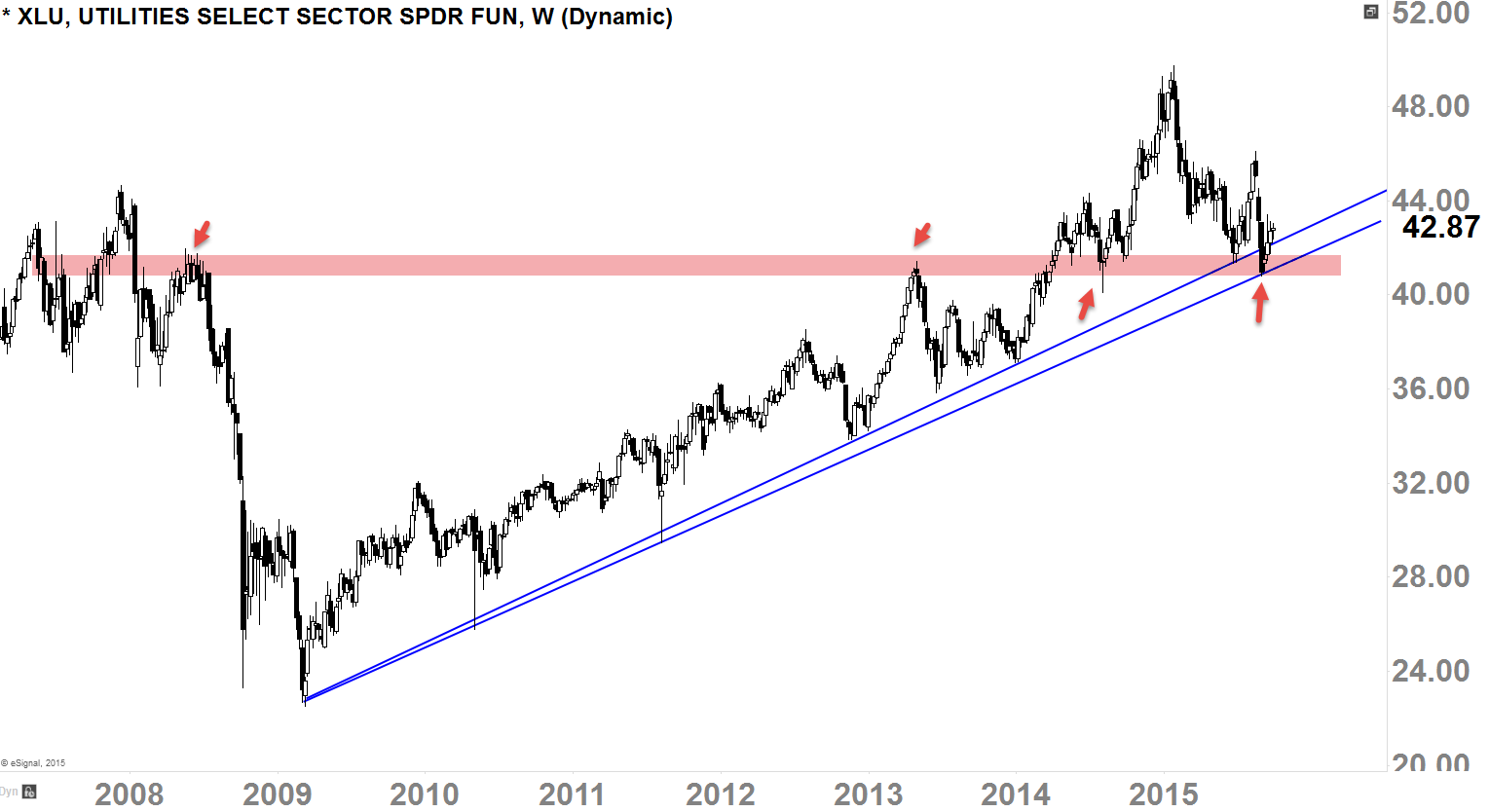 Bearish Argument
Back in 2008-2009, as the overall market crashed, Utilities (XLU) also crashed after a huge warning signal of that H&S formation as you can see in the chart below as I have annotated.  Currently, we are forming almost exact same pattern as it did back in 2008.  Yes, history does repeat, but we know that sometimes market loves to play games with your heart.  Form a pattern, and pull in the bears, and then, tear their heart out–I am not saying that's what is going to happen, but what I am saying is, let's wait for a confirmation.
Here is my thought on this: If we start to trade well-below $40.00 price level on XLU, I think this could have huge bearish implications like it did back in 2008-2009.  
Below $40-level would be an initial confirmation of that H&S formation we are currently forming in this weekly chart.  This is a pattern that can potentially demise and terminate the primary-term uptrend, so yes, this is a huge warning signal.  So I think we are going to see some interesting thing happening in the coming months.  I am actually kind of excited to see who is going to pull through. Bulls or bears?
Weekly Chart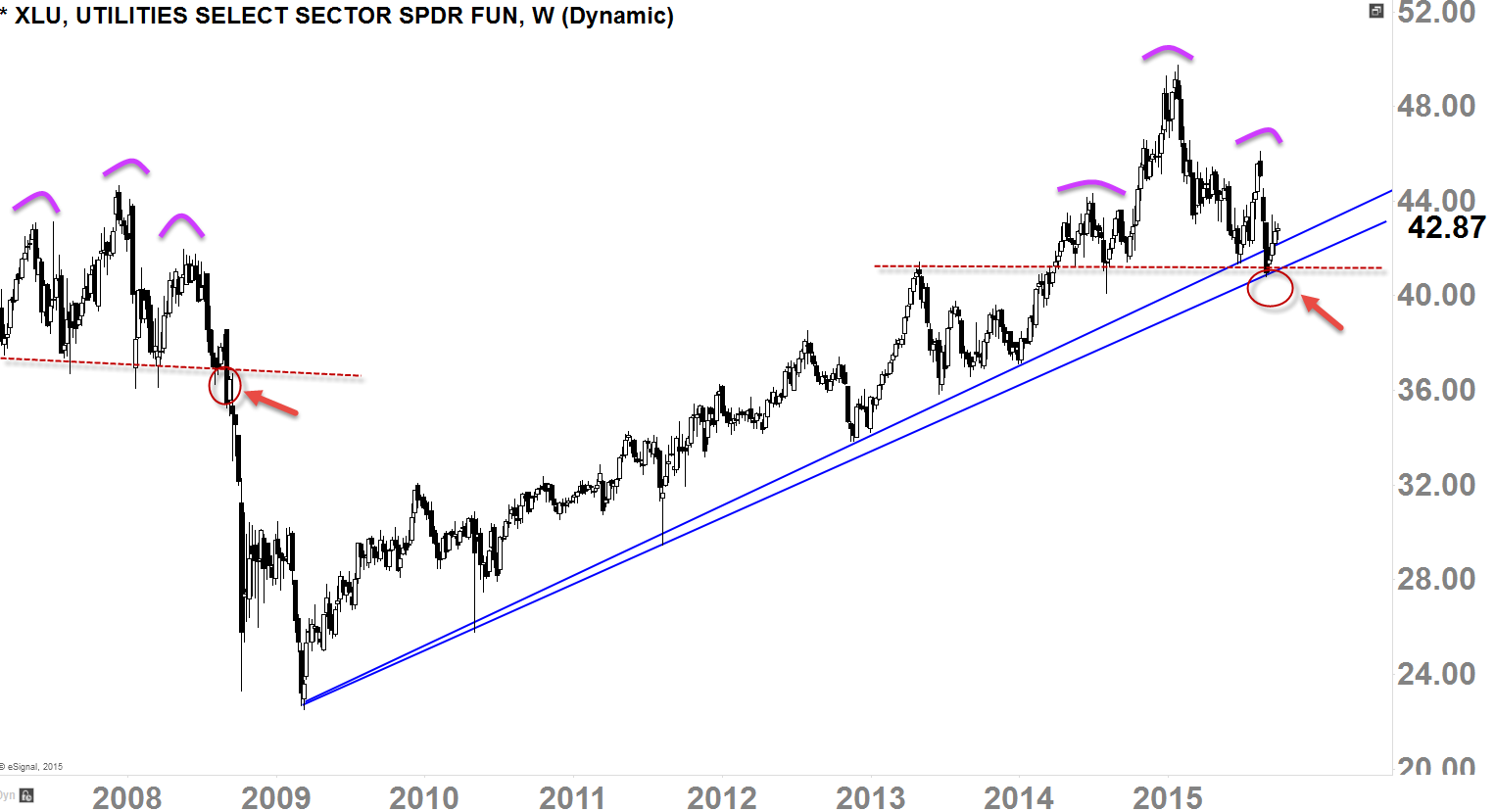 Minor-Term Pattern
This is what we call Inverted H&S formation development which is a bullish-reversal pattern.  Keep in mind, that this being a 65-mins chart, upon confirmation of this pattern, $45-$46 as the target–nothing long-term here.  But I thought I would share this interesting pattern occurring in the short-term.
65-mins Chart