Weekly RSI
We know that there is nothing absolute in the market, but we can ascertain probabilities.  There are many factors that need to be accounted for when you are doing your analysis on a specific stock  to presume it's direction especially for a long-term forecast.
This chart I am sharing it's just one of the factors out of many, and I think it's worth to follow at least for the rest of this month and possibly going into the next month.
Bottom of the RSI (highlighted with red) is what we call a "oversold" territory, and when a stock hits that level, that's the level we can possibly see a "oversold" bounce.  But, that does not mean it will completely reverse back up (again, there are other factors you have to keep in mind), but it's a potential-level because we could have a temporary bounce before going lower.
---
Looking at the historical perspective in this weekly-chart of Apple (AAPL)…
In 2009, when RSI hit the "oversold" territory, we reversed completely.
In 2013, when RSI hit the "oversold" territory, we reversed completely.
In the present time, RSI has hit the "oversold" territory and now bouncing back up..
---
If we ignore everything else ("the other factors"), and just focus on this chart as the "absolute", then we can see that Apple (AAPL) has a good chance bouncing back up if we look at things in long-term perspective.   If you've been studying the minor-term chart (such as daily actions), there are still levels that Apple (AAPL) needs to overcome before it gets attention from more buyers (I covered these "levels" on my last video), but I think this is a positive data for Apple (AAPL) if the overall market can stabilize itself (long-term overall market analysis video).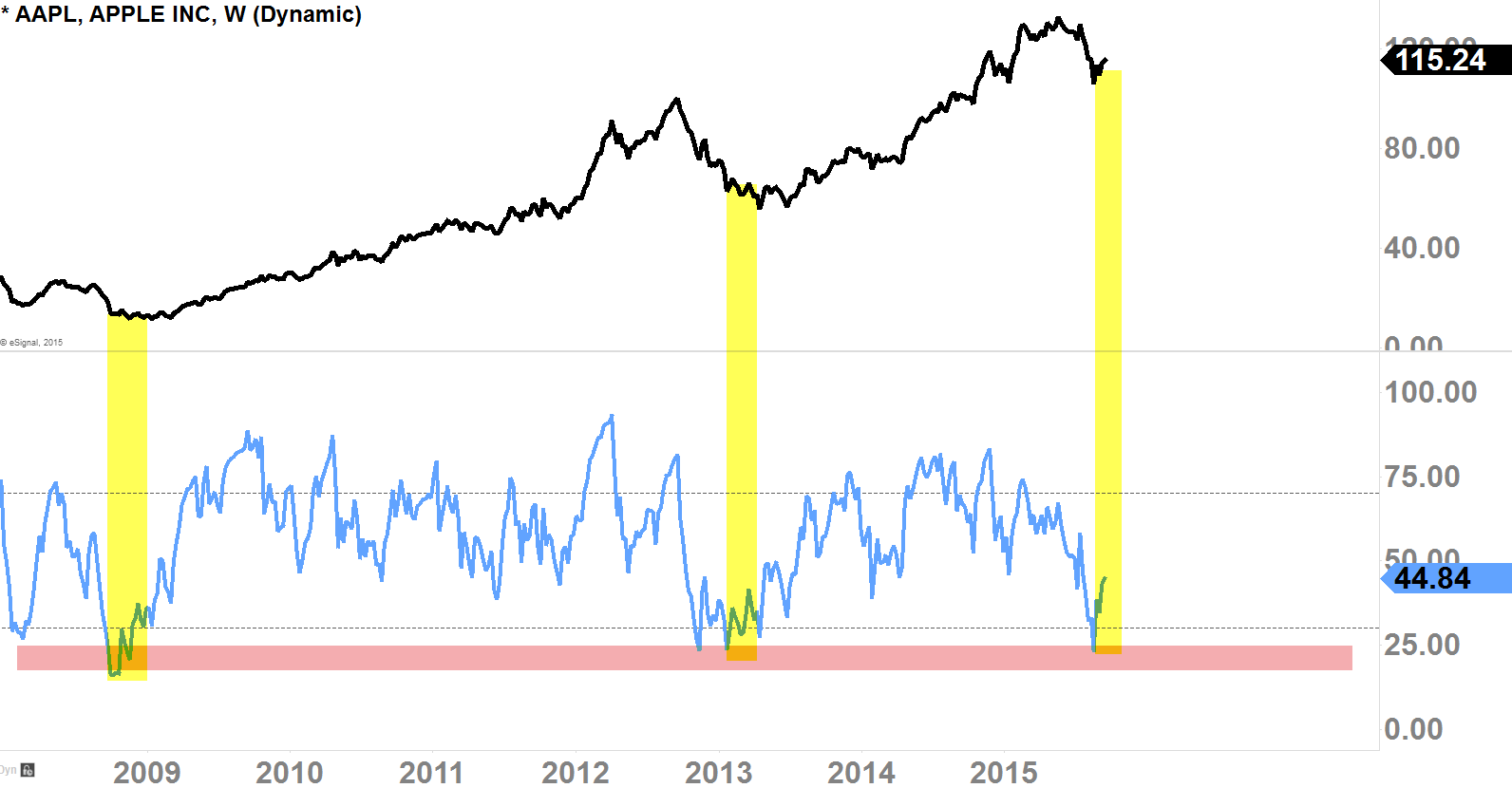 (AAPL Weekly-Chart with RSI)