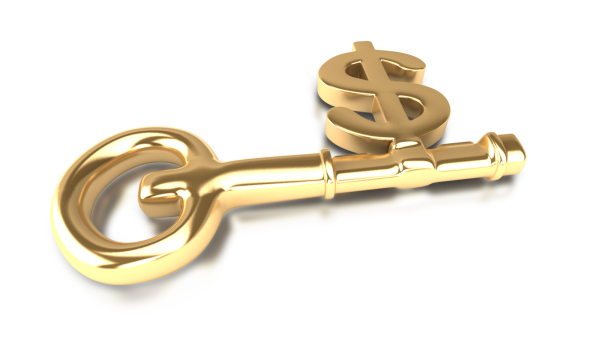 [divider]
Related Article
12.28.14 "Russell 2000 Might be the Key for 2015 — IWM RUT (PART 1)"
[divider]
The Russell has been strong since the late-2014 as it had repudiated potential market-topping pattern that was formed in the entire year of 2014.   Ever since then it has been faithfully cultivating and establishing intermediate and primary-term uptrend.  We have been long on the Russell since $119ish, and we have been calmly holding.   As the Russell makes new all-time-high, I believe it will continue to be in an intermediate to primary-term uptrend.

In this post I want to share with you several charts that supports that we are still in an uptrend and likely to continue in that fashion towards end of the year.
[divider]
Our Positions
IWM Daily Chart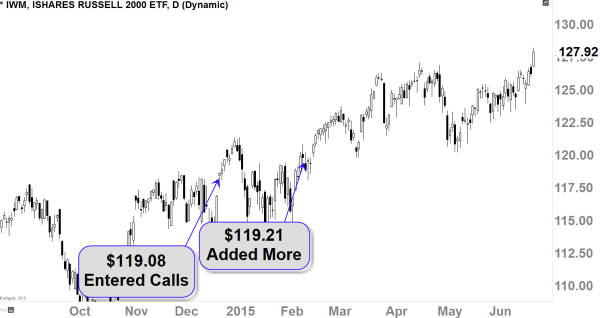 Since the late-December and early-February (see previous article), we have been holding call-positions since $119ish.  In late-April, we did see a pullback but that didn't cause us to act emotionally (or panic) as we stayed calm and realized we were still in the vicinity of intermediate-term higher-low.  Since then the Russell (IWM) continued on seeing strength moving higher, even, with weakness on the S&P 500 (SPX) in late-May and early-June.  With today's new all-time-high record, it is just confirming that we are still cultivating and maintaining primary-term uptrend.  As a trader/investor, that's what we do, we respect the uptrend and we ride the uptrend.
[divider]
Primary Trend
IWM Daily Charts with 100-Day MA
We can clear see in these 'before and after' pictures that we are continuing to cultivate primary-term higher-lows, and sometimes that's as simple as it's going to get to understand the primary-term uptrend.  The pullback will occur but that pullback is merely the market cultivating that higher-low before continuing/resuming it's move.  The good news about the Russell is that, after bottoming on mid-October of 2014, we are now just started forming another primary-term uptrend that could continue on 2-3 years.  As long as they continue to establish and cultivate the primary-term uptrend, we will stay bullish on the market.
[divider]
Historical Perspective
Russel 2000 Index (RUT) Monthly Chart with 20-Day MA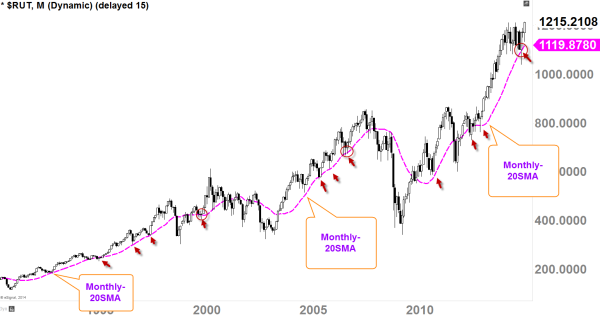 This analysis was done in the Part 1 but still very much viable today.
[quote]Going back all the way to 1990s, we can see that monthly-20SMA has been a big deal when it is trading in a prolonged/aged/seasoned primary uptrend.  Recently, we bounced off of monthly-20SMA and moving higher.  History and probability suggests that the Russell 2000 is likely to continue higher in the year of 2015.[/quote]