[divider]
Related Articles
4.23.15 "Raging Bulls Declaring Victory Yet Again — PART 1"
5.18.15 "Raging Bulls Declaring Victory Yet Again — PART 2"
6.10.15 "[VIDEO] LIVE Mid-Week Update with Kay Kim"
[divider]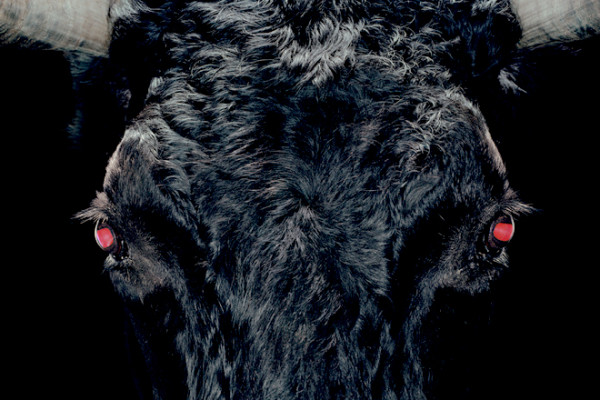 Dow Theory suggests, "Trend is assumed to be in effect until it gives us a clear signal/evidence that it has been reversed", and we do not have any clear signal/evident that it has been reversed, but we do have a clear signal that the market is continuing to cultivate an uptrend as I have been advocating in my videos since late last year.   'Bake-n-shake' will come and the minor-term declines will happen, and that's how this market separates men from the boys–emotional traders will be slaughtered and the seasoned traders will survive.
[divider]
Respecting the Trend
SPY Daily Chart with 100-Day MA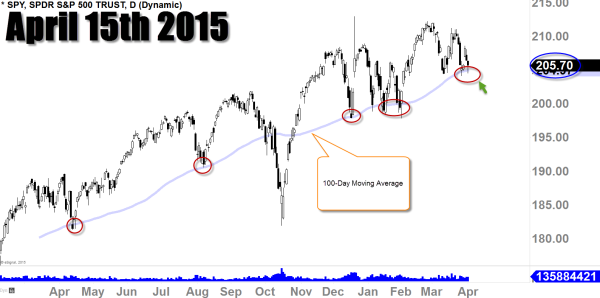 [quote]100-Day Moving Average has been a strong support in the past, let's give benefit of the doubt to the buyers that this might be served as a strong support once again.[/quote]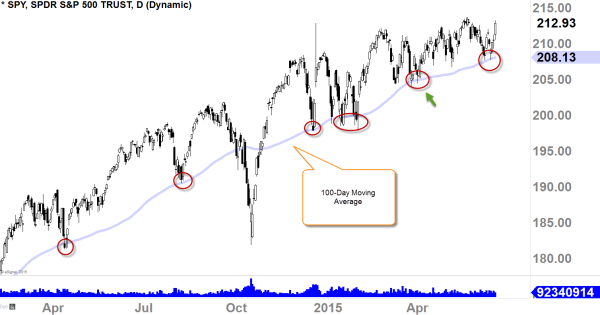 For the last few months market really did see lot of ups-and-downs with much volatility, but sometimes we must 'keep it simple' and realize important levels which in this case is the 100-Day Moving Average as I have circled with red.  It has been acting as strong support and the probability suggests that it will continue to become a strong support.  And the untrained, undisciplined, and 'newbie' traders will say, "until it doesn't!"; and with that kind of remark, they expose themselves as someone who does not understand the logic in their statement thus not understanding how this market works.
Opinions lie, feelings lie, emotions lie, media lie, people lie, but the price-action does not lie.
[divider]
Rising-Channel Uptrend
SPY Daily Chart with 100-Day MA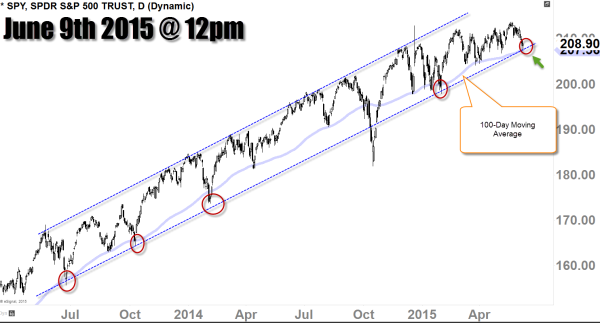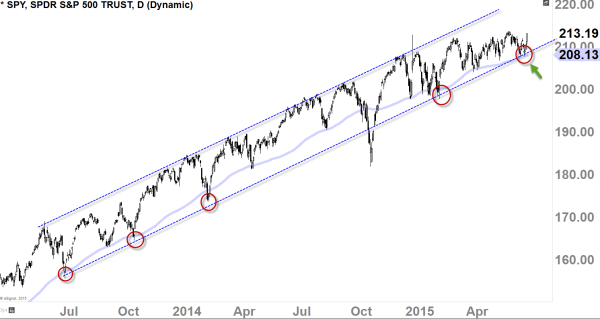 [divider]
Final Thoughts
[divider]
I believed that the "Russell 2000 Might Be the Key for 2015" as I've realized in late 2014 that the Russell (RUT) was going to lead this market again like it did back in 2013.   Earlier this month while the S&P 500 (SPX) started to see weakness, the Financials (XLF) and the Russell  was holding up well.  
With the Small-Caps (Russell) holding up strong along with the Financials, we believed that the S&P 500 would also bounce back up, eventfully, at a critical-level which I have demonstrated in the charts above. If we can close strong today, I do believe the buyers have regained control and will continue higher.  I am not sure (as of today) if we are going to see a strong upside move or it's going to be another lethargic, volatile and grinding move, but I do think we will continue to climb higher as long as we are respecting and cultivating the uptrend.