[divider]
Related Articles
10.16.14 "NASDAQ Composite Index and the Buyers Preparation"
12.28.14 "Russell 2000 Might be the Key for 2015"
03.02.15 "NASDAQ Reaches 5000"
04.29.15 "[VIDEO] Mid-Week Update with Kay Kim"
[divider]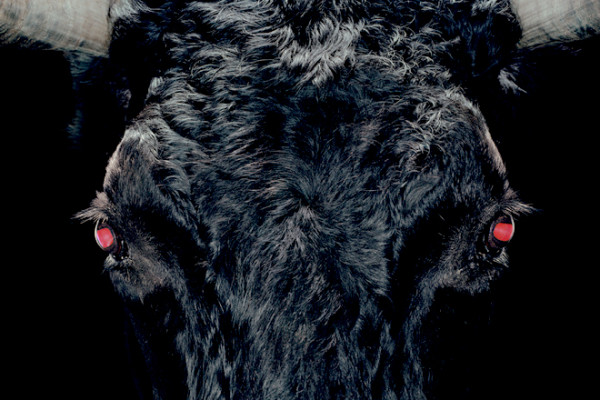 After about a month of plunge to the downside in the major indices back in September-2014 through October-2014, market rebounded and stayed strong since the middle of October-2014 as we have anticipated (read this-past article).  Something I have been advocating in my videos is that we must respect the primary and intermediate term uptrend despite of any economic data and/or fundamental values because price-action is always the king.
What I like the most about this market is that this market takes its time to digest its gain with 2-months of consolidations in between it's up swings.  Last two consolidations happened in a time period of exactly two months.  December-2014 through February 2015 and March-2015 through today.  When we are in that 'consolidation' period, many are anxious, fearful, and nervous voicing their state of mind; and I understand why because in that 'consolidation' period, that consolidation may turn into a potential topping pattern (keyword is "may").  But without fully confirming that potential topping pattern, it's nothing more than this market shaking-off and digesting it's gain.  That's why it is so critical that we stick with the trend and respect the trend that the trend will/could continue higher much longer than anyone can ever expect.
With the recent weakness in the Transport (IYT), plummet situations in the Energy Sector (XLE), and lagging activities in the financials (XLF), and not to mention the strength in the dollar (UUP); there were many insinuations, but that factors alone isn't enough in this raging bull market; all potential signals/insinuations must be substantiated and fully-confirmed for authentications because we all know that the "problems" isn't really a problem in this market until the price says it is.
We have been very bullish in this market since late last year still holding many Call-positions (LEAPS) in the equities, just to mention several positions of our current holdings: SBUX, BSX, AAPL, PFE, IWM, QQQ, SPY, TM, FB, XLF, LNKD, GIS.    Twitter (TWTR) is one of the stocks that is in our watch  list in the near-term to see how it reacts to the Earnings Report.
I believe this market is ready to see another 2-3 months of bullish run, and I would like to share few charts in this post to support my argument.
[divider]
S&P 500 Index
SPY Daily Chart with 100SMA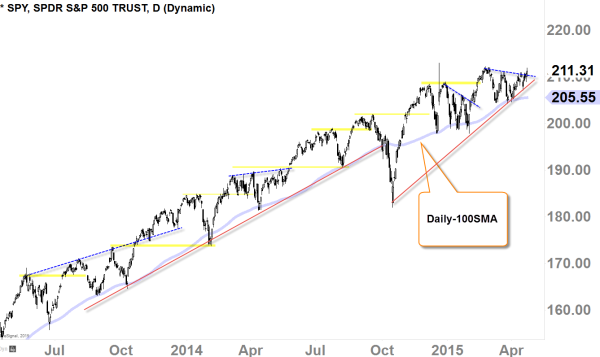 I know what some of you might be thinking… "Gosh man, its just so extended!"  Yes it is.  But did you know if I would've shown you this same chart 2-years ago, you would've still felt similar?  If I would've shown same chart just 1-year ago, some & most of you probably say the same thing that it is "extended" because that's what the traders were saying back then.  The problem with the trend is not the authentication of its establishment, but rather, our humanistic way of fearing the worst.  What I cannot tell you is that I guarantee that we are going to continue higher until 2017 without steep correction.  But, what I can tell you is that we have high probability (with tangible data that has been given to me as of today) and likely market will continue to move higher (much much longer than what most people expect) as long as it continues to cultivate and establish higher-lows and higher-highs in the intermediate and primary term.
With well established rising uptrend (red) while riding that daily-100SMA as a crutch to support itself, and with today's move higher clearing the recent resistance of $210.50 on SPY; we are now bullish in all terms (minor, intermediate, and primary terms — minor-term sentiment can change if we get back below $210.50 on SPY).
[divider]
NASDAQ Composite Index
QQQ Daily-Chart with 100SMA
Well instituted higher-lows and higher-highs in the primary-term while establishing that rising uptrend support (red).  Similar to SPY chart above, bulls have been protecting the daily-100SMA bouncing off it for the last 4 months.  As of today, we are bullish in all terms (minor, intermediate, and primary) on the NASDAQ.
[divider]
NYSE Composite Index
$NYA Daily-Chart
What I like most about NYSE Composite Index ($NYA) is that we have been pretty much consolidating (its not a textbook "consolidation") last 9-months (since July-2014).  We did have pretty steep plunge in early September through mid-October of last year, but it held up well looking at the primary-term point of view all throughout late last year and early this year. With recent move, it looks like we are finally breaking out of that 9-months consolidation while clearing that recent resistance as you can see in the above chart (dotted blue line).  This is very bullish signal and it almost look similar to the Russell's price-action back in late-December of last year as I have talked about in my past article.
[divider]
Final Thoughts
This market is going to have its volatility and its ups and downs in the minor-term and even possibly in the intermediate-term.  It's going to shake people out and heap condemnation to the market.  There will always be certain fundamental factors & values that will cause investors to worry and fear.  There will always be lagging/weakening index and/or sectors to impute uncertainty.  All these things are important things to follow and to grasp upon, so we may understand and possibly even to justify certain actions in the market (Its in our DNA, our humanity of asking "why" and answering that question).  However, I think the dichotomy of all this is that, in part, you must be sophisticated and sharp to survive in this market; but also you must be simple and plain-stupid. What I mean by that is.  If you just simply gone long after it bounced off of daily-100SMA (100-day simple moving average) and sold your positions below daily-50EMA (50-day exponential moving average), you made a killing last two years!  But you see, we are too sophisticated to do that and we are not going to blindly just do that while ignoring all other factors.  You are absolutely correct.
So we must know when to be sophisticated and when to be plain-stupid.
That's the beauty of all this!