[divider]
Related Articles
Timeline: $QQQ
2.25.15 "[VIDEO] Mid-Week Update with Kay Kim"
[divider]
NASDAQ 5000
$COMPQ Weekly-Chart with MACD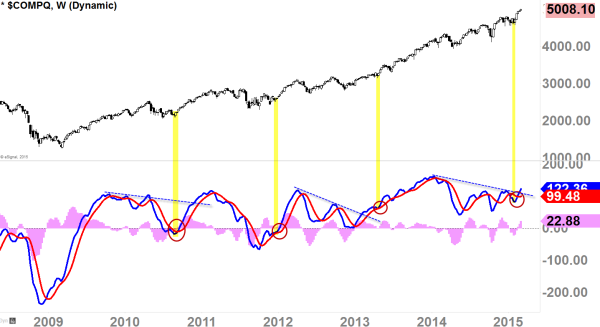 Number "5000" really doesn't mean much; however when we look at the weekly-chart MACD, we can see that this might be the start of another bullish run for 2-3 months (with its up and downs in the intermediate term) as the MACD starts to breakout here as the NASDAQ ($COMPQ) reaches "5000" mark today.  The bullish-action, last several weeks, really irritating the "top callers" because they are missing-out and the market continues to move higher.
Our job is not to predict the future, but our job is to react to the sentiment that the market is conveying to us.  So what is the sentiment today? Obviously bullish with the primary-term uptrend still in effect.  So respect the uptrend because as long as this market continues to cultivate and establishe higher-lows and higher-highs in the primary term, it can stay this way much-much longer than anyone can ever expect.  I wouldn't be surprised to see the NASDAQ Composite ($COMPQ) continues to grind higher above daily-10EMA this whole month of March.
Our Holdings
QQQ Daily-Chart with Volume and 50EMA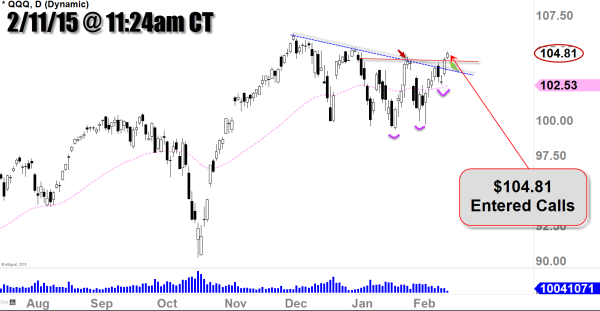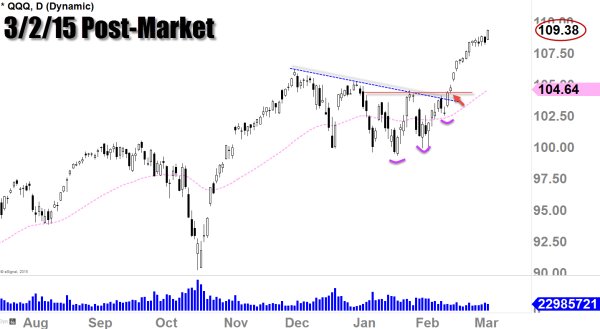 Instead of trying to predict what is to come, it's much easier to see the market's action and interpret it's sentiment and react.  As you can see on the above charts that once we started to cultivate higher-lows and higher-highs (purple) in the minor-term, bullish uptrend was commencing.  After bouncing off of daily-50EMA (pink) on 2/9/15, all we needed was it to close above the horizontal-resistance (red) as it was already closing above the declining-resistance (blue dotted) on 2/10/15.
On 2/11/15, bulls declared "victory" over the bears once we have gotten above the horizontal-resistance and declining-resistance with cultivation of a minor-term uptrend.  As you can see, since the 11th of February, bears are no-where to be found; and that was the day (2/11/15) when we have decided to enter with Call-options .  With 5-days of minor-term consolidation last week, we saw the breakout of that today.  Basically, market did nothing but went up last three weeks.  I just don't understand why traders are always trying to call tops when there is a huge opportunity to take advantage of.
I forecast that we may see NASDAQ (QQQ) continues to grind higher for the next 2-3 weeks with the next target of $112.50-$114.50.