---
Related Articles: Part 2 | Part 3 | Part 4 | Part 5 | Part 6
---
We have been watching Boston Scientific Corp (BSX) since the early-December of 2014 for a possible position-initiation as the price-action started to respect long term moving averages such as 100 & 200SMA in a daily-chart.  Obviously, Boston Scientific has been in this strong uptrend since the early-January of 2013 (though in 2012, most stabilization happened on that entire year), but then the stock started to get into some distribution phase in late-January of 2014 after a monstrous move in 2013, however the buyers did a great job protecting the $11 price-level in late-2014.  So since mid-October of 2014, it looks as though Boston Scientific is showing another strength to the upside at least in the intermediate-term that could turn into a primary-term strength.
We believe that this stock has a good potential to do very well in 2015 as long as the market indices (such as S&P 500, NASDAQ, and Russell 2000) continue to cultivate and illuminate bullish environment (in the primary term) so that Boston Scientific can able to grow in a good soil.
In this post,  I want to show you some of the charts we have been watching since the December 2014 with possible long-term target, and how our position/holdings is doing so far.
---
Our Holdings (Daily)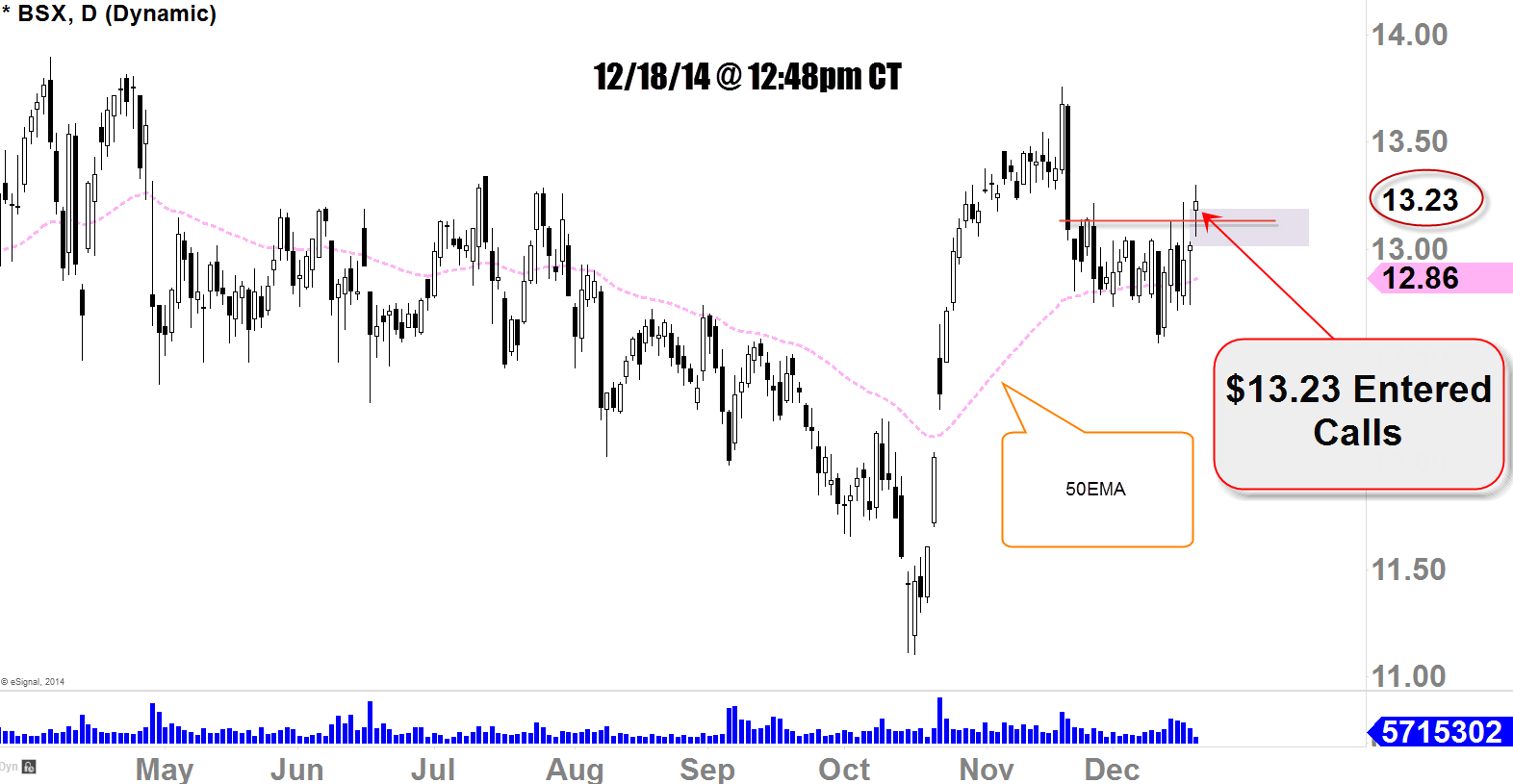 On 12/18/14 @ 12:48pm Central Time, we have decided to enter call-positions at $13.23ish as the price has established a higher-low above 50EMA, and on this day, the recent price-action showed strength when it cleared above recent resistance of $13.12 with a gap-up.  So the analysis was, as long as we stay above 50EMA (daily), 'benefit of the doubt' continues go to the buyers in the intermediate term.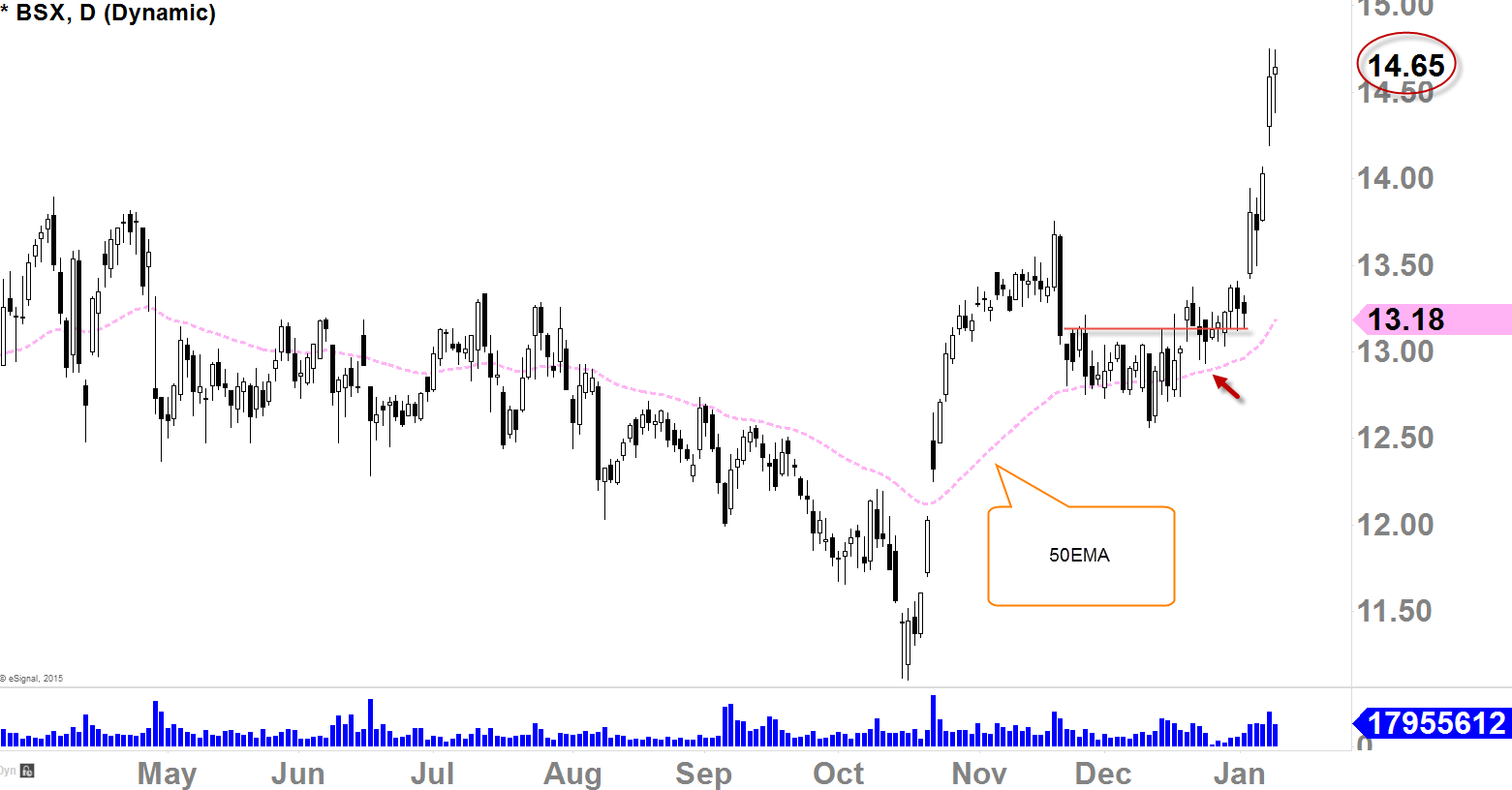 So you can see, we did see some "bake and shake" for 2 weeks in late-December, but the key point was that we stayed above 50EMA (see arrow) and the price was able to really thrive closing at $14.65 last Friday.  We probably going to see a pullback here in the minor/intermediate term, but I also think its possible that the bulls might try to push it little bit higher to about $15-$15.20ish which is our first target.
Historical Perspective (Monthly)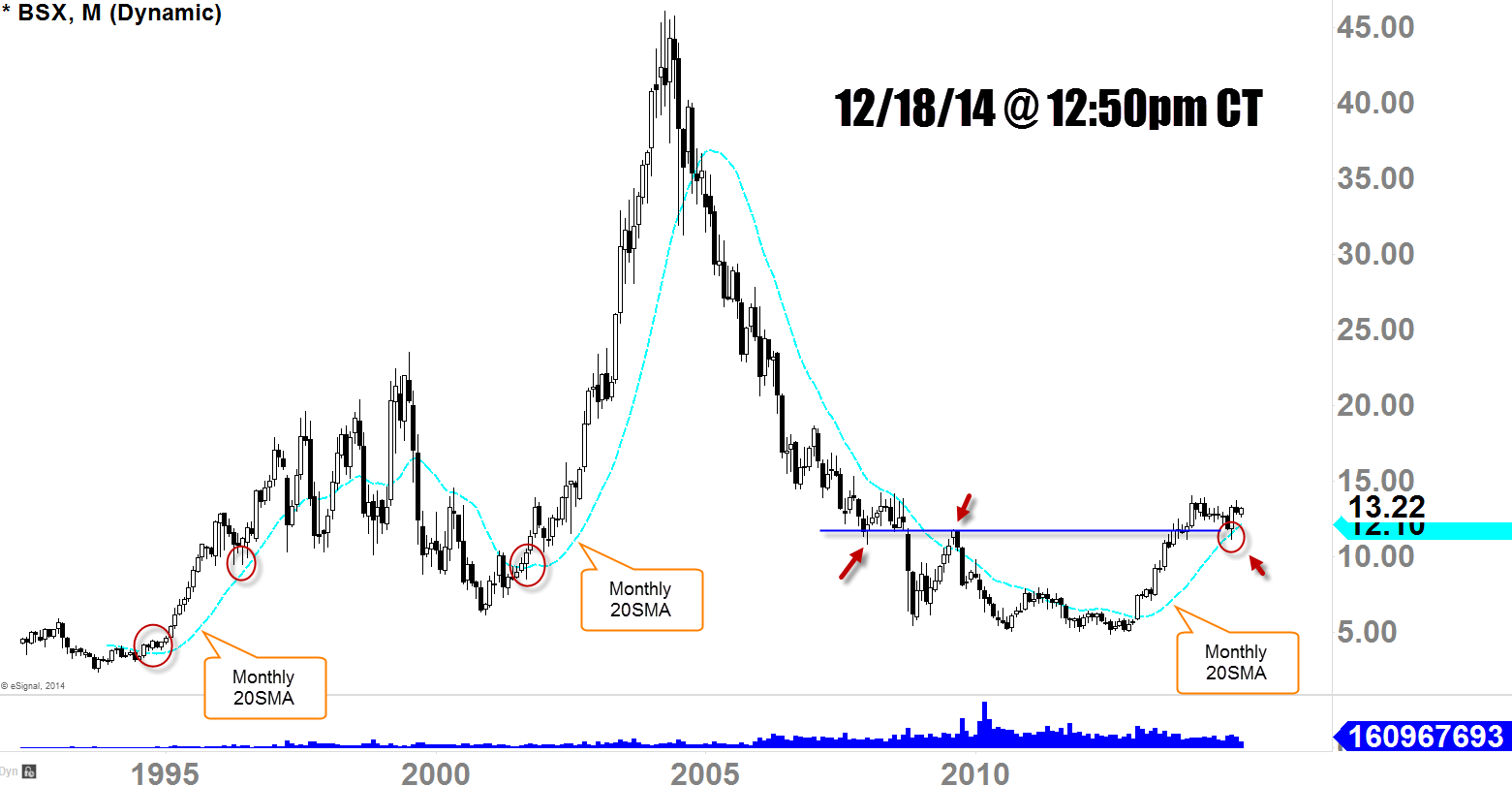 This monthly chart was screened back in mid-December 2014 analyzing the historical perspective of when the price-action retests rising monthly-20SMA (see red arrows and circles), the uptrend is likely to continue in the primary-term and could have another leg higher for a multiple months.
1995-2000 was a good year for this stock, and also 2001-2004 was a awesome year (as you can see in the chart above); but notice that the move started/continued after retesting that monthly-20SMA.
In our analysis in price-action, looking at multiple time-frames with different indicators/oscillators for forecasting long-term outlook; Boston Scientific does look promising for the entire year of 2015, but again, as long as the market-indices stay in an uptrend in the primary-term.
Price Target
We did set a price target to $20 by the end of this year, but obviously, it is required to re-analyze this stock at least on a weekly basis to make sure trend is in a healthy state.