We have been very bullish on the Treasury Bond (TLT) since the late-March of 2014, and actually our biggest gain in our portfolio in 2014 was the Treasury Bond.  We have initiated another position on the Treasury Bond back in late-November of 2014 with our first target of "$132ish", and we hit that target today.
[quote]On November 25th at $120.60, we initiated our call-positions with first target of $132ish.[/quote] (last article)
We have decided to close 80% of our current holdings (ITM LEAPS) at this level with satisfying gain, and will be waiting for a pullback to add more to this position.  We have decided this mainly because the Treasury Bond is at all-time-high resistance currently, and last three days Treasury Bond moved about 6 points with big-gaps in between.  Can it go higher? Absolutely.  But in our analysis, at this point, we have higher probability of pulling back to digest those gains.
I want to share several charts with you on this post.
Positions
Daily Charts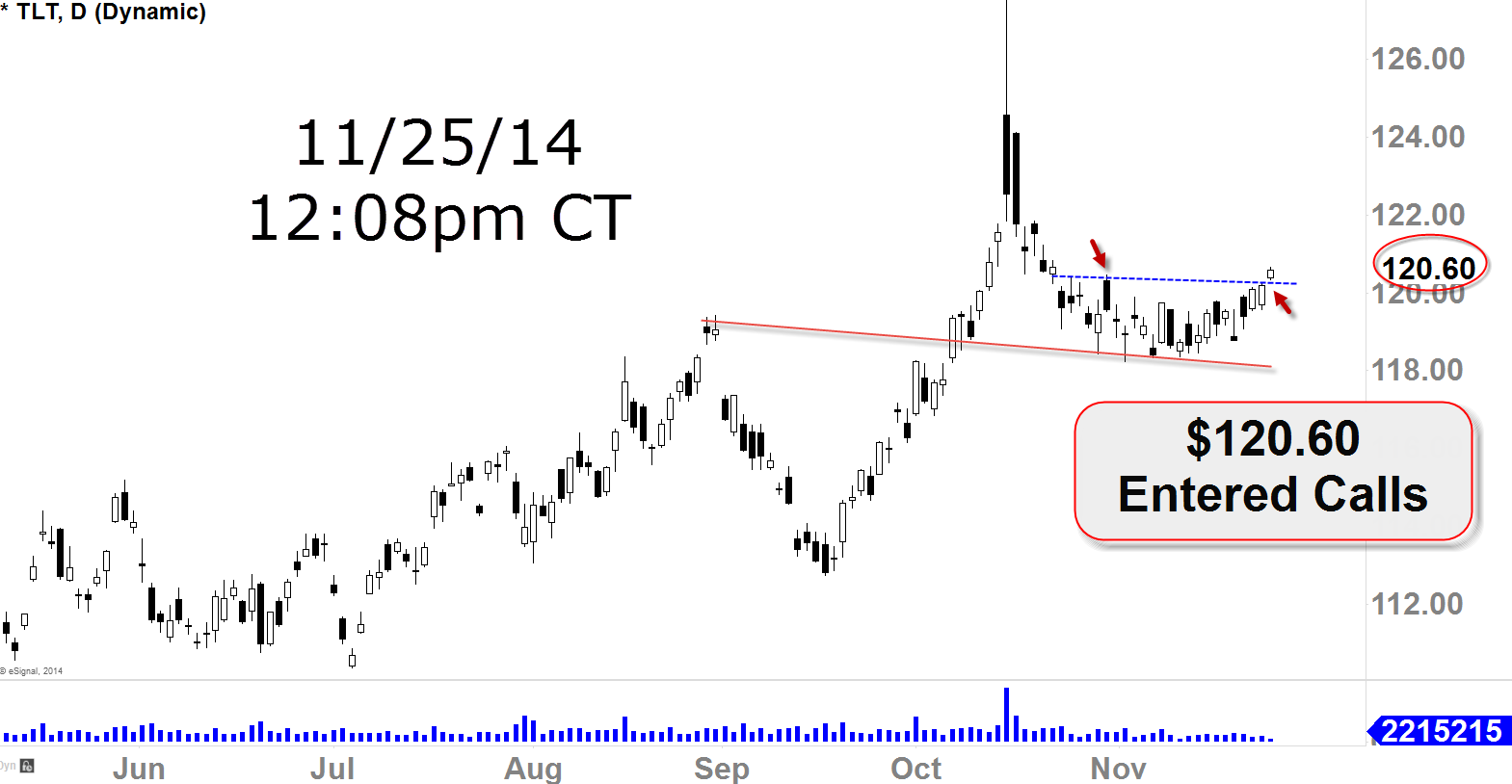 This was the level where we entered our positions back in November 25th (see last article) at $120.60.
Today, as the Treasury Bond launched again like last few days, we've decided to close most of our positions to secure the gain.
All Time High
Daily Charts
This was our setup back in late-March of 2014 when it was trading at around $108ish (article).
After about 10 months later, Treasury Bond moves about 24 points.
Does this mean, it must roll over because we are at the all-time-high resistance?  No.  But after about 8 straight days of bullish run with 3 giant leaps last three days with big gap-ups, I think we have high probability of pulling back at this level, and even if it continues higher, I wouldn't chase it here unless you are day trading.  If it pulls back, $127-$125ish level is to watch for some support.   And obviously primary-term uptrend is well established and cultivating without any major topping patterns.
Weekly Action
Weekly Charts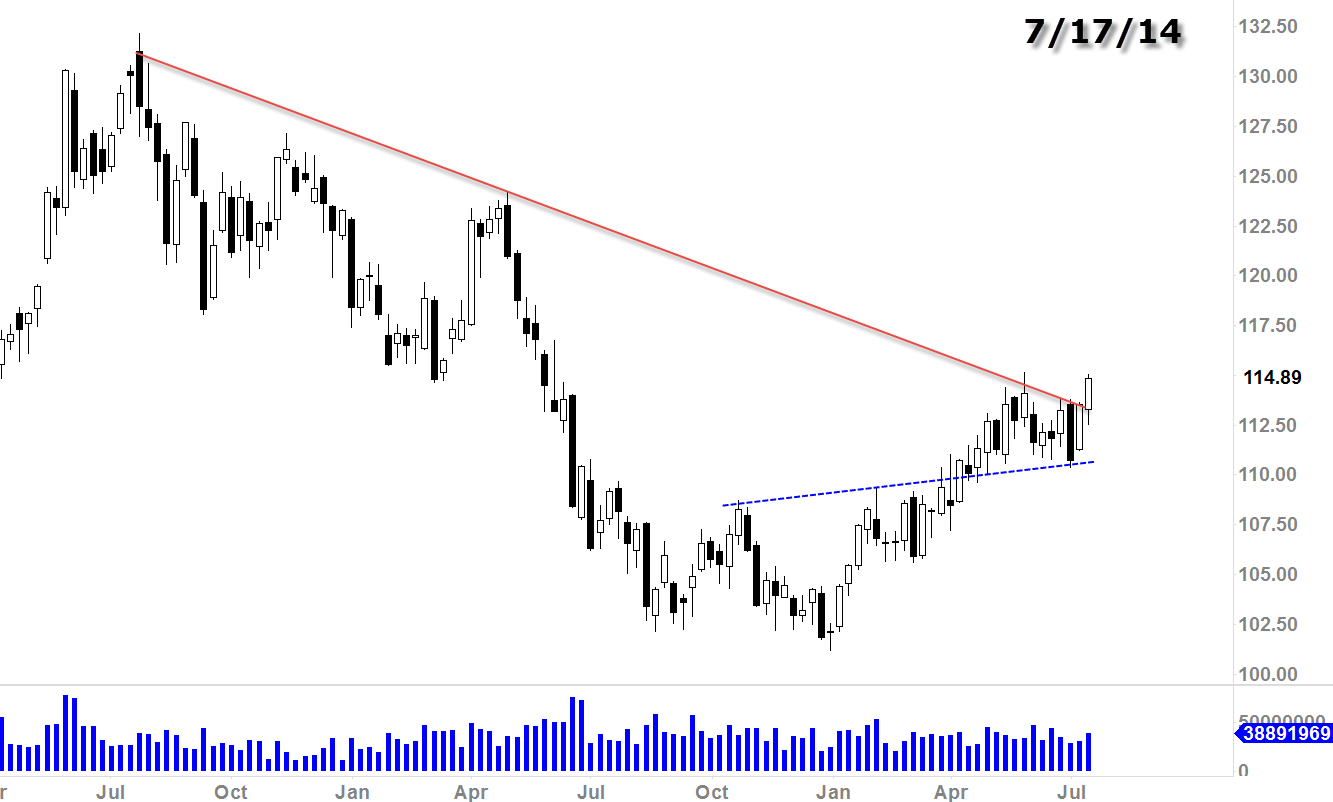 Back in mid-July of 2014, broken above this downtrend resistance (this chart featured on the article 7/17/2014)
This currently weekly-chart looks very bullish, though–its starting to be more and more parabolic which means either we could see some crazy bullish move (euphoric-like action) or shenanigan volatility (wild swings).  But again, as far as the price-action is concerned, we are still in an well established uptrend with higher-lows and higher-highs. And as of today, we have no data to prove that it's going to rollover.
Monthly Overbought
Monthly Charts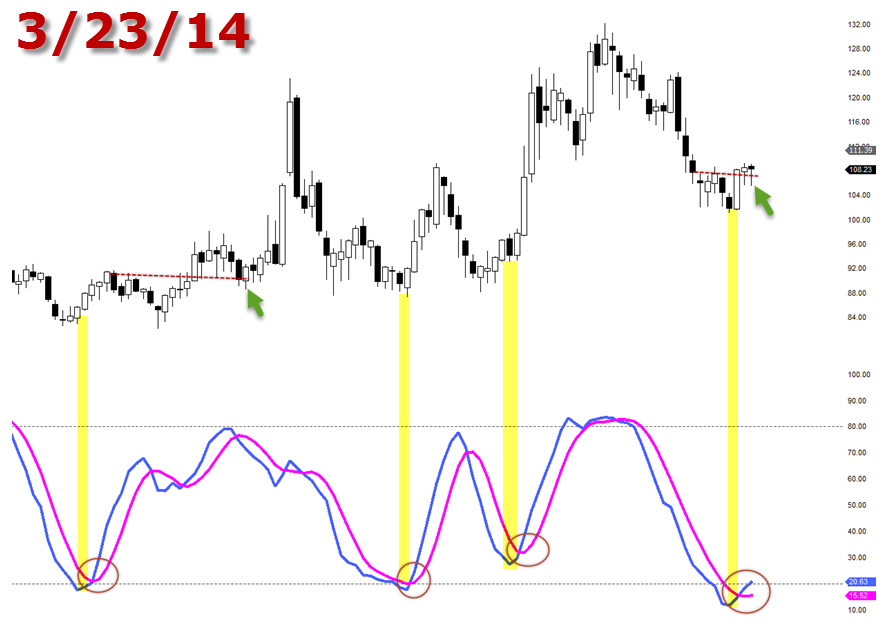 This was our long term analysis back in late-March of 2014 with Stochastic bullish cross.
This chart was screened today, and it looks like the monthly-Stochastic has entered the "overbought" territory so things could get bit hectic at this level looking at this indicator.   But again, this is a monthly-chart so the effect might not be immediate.  I also think that its possible we may see late-2011 to early-2012 like action where in the monthly-chart we form bull flag for about 4-6 months before another leg higher.
If you look at this monthly-chart, we went straight up since the January of 2014 without any pullback so I think this is the level things could get very hectic looking at next 4-6 months.
Ultimate Targets
[$TLT Weekly Chart – Screened on 8/16/14]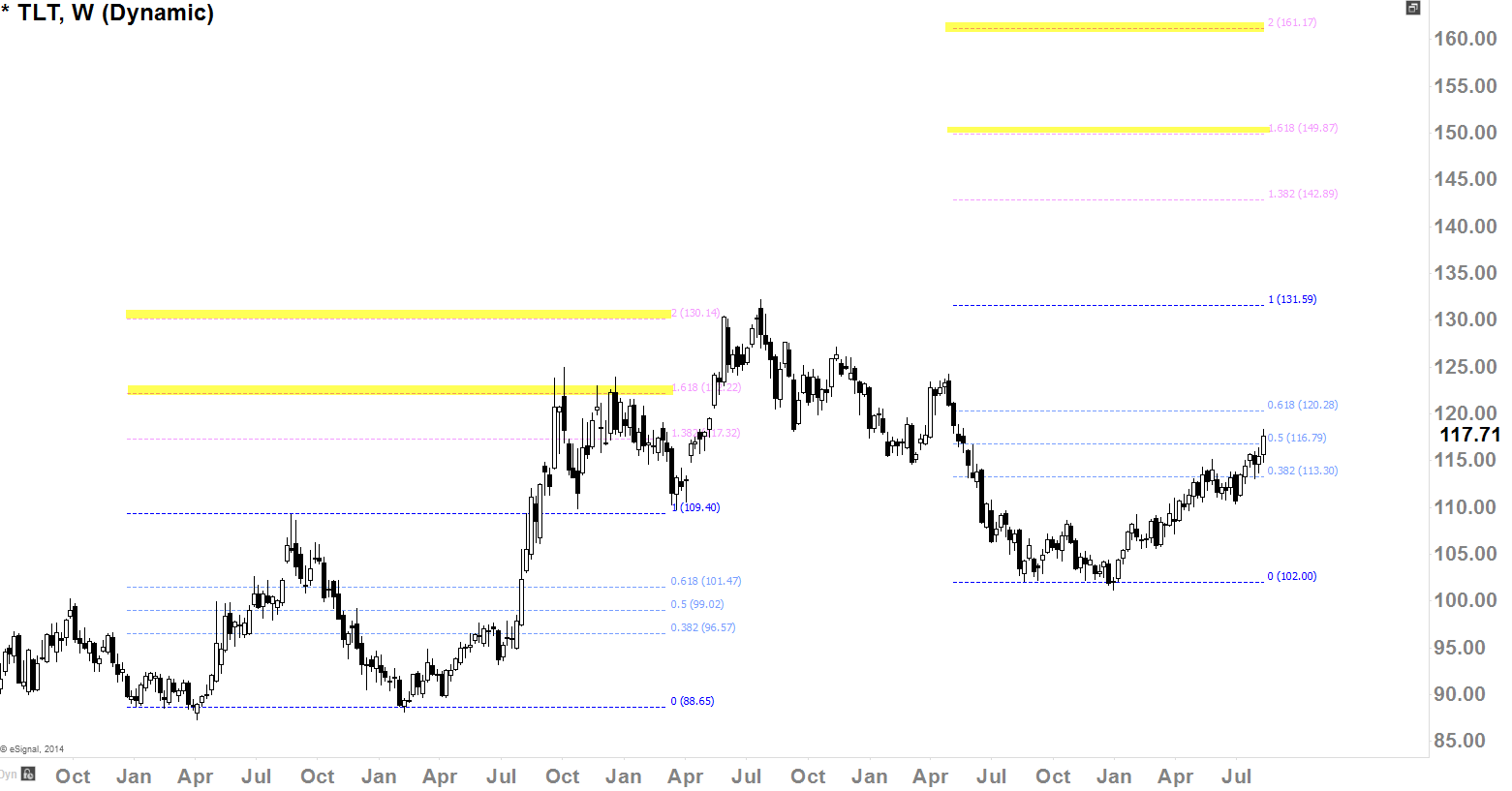 So currently though, I think we are going to see some resistance here at the all-time-high level and $127-$125ish is possibly the next support levels if it pulls back.   I do think we can still get to $150-$160 which was our ultimate targets but looking at the monthly-chart Stochastic, we might see some volatility and wild swings for about few months before we get there.
Final Thoughts
I thought we executed our plan very well with this trade.  We had few shake-outs (early December and late December), but as a position trader, we must understand the primary term uptrend, and embrace the pullbacks because after a pullback bigger move is coming (we all know "nothing goes straight up").  Cautionary signal is that the monthly-Stochastic is at "overbought" territory but the price-action continues to scream bullishness so more data is needed before assuming anything; but then again, probability suggests that the move might be coming to an end at least for the next 4-6 months looking at the monthly chart.  I thought closing 80% positions at this level was a good decision and I feel good about it because we traded our plan and executed flawlessly.