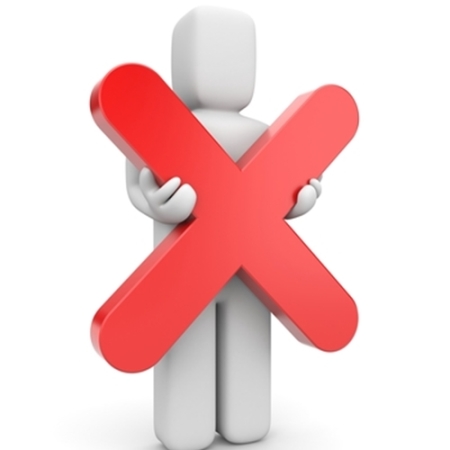 [divider]
Since the summer-time of this year, I was bullish on the Precious-Metals and Miners, and I've even written an article called, "The Transformation" back in June 19th providing targets by end of 2017 on Gold (GLD), Silver (SLV), and the Miners (GDX) to the upside.  Well now, I am recanting from that statement and turned out to be that I was completely wrong in my assessment/analysis on the metals and miners.  When the metals/miners made a new low for the first time this year back in October-November, that was the signal that the downtrend is probably going to continue.
We did have positions on the precious-metals and miners,  and we were forced to close them out in late-November with a hefty loss.  As I look back, I do think I did make hasty decisions on it, and did not wait for a full confirmation with the price-action.  There were some awesome signals that it was bottoming on the daily chart, weekly chart and even on the monthly chart (as I have shown on that "The Transformation" article); and it probably was one of the best signals I've seen in few years–but I think the biggest problem was the price-action which has not yet fully confirmed, though it looked like it was confirming back in July and August.
We should have been much more careful because it has been in an downtrend since late-2011, so it was absolutely necessary for a full confirmation with the price-action before confirming that the trend has been reversed despite of such a great and awesome 'signals' that I have apprised on that past article.  It's interesting because I almost glad that it happened (that it didn't play out) so that I would not make this kind of mistake going forward.  This market knows how to humble you, doesn't it?
I want to share several charts with you on this article and explain why I think the problems could continue with the metals/miners and why it's going to be very hectic for the buyers for a good while.
[divider]
Market Vectors Gold Miners ETF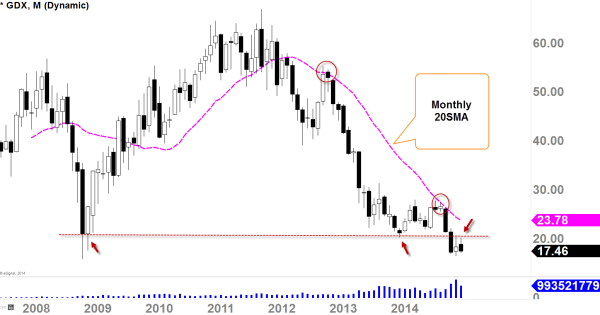 GDX Monthly Chart with 20SMA
Take a closer look at this monthly-20SMA as back in late-2012, the bounce was rejected hard by that monthly-20SMA, and interestingly enough it was rejected again late this year.  And in that process, we made a new low (see arrows) while the old-support is possibly becoming a new-resistance as it looks like forming a bearish flag last few months including this month.  Looking at the long-term perspective, I wouldn't even want to think about going long until that monthly-20SMA has been reclaimed to the upside.
SPDR Gold Shares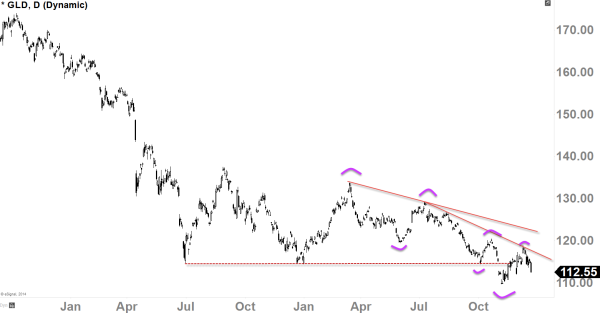 GLD Daily Chart
With series of lower-highs and lower-lows on this daily chart, we are still in an downtrend in a primary-term and intermediate-term.  Many "signals" which I talked about in the intro, most of them are completely getting nullified at this point.  Things are looking very hectic for the buyers as far as the price-action is concerned.  We close below $109.40ish (November swing-low) on Gold (GLD), I do think the trend will continue lower.
ISHARES Silver Trust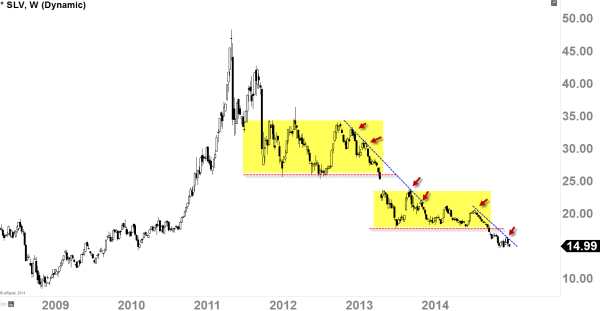 SLV Weekly Chart
Take a look at the yellow boxes I created here on this weekly chart; when we broke the first top-box back in middle-2013, for year and half it really didn't do anything as it was creating the second yellow box.  It had its pops here and there but Silver (SLV) just was not able to get things going.  Back in late-August, we made another low breaking below that box again.  I do believe things are going to be very difficult for Silver (SLV) buyers.  We are still in a downtrend in the primary-term and intermediate-term as of today.
[divider]
Final Thoughts
Benefit of the doubt goes to the sellers for the metals/miners in the primary and intermediate term as I have shown you the charts in this article.  With Gold, Silver, and the Miners making new lows and having hard time to get anything going last few months, I believe it's going to continue to be difficult for this market.  I have no intention of shorting any of these names because I don't think it's going to be an easy short.  I do think we are going to see lot of shenanigan gap-ups and gap-downs, but continue to cultivate lower-lows and lower-highs thus it will continue to be in a downtrend.  Only way for me to go long on the metals/miners would be if I see a solid/full confirmation on the price-action to signal that the trend has been completely reversed.  Until then, I would completely stay away from this market.