[divider]
Related Articles
Timeline: $SPY
11.02.14 "$SPY $QQQ The Final Push  [Part 3]"
11.30.14 "$SPY $SPX Tough Weeks Ahead for the Equities [Part 1]"
12.12.14 "$SPY $SPX Tough Weeks Ahead for the Equities [Part 2]"
[divider]
Rise of the Bulls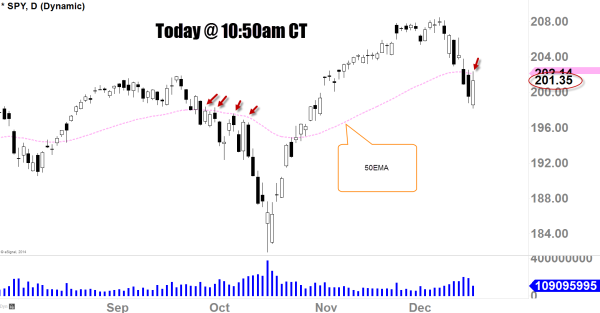 [Daily Chart with 50EMA]
This morning, strong bounce-activity occurred right after a slightly gap-down action in all the indices; this action really stirred up emotions and greed in the dip-buyers to trying to get in just bit early before it actually takes off to the upside.   We've all heard the sayings, "do not call bottom" "don't catch the falling knife" "wait for a confirmation" "one day does not make a trend" and so on… But when things are popping and heated, everything you've ever learned and heard, it just goes out the window and you react upon that emotion.  I think that's where professional traders and amateurs traderss are disunited, realigned, and recognized; because if you were a seasoned trader, this morning's move did not faze you at all knowing that we were below 50EMA (see what happened in late-September and early-October).

Was it possible for the market to sustain the move from this morning? Of course.  That's why I use terms like "benefit of the doubt" because anything can happen in the market, but all we have is the probabilities as no-one truly knows the outcome.  Once the 50EMA was broken yesterday, benefit of the doubt no longer went to the buyers but to the sellers (in the intermediate term) which means it had higher probability of weakness going forward.  This morning, dip buyers came in fast and furiously, and then it met with daily 50EMA as you can see on the chart above (see arrows), though the candle looked very strong the confirmation was required for the bulls to claim victory.
Failure of the Bulls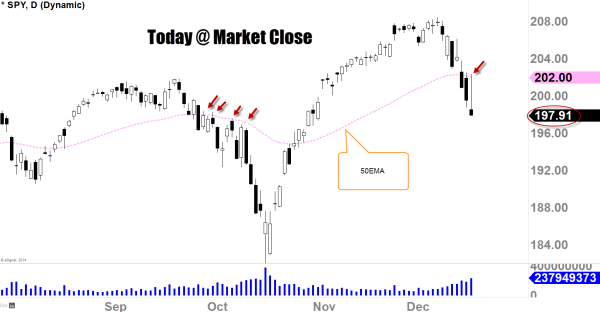 [Daily Chart with 50EMA]
Towards end of the day, 50EMA prevailed over the raging bulls; and by the closing-bell, bears claimed victory for the day.
Pretty nasty looking candle today with that long upper-wick.  As I have analyzed on my last post, $195 is probably going to be the next support-level to watch, and then, possibly, $190ish.  We may get a short-term bounces here and there but as long as we are below daily 50EMA, benefit of the doubt continues to go to the sellers.  So I wouldn't call bottom, I wouldn't catch a falling knife, and I would wait for a confirmation before thinking about initiating long positions.
[divider]
SIGN UP FOR 2015 LIVE Mid-Week Update with Kay Kim
[divider]