[divider]
Related Articles
10.15.14 "[RECORDED LIVE] LIVE Mid-Week Update with Kay Kim"
10.16.14 "$QQQ $COMPQ NASDAQ Composite Index and the Buyers Preparation"
10.21.14 "$SPY $QQQ The Final Push"
10.26.14 "$SPY $QQQ The Final Push [Part 2]"
11.02.14 "$SPY $QQQ The Final Push  [Part 3]"
[divider]
MACD's Insinuation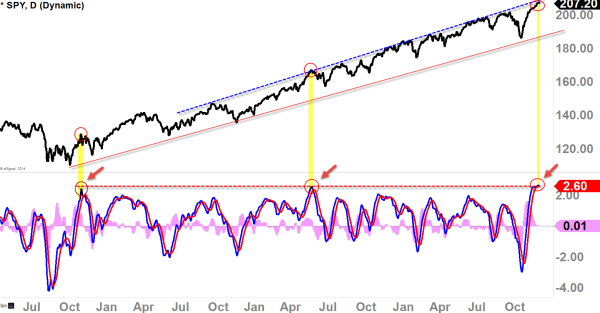 [$SPY Daily Chart with MACD]
As we are hitting the resistance level (blue dotted-line), MACD is also showing extreme level of "overbought".  Again, I must express that just because we are at "overbought" status, does not mean it must roll over, but it does mean take caution; especially when we pretty much had straight-up move since the October 15th. We did not form any kind of higher-lows in the intermediate term (daily chart), so this recent 'fast and furious' up-move is questionable at best (and not sure how sustainable it can be when things get hectic for the buyers) when it is hitting the resistance along with the "extreme" level on MACD without a solid uptrend development.
Take a closer look at the above chart as I have annotated with the red arrows.  As you can see, since the 2011 October (first arrow on the left), S&P 500 Index was only able to get to about "2.60" readings on MACD only three times (including this time), which means it is a rare occasion that we got to this level, and when things start to reach for the highest record, we pay attention.  Last two occasions, we did have pretty sizable pullback when MACD hit this level, so this is level we must take heed of.
As far as pure price-action is concerned, as of today with the tangible data at hand, we do not have the price-action to substantiate this indication/insinuation.  But, I think we might in the coming weeks.  we are still above 10-day moving average and have not yet breached below that level for over a month now.  I think the sellers will start to show up when they reclaim 10-day moving average to the downside.  After a fast move like this, I am not sure if we are going to see a straight-down-flush kind of bearish move, but I think we may start to form some kind of intermediate-term topping pattern (could be a double top or triple top) which could take up to a month to build.
[divider]
Conclusion
This is definitely not a level to initiate or accumulate any long positions if you are a swing (2 weeks to a month+) or position (3 months to 6months+) trader.  We, ourselves, have completely closed-out our long positions on the equities, and waiting for a pullback.  With the lack of data (supporting the downside) at this point, I can not analyze where it might pullback to; however here are the potential support-levels I see on $SPY: $201ish, $198ish, $196-$195, $192-$190ish.  I do think the patience is going to be required at this level as it might take 2-4 weeks+ to build intermediate-term topping pattern.
[divider]
SIGN UP FOR 2015 LIVE Mid-Week Update with Kay Kim
[divider]