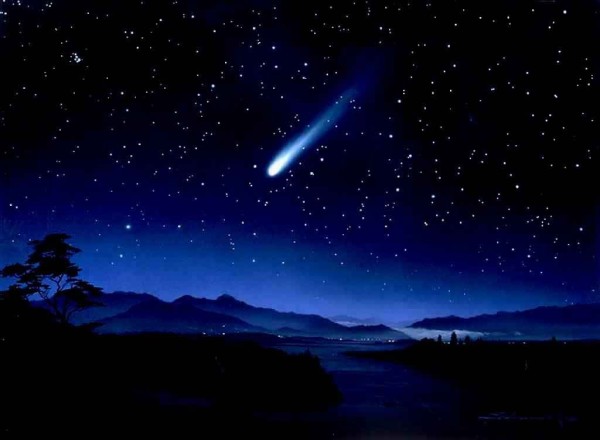 [divider]
Related Articles
05.14.14 "$TLT $IEF $SPY Launch Sequence on Treasury Bond [Part 1]"
07.17.14 "$TLT Launch Sequence on Treasury Bond [Part 2]"
08.16.14 "$TLT Launch Sequence on Treasury Bond [Part 3]"
09.11.14 "$TLT $IEF Launch Sequence on Treasury Bond [Part 4]"
10.12.14 "$TLT Launch Sequence on Treasury Bond [Part 5]"
[divider]
Weekly 'Shooting-Star'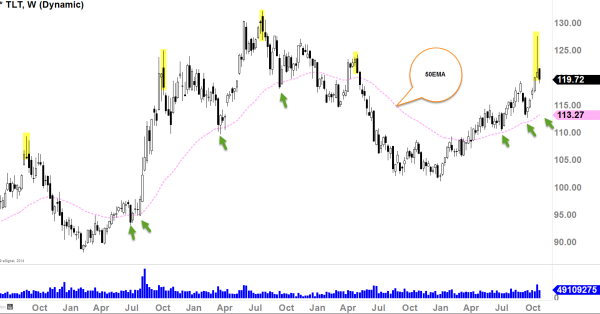 Yellow highlights = weekly topping candles
Green arrows = weekly 50EMA potential support
Last two weeks, we have pretty nasty (long upper wick) shooting-star candle with the bearish engulfing candle to go with.  Those two weekly candles can be a lethal combination to potentially bring the demolition team for a disastrous outcome.  Definitely a warning signal here on the weekly.  But, bulls might have some backup plan here as they are getting ready to deploy weekly 50EMA as a support (see green arrows), because it has been acted as strong support in the past.  So the biggest question is, are we going to completely roll-over or are we going to pullback to the weekly 50EMA level and bounce back up?   Well, it's very difficult to forecast that outcome as of today, but the good news is the chart and the price-action will tell us when we get there and when we have the tangible data to work with.  As for the intermediate and short-term sentiment, definitely looking bearish here.
[divider]
Monthly 'Shooting-Star'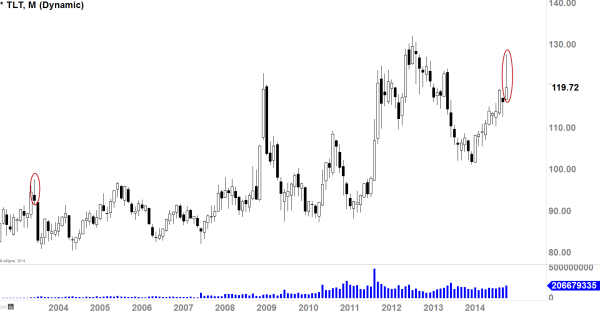 This is the monthly chart of the Bonds, and as you can see, that's one nasty looking 'Shooting-Star' (see red circle) candle right there.  Yes, I know the month is not over yet, and we do have one more week to go, but if the Bonds continue to bleed this week, that candle is only going to look much worse by the end of this month.  That candle with a follow through next month, can be served as major topping signal.  Again, another warning signal to note.
[divider]
Next Opportunity?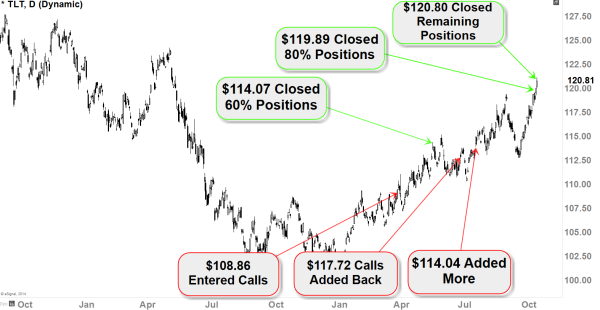 [Read "$TLT Launch Sequence on Treasury Bond (Part 5)"]
After completely closing our positions (7 months of position-trading) back in October 14th, we are looking for the next opportunity to re-engage.  Ultimately it comes down to where the equity market (see my recent article) is going. If the equity market is going up to put in major top before the dive, I do think the Bonds will continue higher (after a pullback).  However, if this is the commencement of 4-6 months of bullish run on the equities, I think that could be an ugly motive for the Treasury Bond.
Weekly 50EMA is the level on $TLT is where we will be looking to possibly re-enter, but at the time, we would need to analyze the equity-market and the bond-market and the sentiment of its entirety before making a decision.  With weekly and monthly shooting formation, its not going to be an easy task to go back long.