Last Update: 11.2.14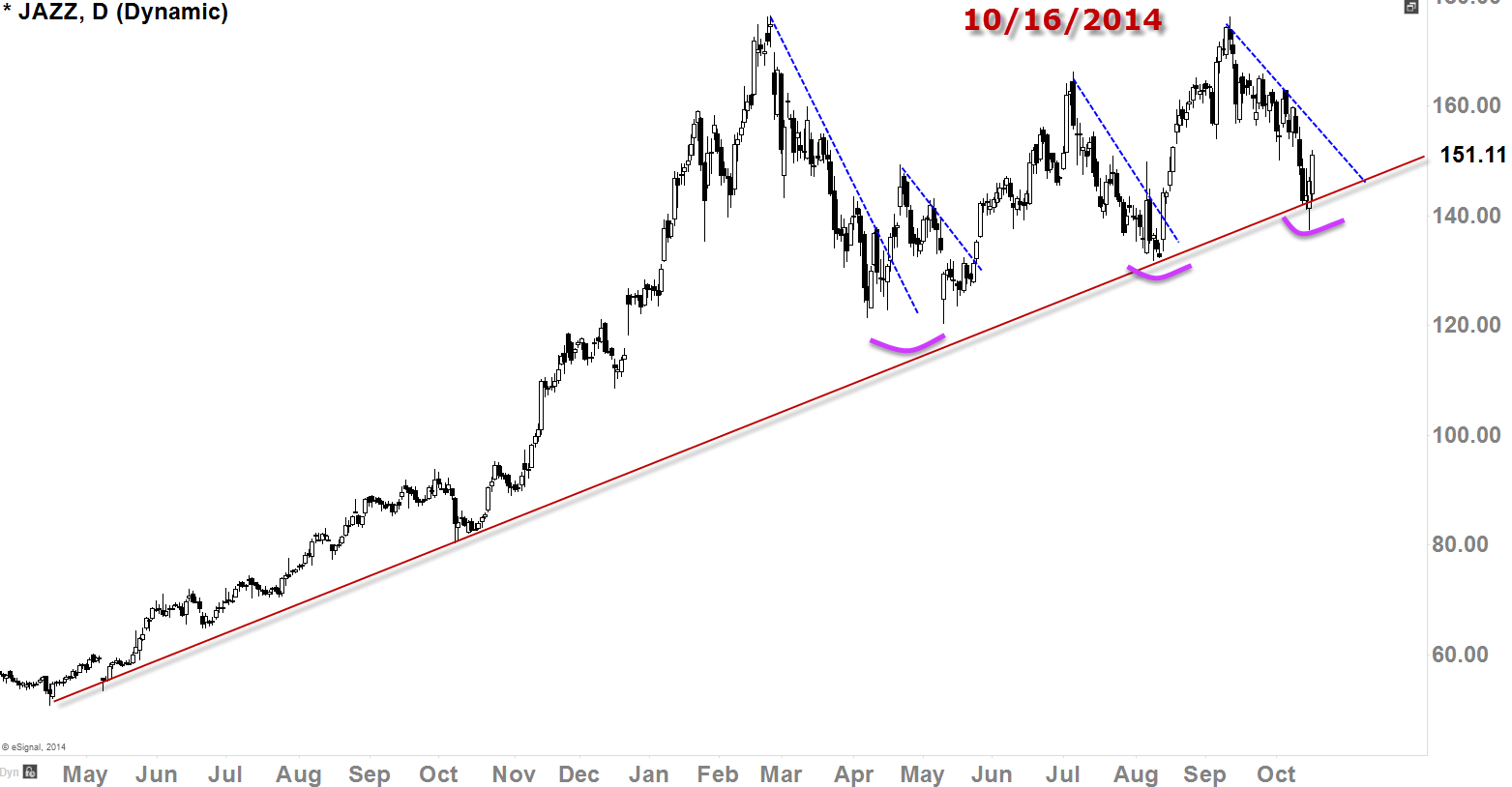 [Chart Screened on 10/16/14]
We have been long on $JAZZ since $147.08 (6/18/14) and that's over 4 months we've been holding the positions.   Even with the recent decline, we held our positions because of our long-term uptrend outlook as it was strong while the higher-lows are still in tact (in primary term).  Once we saw a strong bounce right on that uptrend support (on 10/16/14 – chart above), we thought the bulls could continue. However, the bulls were not completely out of the woods yet because they needed to clear above that resistance line (blue dotted line) to substantiate this bounce .  On 10/16/14, with our indicators showing overbought status, we thought this might be the good level for bulls to find some life again.
[Chart Screened Today]
Well, today, we did break above the recent resistance level with strong bullish-action and it seems as though bulls are gaining confidence here.  So now the long term uptrend is well established while the higher-lows are still in tact and with today's resistance-clearing action (see red arrow), I think we may able to get back up to the highs at $175ish.  $175 is going to be served as strong resistance I think, but if we can clear $175, I do think $185 could also be the ultimate target.  We are shooting for $185 but $175 is the level to watch closely.  For short-term perspective, $165 is going to be the next resistance and the price should stay above $155 for continuation to the upside.
[divider]
[Friday 11:04am CT] All Positions Closed @ $171.26
[Chart screened on 10/31/13 @ 11:04am CT]
We've been holding ITM January Calls since mid June (See first article here), and last Friday, we've decided to close the positions with gain.  When we first got into this position, these price-action is not what we had in mind going foward, but I thought we played it well holding through the two pullbacks and understanding the primary-term uptrend.    Main reason we've decided to pull-out here is because the primary-term volatility, and the trend has not been smooth as you can see its big swings up and down since July.   Also $175 level is going to be acting as strong resistance while the ER is coming up very soon here.