[divider]
Related Article
10.12.14 "$TLT Launch Sequence on Treasury Bond [Part 5] | $SPY Warning Signal"
[divider]
S&P 500 Index
Daily Chart with 200SMA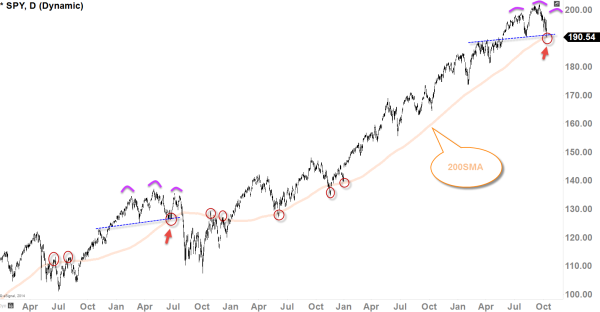 This coming week, the 200SMA vicinity is definitely a important level to watch as you can see in the chart above.  200SMA has been served as strong pivot (see red circles) last 5-6 years.   With last Friday's trading, we are currently sitting right on that 200SMA, and we may or may not bounce right at this spot but this is the vicinity for a potential bounce.  Because almost 2 years period of time, S&P 500 manage to move higher without touching the 200SMA so the level could be conspicuous for the dip-buyers given the fact that it has been important level, historically.
But here is the important part as far as the primary trend is concerned.  In the event that we bounce in this vicinity, the biggest question for the life of this primary uptrend is, will it make new highs or stop short and created a lower high.  If it fails to make new highs and creates lower high, it will develop H&S formation just like it did back in 2011 correction after bouncing right on that 200SMA (see red arrows).  If that's the case, that's going to be a huge warning signal for the market correction, possibly a market crash looking at the Treasury Bond chart below.
[divider]
S&P 500 Index (dark)  vs   20+ Year Treasury Bond (red)
Daily Chart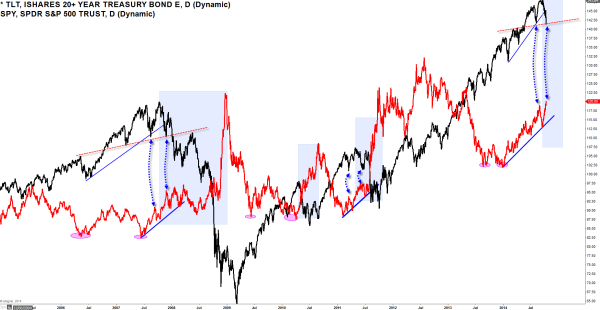 [Read more on the Treasury Bond]
The Treasury Bond has been in this strong primary-uptrend pretty much the whole year, and as the S&P 500 Index finally starts to see some weakness, this could be an early indication of much steeper problem in the equities.  As you can see in the above chart, before the 2008-2009 market crash, the Treasury Bond started to rally and at some point, the S&P 500 index started to top out with early indication of weakness.  Today, we have pretty similar sentiment happening here (see blue arrows).  We do not have enough data to confirm this as of today, but undeniably, its something I would take heed of next few months.  The above chart might be the most important chart for this market next few months.
[divider]
Join me this Wednesday for the LIVE event as I will be talking more about these signals
[divider]