[divider]
Last Update: 10.13.14
[divider]
Related Articles
7.08.14 "Visa, A Clear Path $V" [Part 1]
[divider]
8.18.14 Monday
[divider]
65mins Charts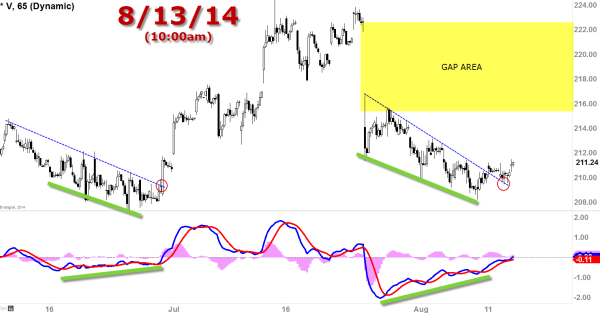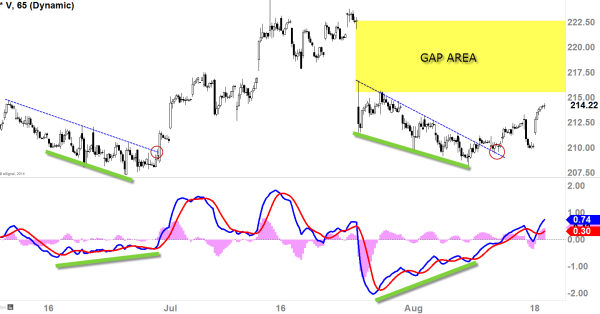 We have been holding our Call positions (January expiration) since 7/8/14 @ $214.25 (see Part 1), and we had a very good entry on it but we got hit when the ER gap down happened.  We held our positions through ER because we were Position Trading this with target price of $250 or higher so we don't get scare of ER 'shenanigans' as we know that the price always seems to find its way back to its "fair value" if the market is still in bullish sentiment.  As we have forecasted that the market was going to bounce back up (see $SPY post here), Visa has been slowly finding its way back home, notably today, with very solid bullish candle on the daily chart.
It's interesting how the 65mins chart development looks very similar to our $AMZN trade as we have been watching it form since the early August (but we've needed the price action to confirm and it did on the 13th).  As you can see on the 8/13/14 morning chart above, we have concluded that Visa can continue higher as long as the general market does.  As you can see on today's chart (though we had pretty sharp sell-off yesterday), did very well closing at $214.22 after a gap up this morning.
We do believe that Visa can fill that entire gap and even continue higher.  Our next target is at the gap fill @ $223ish, then $232, after that, ultimately, $240-$250 is where we are targeting.  I don't day-trade nor do I care about several days of fluctuations as we are Position Traders. I say that because Visa is a volatile stock.  The move is not going to be smooth but if you can able to identify the primary and intermediate trend and understand how to follow the trend, I think Visa can be a good vehicle for position trading.
[divider]
Daily Chart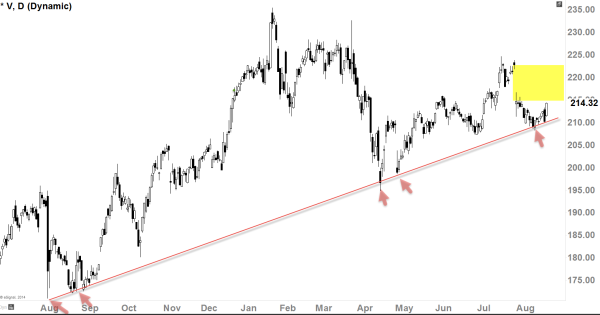 Uptrend support held, sustained, and bounced.  If we take out, $225 resistance, I can see that we can make new all-time-highs.
[divider]
8.20.14 Wednesday
[divider]
Today, bulls tasted little bit of that gap area which is a good sign because often times they don't get satisfied until they consume all of it! So I think we may continue to move higher here filling that entire gap to about $223ish.  If we see any weakness here though, we must stay above $214.60ish to keep this momentum going.  Also not to mention, we are above all moving averages (daily 10, 20, 50EMAs) as of today.
[divider]
10.13.14 Monday
[divider]
[1:59pm CT] Positions Closed @ $206.20
Chart Screened @ 1:59pm CT Today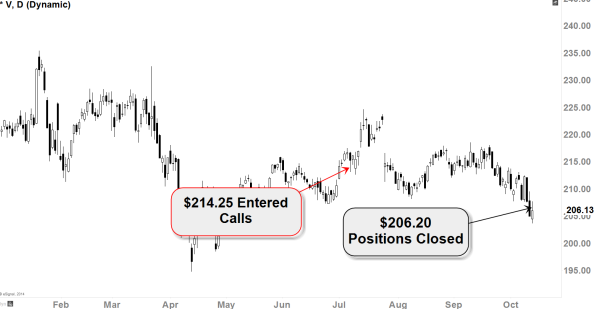 Earlier today, bulls tried to get back above the $208ish resistance but failed so we've decided to close out our call positions with loss (we've been holding January ITM calls).  Next level of support is at around $198-$195.