---
We have been heavily positioned with Call Options (LEAPS) on Treasury Bond ($TLT) since late March as I have talked about on my previous article.  So it has been almost 4 months now that we have been holding our positions on this name.  We've scaled down 1/2 of our positions in mid May with great profit, but we've also been buying the dip since late June and also recently.
On my previous article, I have conveyed that the bonds ($TLT) being bullish is not a good sign for the equity market so it has been surprising for us as well to see that the market is still making its run up (we did see some decline today though).
Nevertheless, after Treasury Bond finding some great support at 100SMA back in July 7th (see chart below), looks like it might be ready to launch here.  But I am thinking we may get 2-3 weeks of a pullback/consolidation before we get a big move to the upside, because order for Treasury Bond to launch, it means the equity market must roll over hard.  I showed the overlaying chart here (screened on June 2nd) so I am not sure how it's going to play out because I know this equity market isn't going to just roll-over without some kind of topping pattern which could take some time to build (it could be months!).
Here are some of the charts we have been looking at last several months, which explains why we have been so bullish on it since late March and the progression of how well it has been respecting technical levels.
---
The Setup
This was our setup to initiate long positions (chart from the last article).
The Run
Once the setups was confirmed, it had nice few months of bullish run.
The Pullback
Obviously, we know that no stocks go straight up so we expected this pullback but the question was where it was going to bounce.  And this was the potential level because at that time, 100SMA was residing at $110ish level, and you can definitely see the symmetry comparing with July 2011 action (it also bounced right on that 100SMA, interesting!) so we were looking at this level intently.
The Bounce
Sure enough, last few weeks, Treasury Bond had a really nice bounce right on that 100SMA and in that process, we have cultivated another higher low which means long term trend is still in tact.  This morning was a good confirmation day of that bounce from early July (100SMA bounce) because it cleared recent resistance (see chart below).
---
This Morning…
This morning, by clearing recent resistance (blue dotted line), we have fully confirmed bullish bounce here.
Post-Market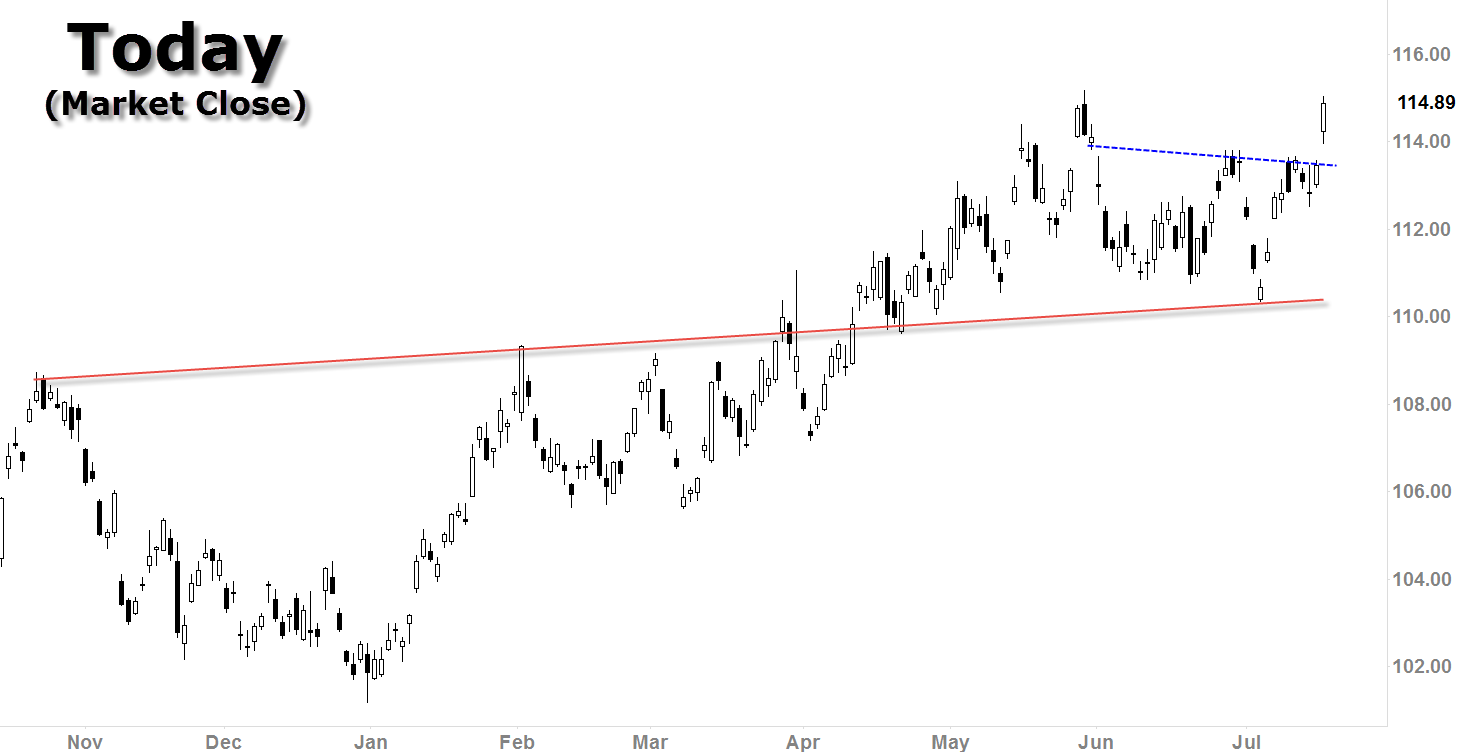 And the follow through to really solidify last few weeks of bullish run (we've also had great volume today).  Take a look at the weekly chart, it starting to look very bullish here.
Weekly Chart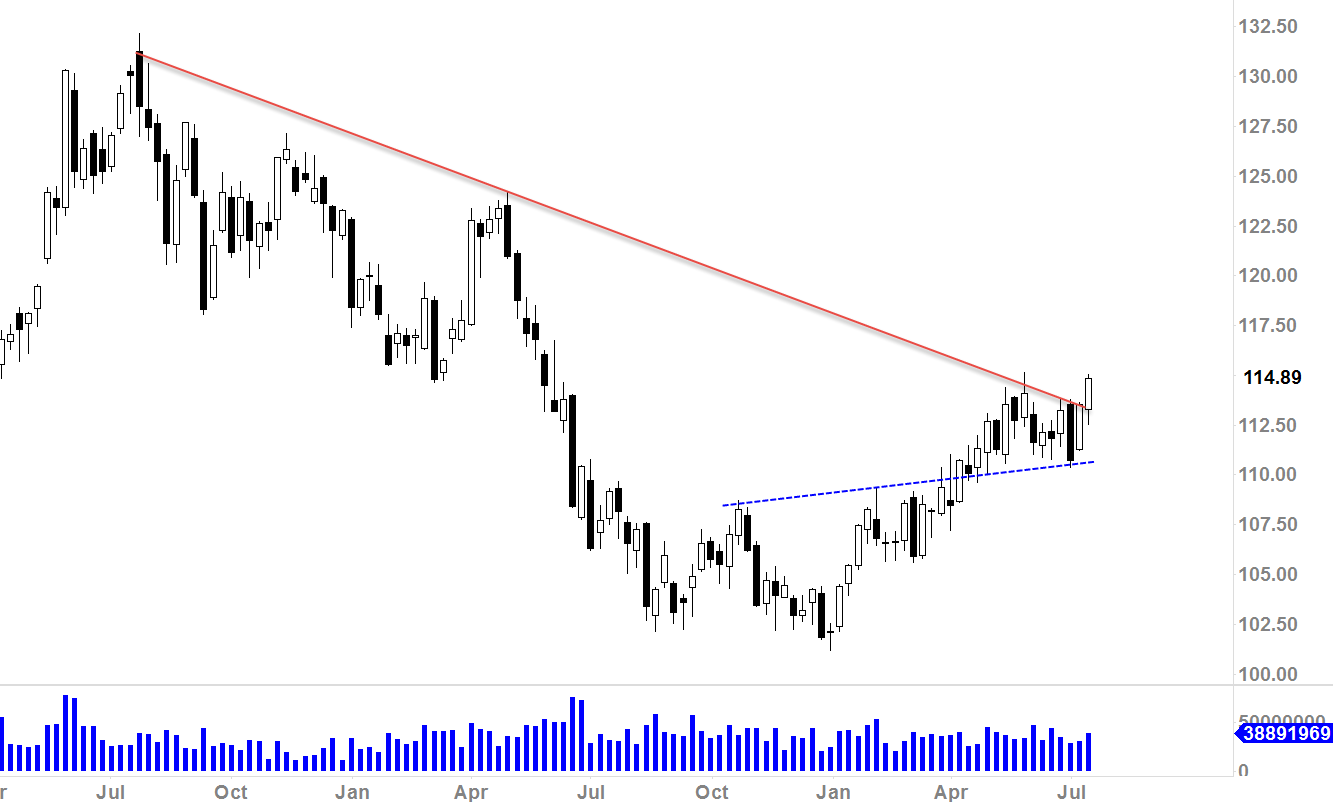 This chart was screened after market close today, and as you can see, we are clearing above this resistance line with good looking candles.  We do have one more day tomorrow before finalizing this weekly candle so unless we get a huge sell-off on Treasury Bond tomorrow, This is very bullish looking chart here.  Here are the potential target levels I have screened on May 14th (was featured on my previous article).
Treasury Bond does move with erratic behavior with daily fluctuations so it's very tough to trade this name in short-term bases. If you really want to make money trading $TLT, getting into a trade with long term targets is only way to go (Positions Trading).  It's the same way with the precious-metals such as $SLV $GLD and also the mining stocks which we have been very bullish on it as well.
---
100SMA @ Work
Chart screened on 8/3/14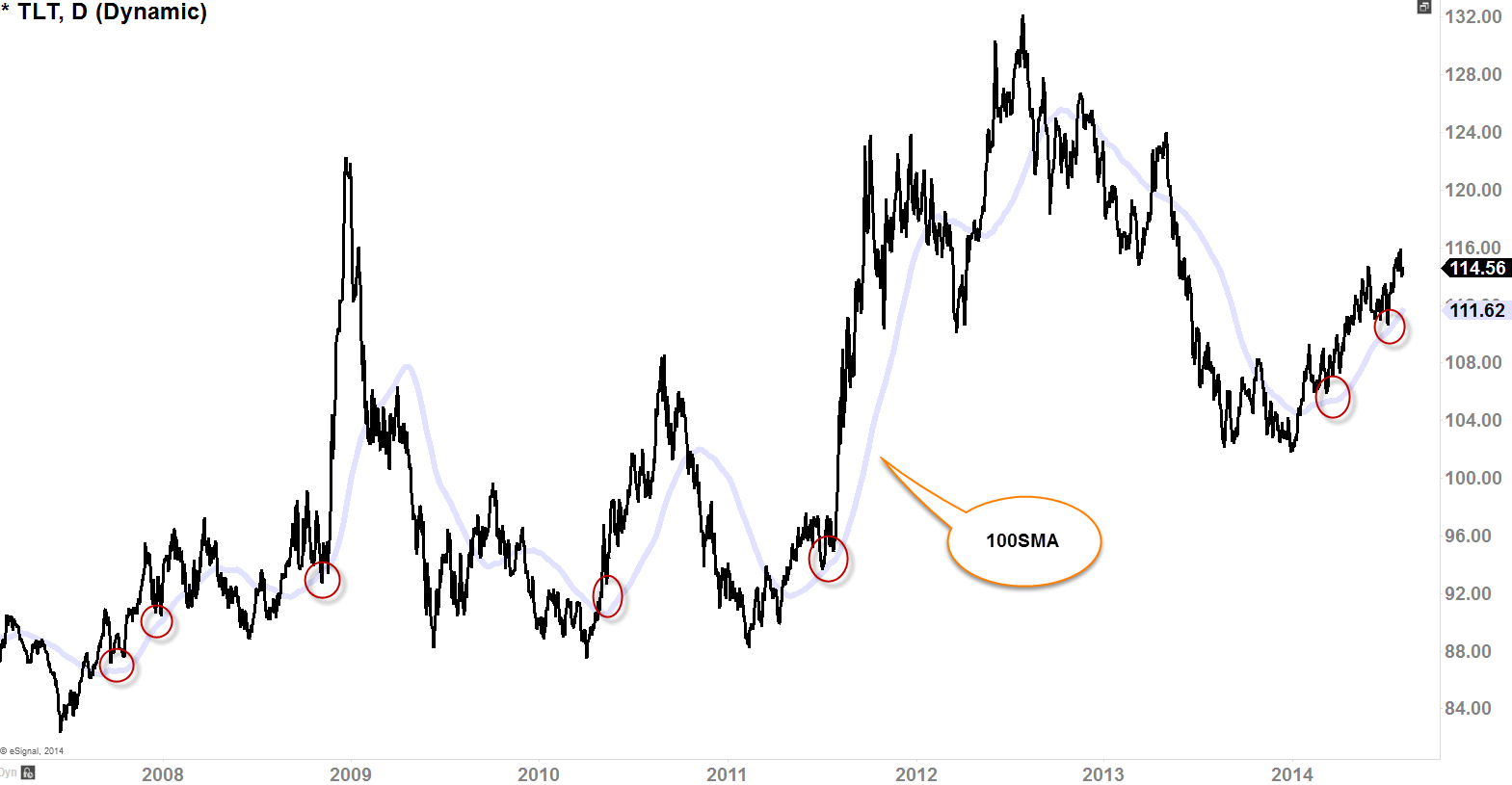 [Daily Chart with 100SMA]
As you can see on this chart that, once we start see 100SMA acting as support and rising, that's a pretty big bullish signal looking at this historical records.  We've bounced off of 100SMA twice recently since March of this year.  I do not know when or how it's going to play out but I do believe we are going to see some huge spike on the Bonds soon or later.  We have been heavily bullish on this name since early March and we are continuing to hold our positions as we are targeting $120-$125, $130-$135, and then ultimately $150ish.  More updates later.