[divider]
Last Update: 7.30.14
[divider]
7.8.14 Tuesday
[divider]
[11:31am CT] Entered Calls @ $214.25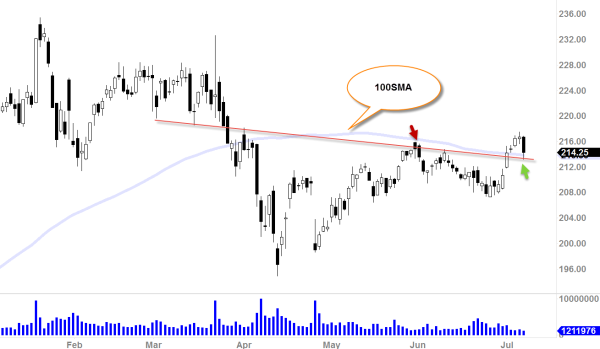 Old resistance new support (see arrows)
100SMA coinciding at that level as well
Higher lows and higher highs in place
This is a good level for possible bounce and probably will see much higher prices with a firm bounce.
[divider]
7.15.14 Tuesday
[divider]
This morning [8:34am CT], Visa is really moving up here after a solid/firm bounce right on that pivot.  I see $226-$228ish as next resistance and I do think we will get some slow down or decline at that level. If we can clear that level, $235 is next level of resistance.  Nice run so far this morning!  As far as the 'big picture' is concerned, I do think we will make new all time highs and possibly get to about $260ish before end of the year.
[divider]
7.20.14 Sunday
[divider]
Uptrend support line holding so far.  We do have a "bullish harami" pattern (last two candles) but that pattern needs to be confirmed by closing above $222ish for continuation.  I'd have to say, benefit of the doubt still goes to the buyers as of today with higher lows and higher highs still intact in the intermediate term.  $228 is still going to be a major resistance to overcome and Thursday is the Earnings day.  Still long.
[divider]
7.30.14 Wednesday
[divider]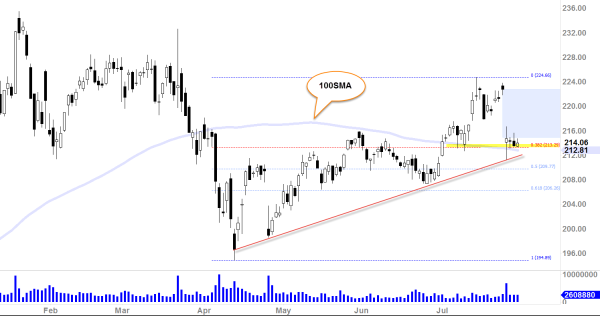 Well, earnings gap down wiped out my gain but we are still holding above some important levels.
Still above 100SMA
38.2% Fib. Retracement level currently holding (highlighted)
Uptrend support still holding (red line)
Last four days, we pretty much moved sideways so its difficult to say (as of today), if we are going to move higher or lower from this point  on, but I think if we can have one bullish day with good looking candle, we can fill this entire gap to about $223ish.  Will see. Still long.