Classic 'Old Resistance New Support'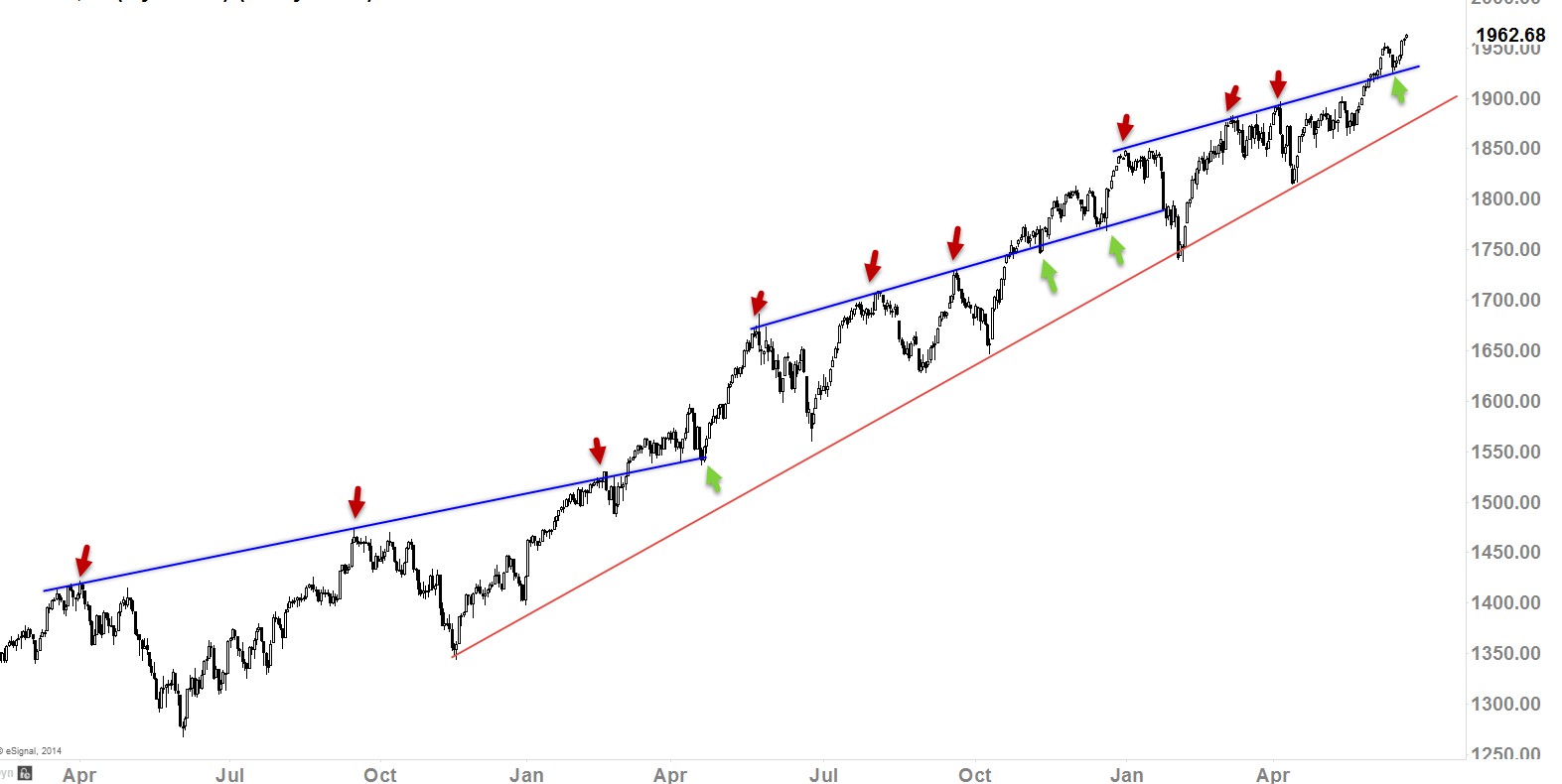 S&P 500 Index ($SPX) Daily Chart
Yes, I have been advocating market's potential correction's ahead (see article here) for the last few months, and this market absolutely crushed my idea and continues rise higher.  Well, as I have expressed my thoughts on this market in the recent video, I don't think we should completely ignore the signals, but rather, I think we should be cautious yet be bullish in this market at least in the intermediate term.
If you observe this chart right here, you can see that when old resistance (red arrows) becomes new support (green arrows), we did see a few months of bullish run.   Today, we can see that S&P 500 index clearly bounced right off of that old resistance pivot level on 6/13, and in that process, we have created, yet another higher low and today, we've put in new all time high.
This is absolutely amazing how strong this market is and how resilient it is.  I do think we may see 1-2 more months of bullish run, but I still think it's going to end very ugly so be cautious.  But until then, I think this market could continue to grind higher.  We probably going to get pullbacks here and there but as long as that pivot level holds (green arrow), this market is bullish.
Also NASDAQ ($COMPQ) is about to make a new high and RUSSELL 2000 ($RUT) continues to cultivate higher-lows and higher-highs.  There were potential warning signals on the NASDAQ and RUSSELL 2000 with H&S formations, but the bulls are starting to nullify those signals (NASDAQ is pretty much completely nullified of that H&S presence).
Yes, when the NASDAQ and RUSSELL fell hard (back in early April), that was a huge warning signals, but with recent price action, I think bulls made a statement and they don't want bears to come out and play, at least for few more months.
Rather than going long on the indices, I would find stocks that were beaten down that is trying to get back up.  For us, we are currently long on Tesla ($TSLA) and First Solar ($FSLR) and several other ones that I may blog about next week.  Have a great weekend.