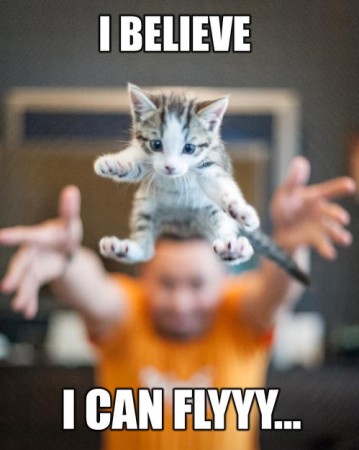 [divider]
Last Update: 7.11.14
[divider]
Related Article
6.19.14 "$SLV $GLD $GDX The Transformation (Targets by 2017)"
[divider]
6.19.14 Thursday
[divider]
The Critical Level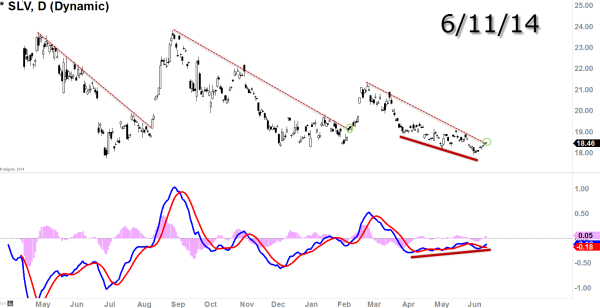 [Daily Chart with MACD]
So we have been long on Silver (long-term positions) 3-4 months now, and pretty much it has gone nowhere but we've been patiently waiting as we continue to see major bottoming signals in the big picture.  If you take a look at this daily chart, you can able to see that we are forming bullish divergence with MACD while price is running into the resistance level on 6/11/14 @ $18.46.  This was the critical level that bulls needed to overcome, but we thought, with bullish divergence in the picture, it had a good chance of breaking out.
The Breakout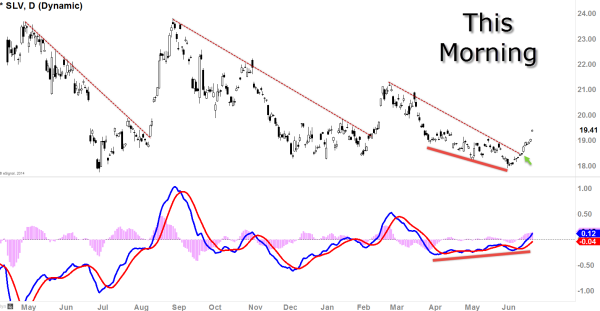 So about 6 sessions later, not only we broke-out of the 'critical level' but managed to make a new high (for the first time in a long time) gapping well above 5/14/14 high ($19ish) and currently trading at $19.41.  If we can sustain this gap and keep it open, I think Silver can do very well here.  I think $21 could be doable.   We are actually seeing much much higher prices than that though for the long-term picture.   We believe major bottoming is occurring on the precious metals and miners. More updates on those later.
The Surge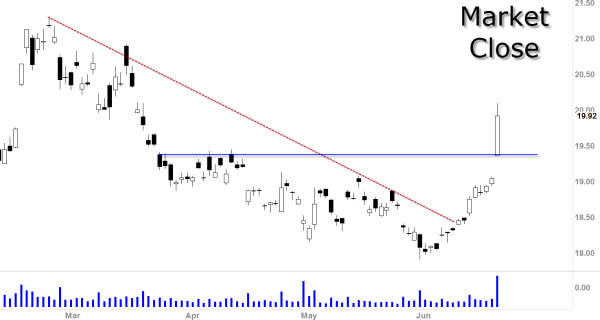 We closed well above this pivot level here, and possibly short-term pullback is in-stored but I think we continue higher.  I am very bullish on Silver for long-term (see full analysis here). I see $20.35 (gap fill) as next resistance and then $21.30ish level.
[divider]
6.30.14 Monday
[divider]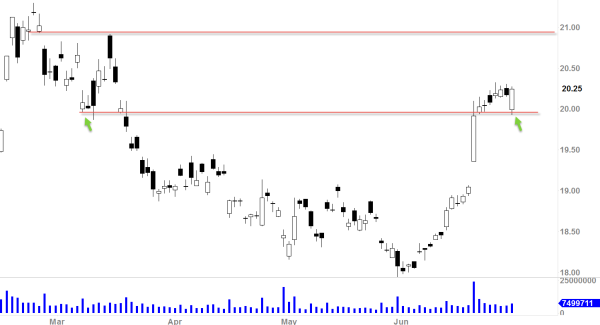 We found support at that $20 level (old support level) this morning and bounced. Looks like Silver wants higher here. Next level of resistance I see is $21ish level.  I do think it might be sluggish in it's way to that level though as we have been in this bullish move for the whole month of June.  We might even get some kind of consolidation formation above $20.  We are still extremely bullish on the precious metals for the long term as we are still holding our core positions.
[divider]
7.11.14 Friday
[divider]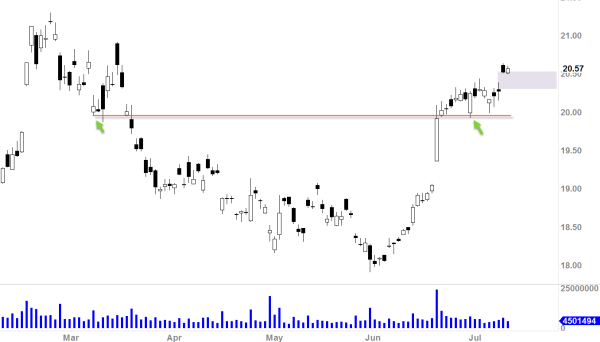 Above that $20 pivot level, Silver ($SLV) consolidated for about 3 weeks (6/23 – 7/10) and it gapped up yesterday and it seems to be holding up well so far.  I am not sure if it's going to fill that gap but I do believe if we can keep that gap open, the bullish pressure will be strengthened.  I do see next level of resistance @ $21ish and then $21.20ish. Holding full positions.