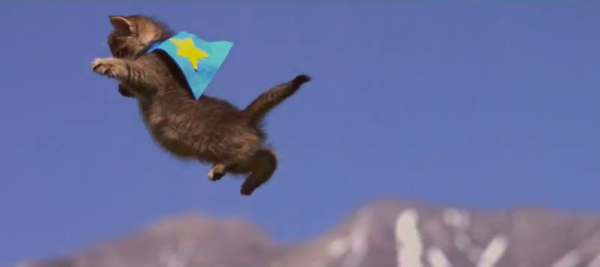 [divider]
Last Update: 8.13.14
[divider]
6.18.14 Wednesday
[divider]
The Process..
(Been accumulating Calls & Shares $31-$33)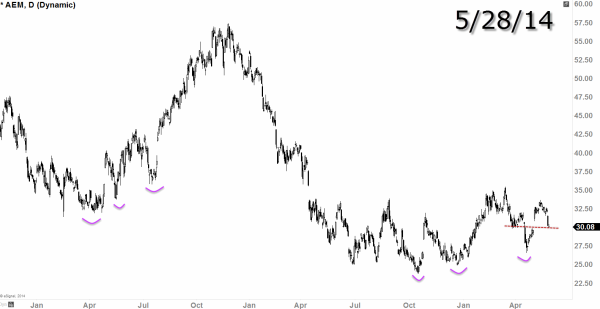 This wasn't the trade-setup, but it actually was the 'rescue mission'.  We have been long on this miner since late March (long-term positions) and I wanted to make sure that we understood the big picture which we are still cultivating higher-lows. For the intermediate basis, I also thought we may be forming inverted H&S reversal (see red line) as we have fully filled that gap from 5/1-5/2.
The Formation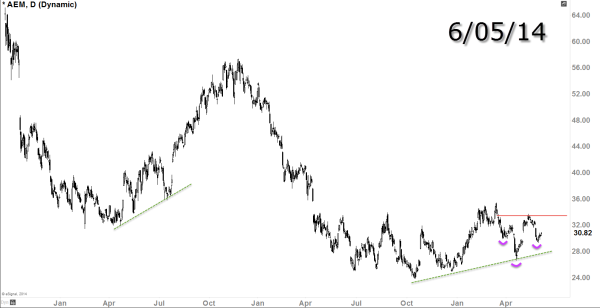 Several days later, the shape of inverted H&S started to really come along as we started to bounce.
The Comeback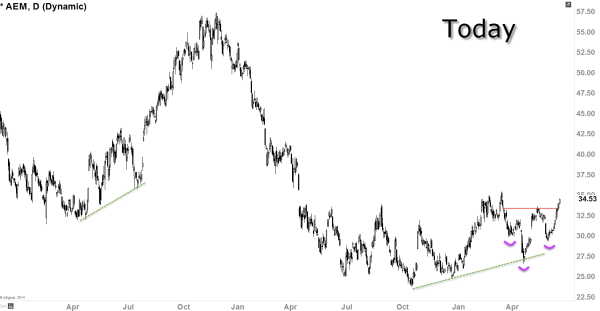 Today, this kitten is relentless and it's been flying straight up last 2-3 weeks!  I think we could get to about $35.50ish but I do think the pullback is coming soon here which we will be thinking of adding more to our current positions if applicable at that time.  For the long-term sentiment, we are very bullish for the whole year this year and next if possible.
[divider]
6.19.14 Thursday
[divider]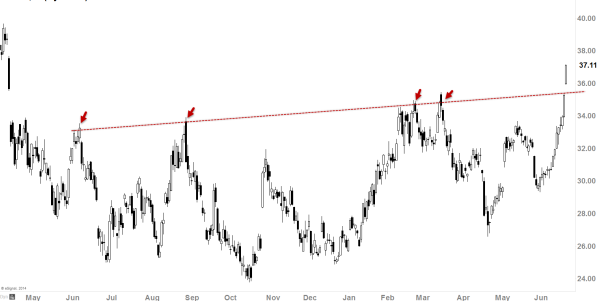 We just cleared major resistance level (see arrows) with 5.19% move today.  I am still thinking pullback is coming but as long as we stay above $34-$35ish, I see much, much higher prices next 3-4 months.  Ideally, I would like to see it come back down to retest that major resistance level as new support and bounce on that level.
[divider]
6.24.14 Tuesday
[divider]
[8:36am CT] Recognizing the Extension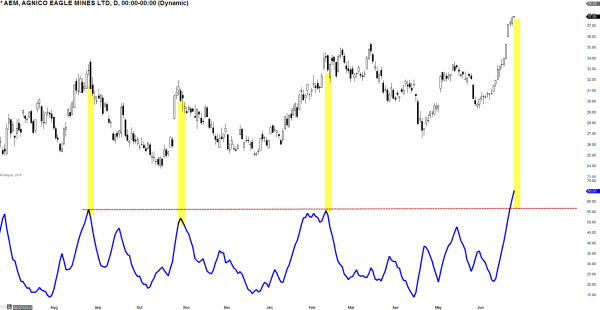 [8:51am CT] Call Positions Scaled Down, Steeply @ $38.21
But still holding 100% stock share positions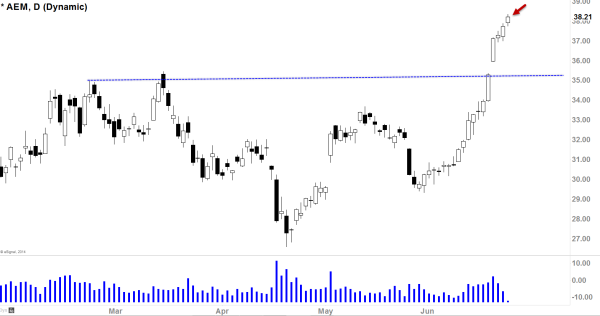 [Market Close]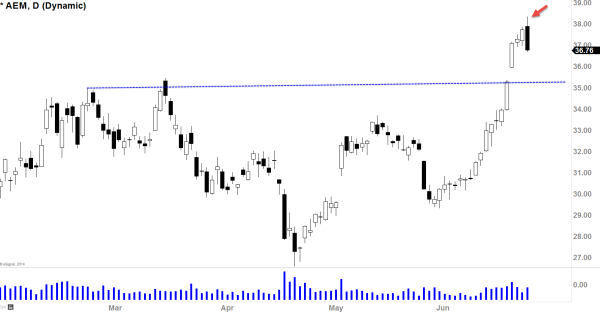 Bearish Engulfing pattern has emerged so we may continue lower.  I think $35 level (gap fill and the massive H&S neckline pivot) possibly be a good level of support. If the bears break that level, possibly $33.50ish is where its headed.  To me, a pullback is a gift/opportunity so I can add more to my current positions, and often times, bigger move is in-stored after a pullback.  Since, I've scaled down a lot of my call positions today, I will be looking to add more positions once we see a solid bounce on some of those levels I've mentioned.
[divider]
7.09.14 Wednesday
[divider]
[1:40pm CT] Sold 1/2 of our Share Positions @ $40.39
I have to say we are getting bit extended here so we've decided to unload 1/2 of our stock share positions as we've been holding fairly large positions.  We are still looking for that sizable pullback so we can add more but for now, we will just continue ride rest of the remainder positions (1/2 of remaining shares and marginal call-option positions).  But we are very bullish on this stock for long-term with target price of $52ish.
[divider]
7.30.14 Wednesday
[divider]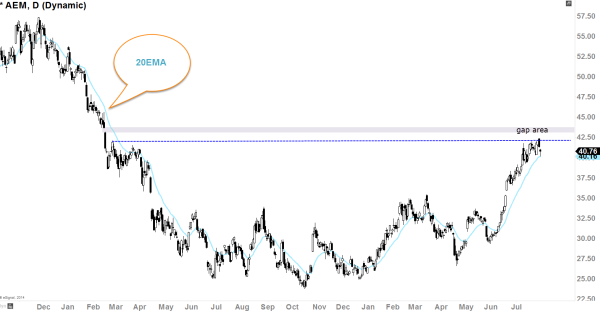 I thought it was interesting to how 20EMA was acting as strong resistance (for half year!) when this thing was rolling over in early 2013.  Now that we are flying, would it be possible 20EMA being that strong support until end of the year?  We did throw a hammer candle right on that 20EMA today.  I think $43 might be doable to fill that gap. Still holding remaining call and share positions.
[divider]
8.13.14 Wednesday
[divider]
Added More Call Positions Here @ $38.75
(Still holding remaining share positions)
As you can see in this chart that the old resistances is now acting as new support (see arrows).  Also to note, this pivot level is coinciding with Fib. retracement level of 38.2% (yellow highlighted).  This is the level we have been watching as $AEM starts to fallback from that $42.50ish resistance.
So we had very nice run yesterday and it seems that the pivot level (see arrows) that is coinciding with Fib. retracement of 38.2% (yellow highlighted), is showing some good follow through.  We are back above 10EMA and looks good here so far.  Our next target is still at $50ish but we would need to clear $42.50ish for that to happen.  Weekly chart still looks very bullish for even $56 target but for now, we would need to get above $42.50.