[divider]
6.17.14 Tuesday
[divider]
Price Target: Resistance 4 or Higher?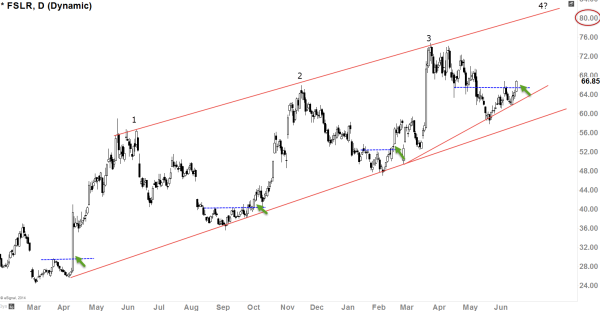 [This analysis and the chart was screened last night – Daily Chart]
This was a setup-chart we've done last night, and $FSLR did have a pretty good move today.  The green arrows are confirmation signals to go long next day.
But my big question is, will that resistance level continue to act as a 'demolition service' or could we break this resistance once for all?  It is $80 level that I think we can move towards where that rising channel-resistance is hanging out, but could we possibly move higher breaking above that resistance level?  I guess it's bit too early to say but if you observe this chart here, you can see that this time around, we did not fully come down to the bottom channel-support.   We actually stopped short and found support, and I had to draw another uptrend support line there.
$74 (3/24 highs) is next major resistance level (we probably going to see some sharp pullback there) and if we can clear that level to the upside, $80 is probably where it's going.  If we do break above that rising-channel resistance, we want to see it move up a bit and then come down to retest as new support and bounce.  That would really set $FSLR to fly.
Using 10/20EMAs as a guide to swing to trade for about a month or so could work.  $FSLR does and can act eccentric & erratic at times so I would give it enough room to move (stop shouldn't be too tight).