[divider]
Last Update: 6.5.14
[divider]
Related Articles
4.04.14 "Market Characteristics Have Changed $QQQ $SPY $XLF $IWM"
4.14.14 "Market Correction Warning Signals $SPY $IWM $QQQ $XLF [VIDEO]"
5.14.14 "Launch Sequence on Treasury Bond (Why This is Bad for the Equities) $TLT $SPY $IEF"
5.20.14 "$DIA Evening Star Island Reversal"
[divider]
4.25.14 Friday
[11:37am CT] Entered Puts @ $111.86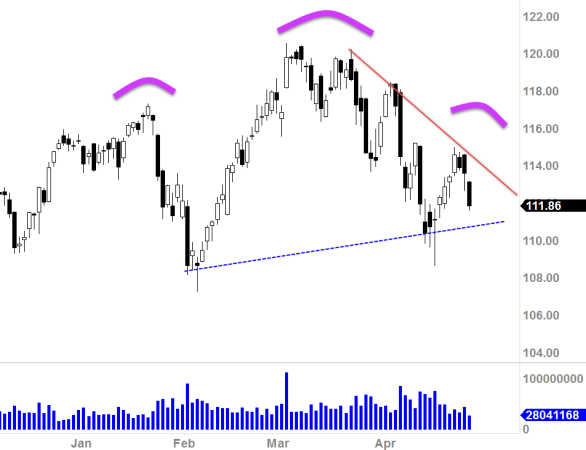 Establishment of lower-highs (we've just confirmed another lower-high today)
H&S formation (not confirmed)
H&S neckline (blue dotted line) needs to be broken for the early stage confirmation
*Note: everyone is looking for symmetrical H&S and many times, you won't get it.
[divider]
5.6.14 Tuesday
[divider]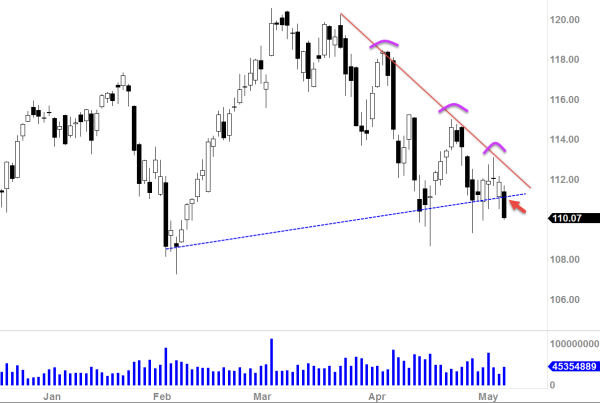 Continually cultivating lower-lows & lower-highs and today, we've just put in new low
H&S neckline is initially broken (follow through is needed)
We are starting to confirm H&S reversal
We have now closed below daily 200SMA
$107.50ish, next support to watch
[divider]
5.20.14 Tuesday
[divider]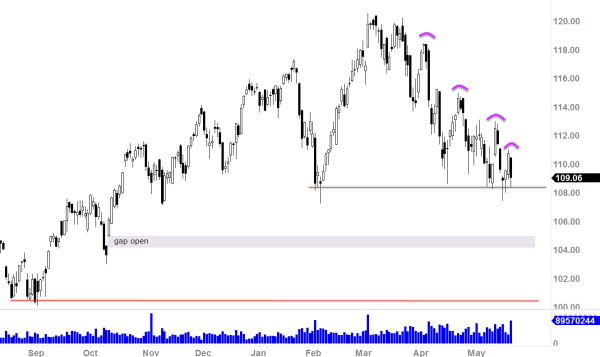 Here we go again at the $108ish support.  The problem about $108 is that, bears are just POUNDING on it (it's about 8th time already that we are retesting this level – the more it gets retested in short-term time frame, the more likely to break), and seems determine to demolish this support.  Another problem for bulls is that we are continuing to cultivate lower-highs and lower-lows.  If we break $108ish support, we probably going down to fill that $104 gap support, and we probably going to see some bounce there to create another lower-high.  If we break below $104ish, $100 is probably where its headed which is my target. Still holding full positions.
[divider]
6.02.14 Monday
[divider]
Sure a lot has happened since my last update on this post as we are getting near to that 100SMA (see arrows).  Currently 100SMA is acting as resistance, but you can see the long lower-wick on today's candle as the dip has been bought up towards end of the day.  Yes, I am still holding my short positions (since 4/25) and wondering if 100SMA would continue to pressure the Russell down.  Major support is still the $108 level, and all hell probably will break-lose if bears can able to claim that level but for now, looks like bulls are trying to avoid that hell-raiser.
[divider]
6.05.14 Thursday
[divider]
[1:42pm CT] Positions Closed @ $114.81
I had been holding January 120 Puts and that helped me to minimize my loss (21%) but still a loss.  We did close above 100SMA today with well defined higher-low.  Looks to be bullish.   I don't have plan to go long at this point but I want to see how it reacts next few weeks before deciding what to do.