[divider]
Last Update: 3.14.14
[divider]
2.14.14 Wednesday
[divider]
Waiting to Pull the Trigger
We have been watching this Inv. H&S setup but it isn't ready to for a trade yet.  We need confirmation to break above that resistance level, and once we get that, the trigger will be pulled.
[divider]
2.19.14 Wednesday
[divider]
[At Open] Entered Calls @ $189.14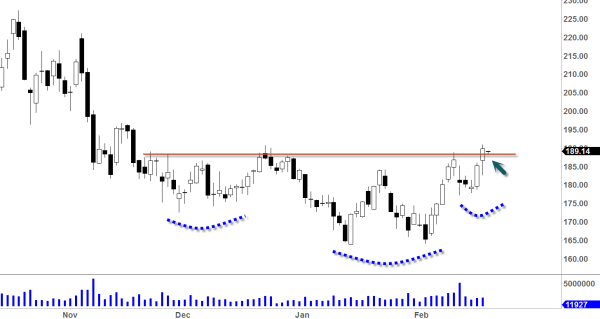 Got the confirmation yesterday on Inv. H&S bullish reversal, and we have pulled the trigger on this trade this morning with calls.
[divider]
2.28.14 Friday
[divider]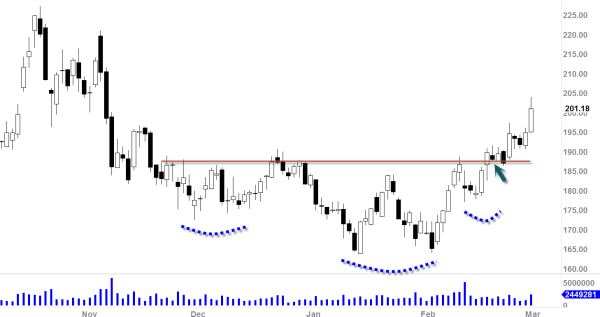 Nice run this week and still holding full positions. $213.50ish next resistance I see.
[divider]
3.3.14 Monday
[divider]
[10:21am CST] Closed 1/2 Positions @ $203.85
Shaky this morning on $SPY but $PXD stood up very well today.  I did close 1/2 of my positions earlier this morning because of the volatility in the indices.   We might get short-term pullback but I do think $215 is doable if not this week, next week. Still holding remaining positions.
[divider]
3.6.14 Thursday
[divider]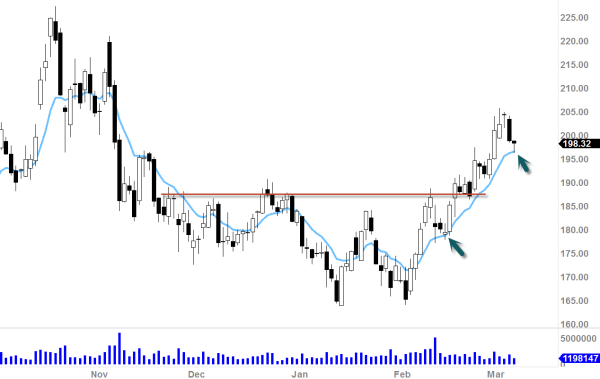 Well, I guess it was the right time when I closed out 1/2 of my positions on Monday, however we are currently trying to find some support at that 10EMA as it has been served as support in the recent past (see arrows).  We do have Evening Star reversal (last three days) but that can be nullified once we breach above $202.   Will see if 10EMA can hold and bounce.  Still holding remaining 1/2 positions.
[divider]
3.12.14 Wednesday
[divider]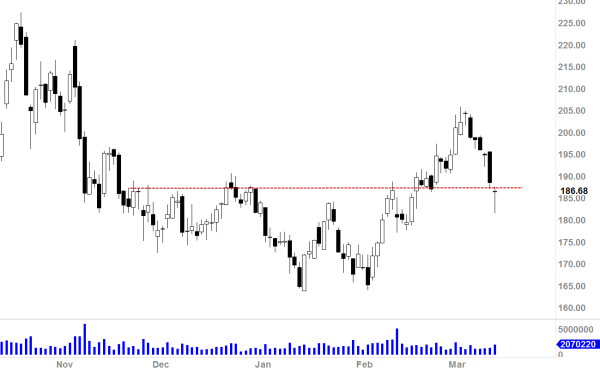 I almost closed out my remaining 1/2 positions this morning but stayed with it calmly, and I guess the dip was bought through out the day.  However, it's still in the danger zone for bulls because we are now below the pivot level.  Good news is that we did get that long-legged dragonfly doji (with high volume) which is bullish signal with confirmation of follow through next day.  If we can gap it up tomorrow morning above $187.50ish and then continue higher, I do think that dragonfly doji reversal will be fulfilled. We must get back above the pivot. Fingers are crossed.
[divider]
3.14.14 Friday
[divider]
[10:28am CST] All Positions Closed @ $185.97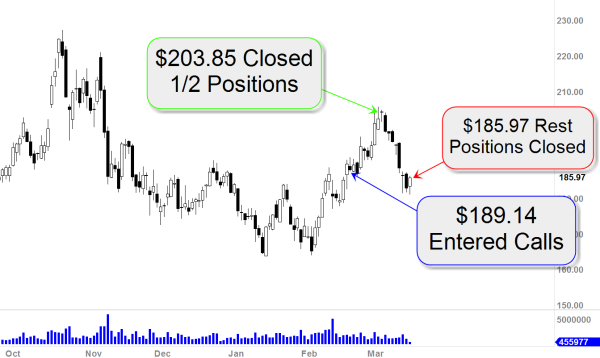 About a month long trade ended today with tiny gain.  First 1/2 positions were profitable but the rest half I closed today was not.  Setup was immaculate in my opinion but tough luck on the overall market this week.