[divider]
Related Articles
2.04.14 "$GLD Following a Path?"
2.10.14 "$GLD Epic Bottom? (My Long Trade)"
[divider]
2.16.14 Sunday
[divider]
[Reason 1] Long-Term Uptrend Support
Weekly Chart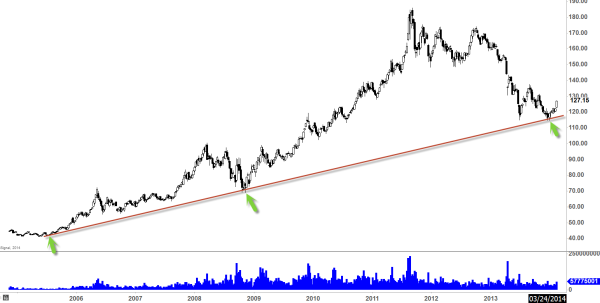 3 touches establishes firm uptrend-support, and we just landed on that third touch few months ago with the firm bounce, last week.  Obviously, only time will tell if this uptrend-support will hold or fail, but I am leaning on the "hold" side because of the factors which I am about to share with you as you read further in this discussion.  Nevertheless, this is one of those charts that will prominently be known by many traders and investors as $GLD starts to bounce more to the upside next several weeks.
[Reason 2] Horizontal Pivot
Weekly Chart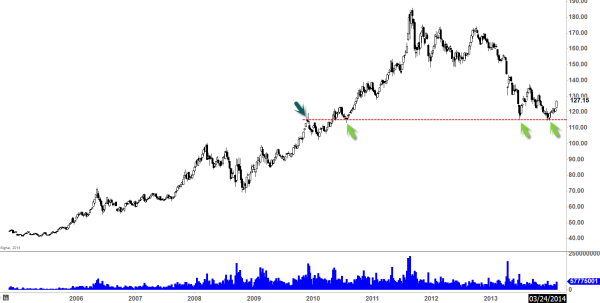 I like how it bounced off of this support level not just because this was a support level in the past, but also this level had been acted as resistance level (see darker green color arrow) as well.  This is where we use the term, "pivot" instead of just "support" or "resistance" because it has been served as both.  Pivot level holds more durability when it comes to retesting it as it has firmly bounced off of that level last week.  That bounce affirmed the potency of that pivot, and this is definitely a conspicuous level.
[Reason 3] Fibonacci Numbers
Weekly Chart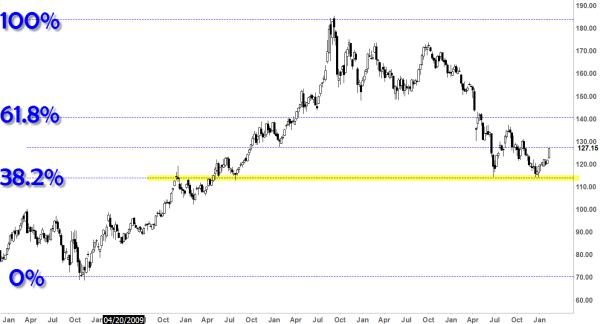 Got to love Fibonacci numbers when it comes to confirming certain levels.  We have been talking about long-term uptrend-support and horizontal pivot levels on last two analysis.  And this chart, pretty much sums it all up, and why this level of $114ish is going to be important level.  Fibonacci Retracement is used as to see if this current long-term uptrend (from 0% to 100%) has any potential of continuing higher after its retracement (decline/fall).  38.2% is pretty much the last level that it must hold for that argument of possibility (possibility of going higher after the decline), and maybe you can say that this is magical but we bounced off of that last level.   Theory is that if we start to breach below that 38.2% level, the true downtrend will start without the possibility of continuing in its long-term uptrend, but starting a long-term downtrend.  Fortunately, this might be the game changing level, and Fibonacci is telling us that there is a hope for the buyers.
[Reason 4] Positive Divergence
Weekly Chart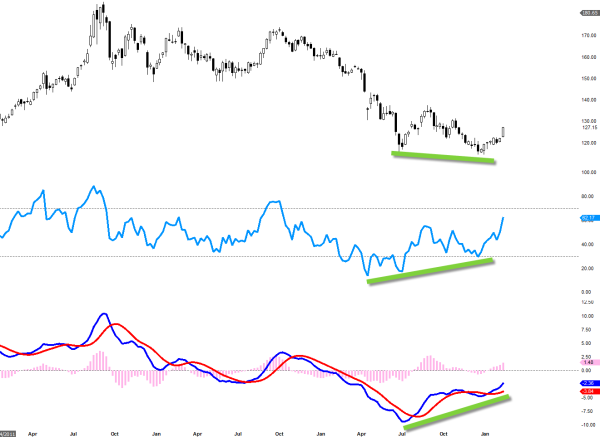 I love to wrap all of my long-term analysis with this bullish divergence, and this chart right here, just makes everything come together like some kind of harmony.  Few week ago (2/4/14), I have written an article regarding this signal before the pop, last week. And it looks like we are continue to make progress to the upside and with that, the signals are strengthening, condoning all other analysis and charts I have posted on this article.
So let's talk future numbers.
[divider]
[divider]
Long-Term Target: $210.00, Only If..
Weekly Chart
So here are the levels of resistance:  $135-$140, $150, $160, 185 (ATH) and ultimately, if everything goes well, $210 might be where its headed only if…
If it can overcome $135-$140 level to the upside to FULLY confirm this major bullish reversal.  If we can't get above $135-$140 level, we ain't going anywhere.  Also, I would like to see some higher lows to see if this uptrend has some legs.  What I don't want to see is, going straight up because if it goes straight up, it will come straight down (it was just all hype but no substance). You want to see that HIGHER LOWS and HIGHER HIGHS (definition of an uptrend) so it can develop that healthy uptrend.