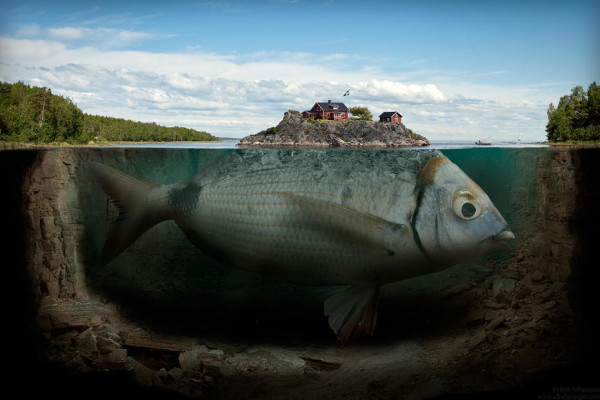 Last Update: 3.15.14
2.10.14 Monday
[8:42am CST] Entered Calls @ $22.86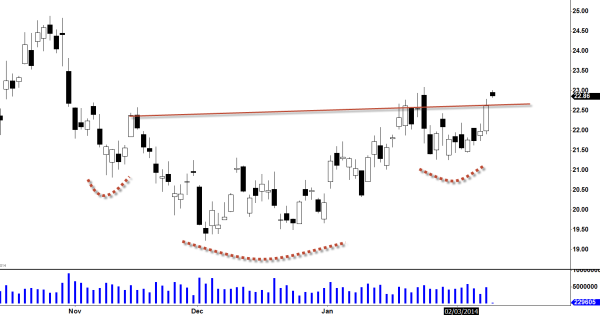 Classic inverted H&S is about to be confirmed as long as we stay above this resistance (red) line I've drawn here.  We gaped up this morning and keeping that gap up would also be beneficial for the near term action.  I am actually trying to bottom fish here going for longer-term trade with this positions.
2.11.14 Tuesday
We definitely had nice move last two days with good spikes on the volume, and now confirming that inverted H&S (good sign for buyers).  We are now just sitting below $24.50 resistance level, and to be honest, I wouldn't be surprised to see this thing coming back down a bit before making new highs (Longer-term good new is that we are now trading well above daily 100 & 200SMAs – first time since 8/17/12). .   Holding full positions.
2.13.14 Thursday
2/11 gap (up) is still open, and yesterday's sell off has been completely nullified which is good news for the buyers.  Problem is, we are now running into the resistance level ($24.70ish), and few things can happen from this level.  1. We continue higher, and retest $24.70ish resistance as new support at some point 2. We fall back to retest that inverted H&S neckline as new support. I guess we will find out soon enough.  Still holding full positions.
2.17.14 Monday
We did clear and closed above this resistance of $24.50ish but we threw Doji after the gap up, and that worries me a bit. If we gap back down below the resistance level of $24.50ish, that Doji might become a Evening Star reversal, and that's not what the buyers want to see. Still holding full positions since $22.86 (2/10 morning).
2.20.14 Thursday
Yesterday's sell off pressure has been pretty much neutralized with today's counter bullish move by the buyers.  We've seen this happening in the recent past.  2/12 – 2/13, we saw sell off from 2/12 has been neutralized on 2/13, and today, that's pretty much what happened here.  That H&S pattern definitely showing lot of fire power and still going.  I think we can get to about $27ish before seeing bigger pull back.  Still holding full positions since $22.86.
2.21.14 Friday
[9:34am CST] Closed 1/2 Positions @ $25.98
I still think we can get to $27 before pulling back but I just decided to take some profits here, and probably add some more once we get that pullback.  I am still very much more bullish for longer term.  Holding remaining positions over the weekend.
3.3.14 Monday
[9:37am CST] Closed 1/2 of Remaining @ $26.22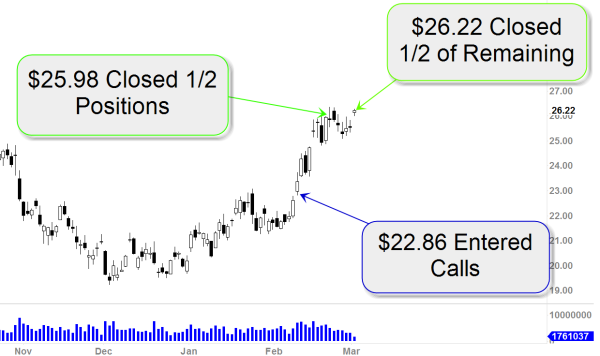 Well, towards end of the day, $SLW did crashing down filling the morning's gap (closing price at $25.70) so I guess it was a good decision to close another 1/2 of my remaining call positions before that happened.  Now I am only holding about 25% of my original call positions on it.  I am very happy with gain I've booked so far, and at this point, I think pullback is probable.   I am still bullish for long term so I am going to wait patiently to find that next adding point.
3.6.14 Thursday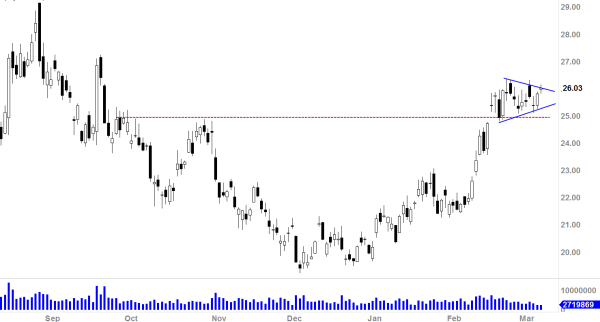 I really like this pattern because we are consolidating above this pivot level (red dotted line) while forming bull pennant pattern. This is a bullish continuation pattern, and I think it has good chance to break higher.  Next resistance I see is around $27ish.  I am still holding remaining positions.
3.12.14 Wednesday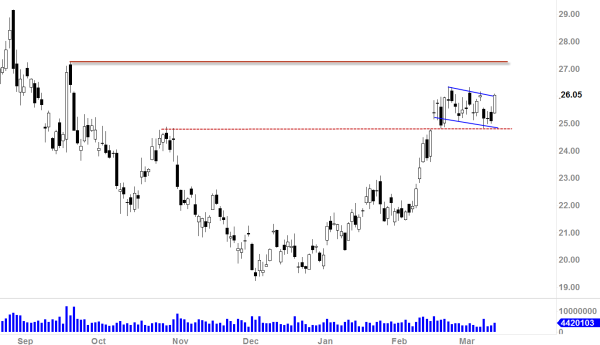 So we never breached that pivot/support level of $25ish, and we consolidated above that level which is a bullish continuation sign as I have mentioned on my previous update.  Now, it looks more like bull flag pattern with breakout target of $27ish.  I am still holding my remaining positions here (since 2/10 morning).
3.15.14 Saturday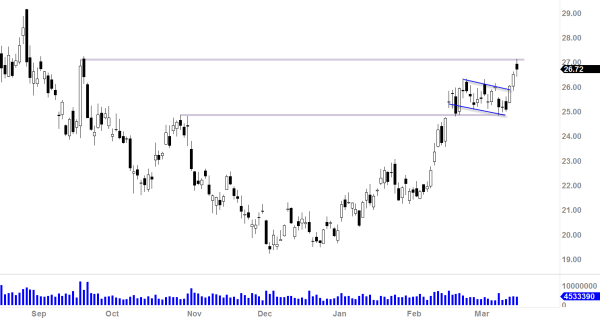 As we have been looking at the bull-flag pattern (bullish continuation), $SLW did breakout of that, and now pausing right on that resistance level of $27ish.  Friday's candle isn't a reversal so we could continue higher if we can break above $27 next week.  Still holding remaining call positions.
About the Author
Kay Kim
Kay Kim is a full time equity market options trader, the Founder of TrueVine Capital, Inc. and the Owner/CFO of
Lucky Klover, Inc.
Kay has been trading the market since 2007 with extensive research and development on technical analysis. Though Kay may not have 20+ years of experience, he makes it up with his aggressive style of trading with in-depth technical analysis.