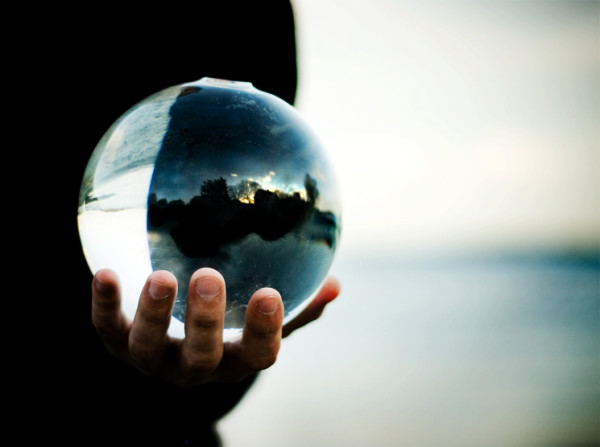 [divider]
2.5.14 Wednesday
[divider]
[Reading 1] S&P500: $1,560 Downside Target
S&P 500 Index: 1999-2014 Daily Line-Chart
[click 2 enlarge]
I would have to emphasize the fact that even if $SPX comes back down to about $1,560ish, this market will still be in PRIMARY UPTREND.  That's a great news for the equities and the US economy.  We've had phenomenal run since July 2011 market correction so this is where I would actually welcome the bears.
As you can see on that rising uptrend support (since 2009 market bottom), it will have huge impact on the overall market if we can have 3rd touch on that support because it will establish firm uptrend support that can last lifetime!  Also that $1,560ish level is where it coinciding with horizontal support which could be served as strong support.  When you see price levels are coinciding like that, in technical analysis, that's a signal flaring, "look at me! look at me!".   If the market comes down to $1,560, and bounces, I would love to get involved with some long-term positions there as I am still a long-term bull.
Anyways, let me further assist you with why I think $1,560 level is going to be important (if indeed, market does decide to come down) with Fibonacci numbers which they are also condoning it's prominence and could be used as a affirmation tool.
[divider]
[Reading 2] Psychic Number of the Past
S&P 500 Index: July 2011 Correction Daily Line-Chart with Fibonacci Retracement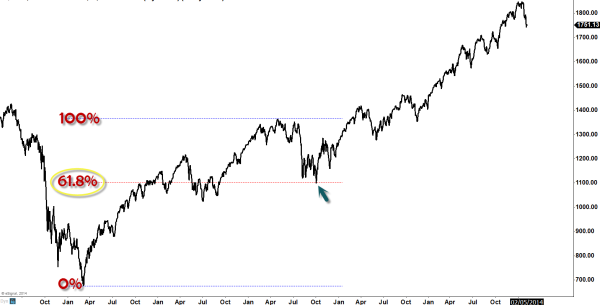 [click 2 enlarge]
Since market has bottomed in early 2009, we've had nice bullish run until May 2011 (with some slowdown in 2010), and inevitably, the correction came, and the magic number was 61.8% retracement level (see chart).  Using that theory, I have applied the same tool for today's possibly correctional move.  Let me explain further with the next chart.
[divider]
[Reading 3] Psychic Number of Today
S&P 500 Index: Daily Line-Chart with Fibonacci Retracement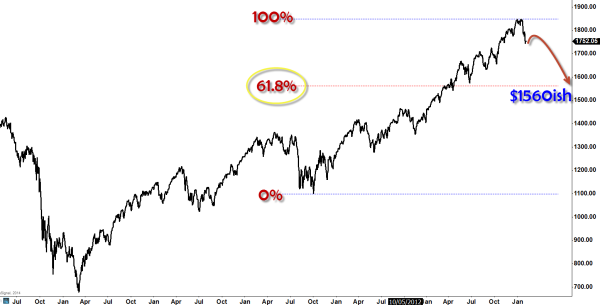 [click 2 enlarge]
Here you can see, measuring from July 2011 bottom to recent top, 61.8% retracement level is now condoning and affirming the price level of $1,560 level which we've been talking about in this article.  That's absolutely fascinating, isn't it?!  Again, when the price levels are coinciding like this, that's definitely a level to watch for.
[divider]
[Bonus Reading] Early Correctional Signals
Dow Jones Industrial Avg: 2006 – 2014 Weekly Line-Chart
Bearish divergence is good way to determine early correctional phases, however, price action must confirm these signs before hastily calling the top.  Before steep correctional move, I would like to see a LOWER HIGH on this chart to confirm that bearish divergence to make its presence known as "weighty matter".
[divider]
[divider]
Final Thoughts
I give you this article as a cautionary signal in the overall market but I wouldn't solely rely on it, neither.  My feeling says we may have more downside to come but my chart says (as of today), we still do not have that LOWER HIGH I am looking for on $SPX daily chart.  Stocks don't just come crashing down or go straight up.  It will make LOWER LOWS and LOWER HIGHS (in downtrend), and only then, we can see some kind of bearish trend developing.  More often then not, if the market comes down without proper "lower lows" and "lower highs", it can spike back up without warning frustrating many short-sellers, and things can get REAL hectic.  Keep in mind, we are still in this raging bull market (when we are looking at the long-term trend), more so, we need to ensure that this bearish action has some weight on it.