[divider]
Last Update: 1.23.14
[divider]
1.15.14 Wednesday
[divider]
[8:40am CST] Entered Calls @ $184.17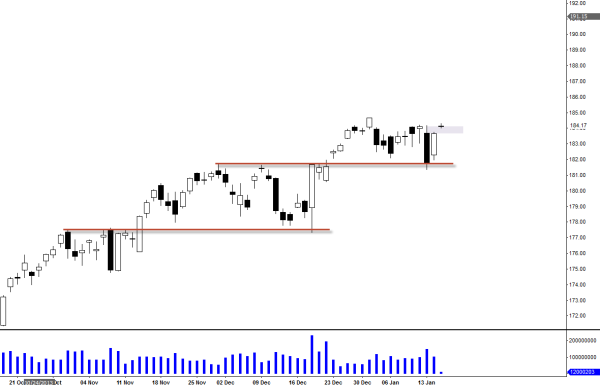 [At Close]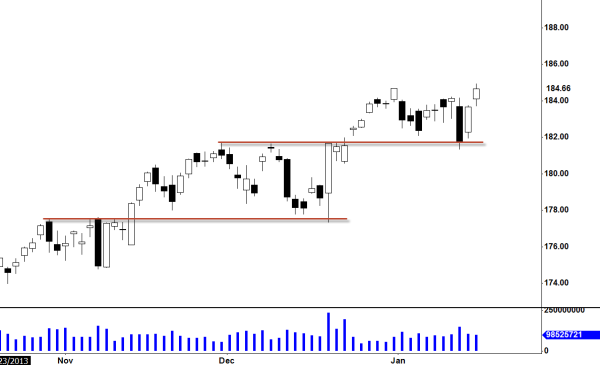 This morning's gap was initially closed but we did have follow through today, nonetheless.  So its safe to say Monday's sell-off was pretty much nullified with today's action but we still do not have full confirmation because we did not make new highs today (after close).  As long as we can stay above $184ish, I think higher price is in stored but I do think we need to make new highs rather quickly (preferably by Friday).  I am targeting $190ish.
[divider]
1.21.14 Tuesday
[divider]
[10:28am CST]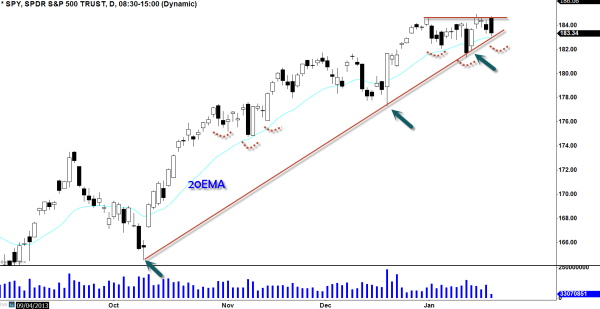 If the buyers can protect the level of 20EMA (green moving average) and this long-term uptrend support, I think we can able to push higher.  Also looks like we might be forming some kind of inverted H&S.
[At Close]
Buyer were able to protect 20EMA and that long-term uptrend support today (see arrows) but we are still trading below the resistance here.  Bulls must act quickly next few days to make new highs and close above ATH, otherwise, bears are going to take every possible chance to bring it down like they did today (but failed to sustain).  I am still holding full positions here and I think next few days will be critical.
[divider]
1.23.14 Thursday
[divider]
[8:40am CST] Positions (June calls) Closed @ $182.95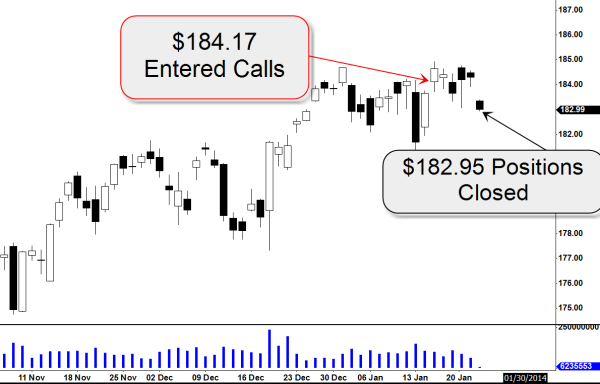 I had been holding June calls since $184.17 and I was forced to close my positions earlier this morning as it gaped down pretty hard.  Still not a good idea to short here in my opinion but I probably won't get back into $SPY until it makes new highs.