[divider]
Last Update: 1.24.14
[divider]
1.15.14 Wednesday
[divider]
[8:55am CST] Entered Calls @ $1,161.61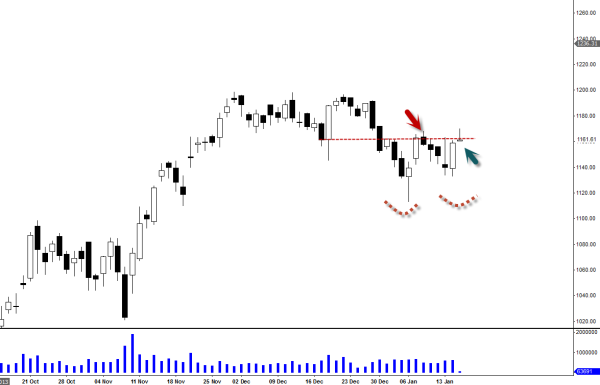 This was potentially a bit riskier setup because double bottom was NOT yet confirmed as of yesterday.  What it needed to do by end of the day, it needed to close above this double bottom neckline (red arrow) and create a support (green arrow) and the general market being bullish this morning, I've decided to go long hoping that we could get some move later today.
[Market Close]
Well, fortunately, $PCLN did close well above the neckline (old resistance new support – arrows) area thus now we can say that the double bottom continuation is now confirmed. As long as we stay above $1,160ish, I do think we can hit next resistance level of $1,195ish area.
[divider]
1.16.14 Thursday
[divider]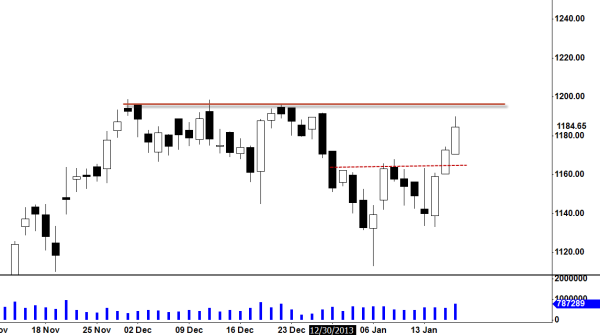 We had nice follow through today (with volume) and getting very close to that strong resistance level of $1,195ish. The question is, are we going to stall or are going to break higher.  I think the best case scenario would be, if we can gap up above $1,195 possibly tomorrow (and stay above until close), I think we can go ahead and make new highs. So I am kind of curious to see how its going to deal with that resistance and I guess we shall find out.  Still holding full positions.
[divider]
1.20.14 Monday
[divider]
Once we get a firm bounce, 10EMA can generally act as great support before continuing higher as you can see on this chart.  We did see some fear near that $1,195 resistance level but we can see that the bulls fought back (long lower wick) and trying to stay up here.  Obviously, closing above that resistance would be the next task for bulls and target price is about $1,260ish if we can get above that resistance. Still holding full positions.
[divider]
1.21.14 Tuesday
[divider]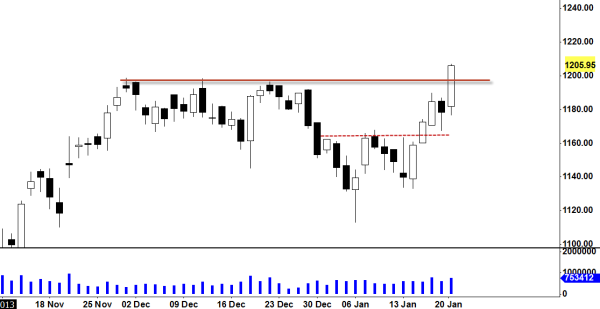 Double bottom neckline held and, today, we were able to thrust above the strong resistance level closing at $1,205.95.  Very nice move. Still holding full positions.
[divider]
1.22.14 Wednesday
[divider]
I am still holding full positions here as we are breaking out last few days.  My Fibonacci Expansion analysis forecasts possible price target of $1,260 level as long as if we can hold above prior resistance level of $1,195ish (as I won't be surprised to see a retest of that level before going higher).
[divider]
1.23.14 Thursday
[divider]
[10:12am CST] Added More Calls @ $1,198.83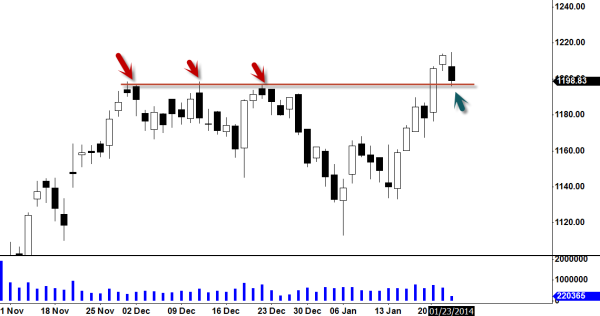 [At Close]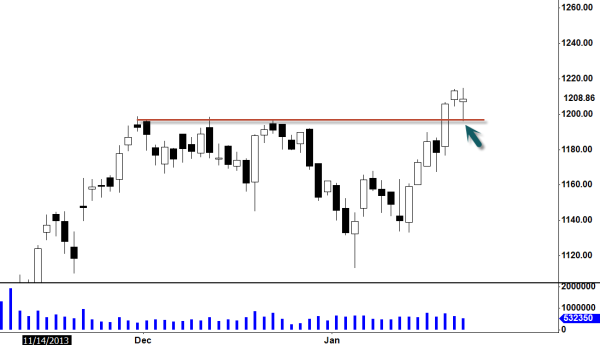 $PCLN has been such a strong stock since that double bottom reversal. Even with today's market sell off, it didn't even budge and I took advantage of that mindset today.  Old resistance is now acting as support and we formed bull flag (last two days) for continuation.   *Check yesterday's update as I was kind of anticipating that $1,195ish retest and that was good level to add this morning.  As long as we don't see big sell off in the market, I do think we can go much higher.
[divider]
1.24.14 Friday
[divider]
[1:25pm CST] Positions Closed with 46.32% Profit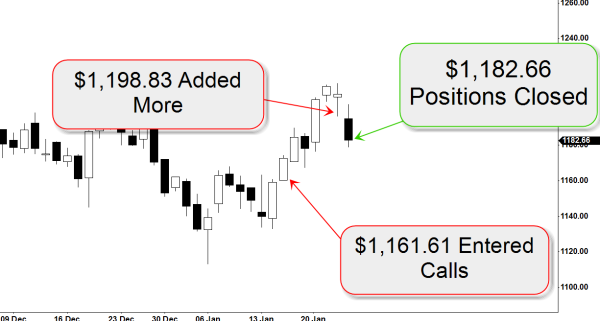 I hate it when the general market messes up my good setup like this one.  If market hadn't sell off today, I was pretty confident that we made new highs today after flagging for two days above the pivot level of $1200.  But it is what it is and we can only manage our risk.