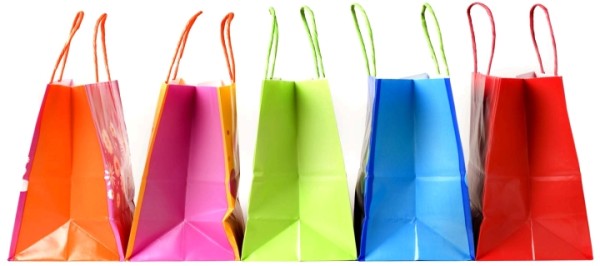 [divider]
Last Update: 1.6.14
[divider]
12.19.13 Thursday
[divider]
[10:37am CST] Entered Calls @ $86.50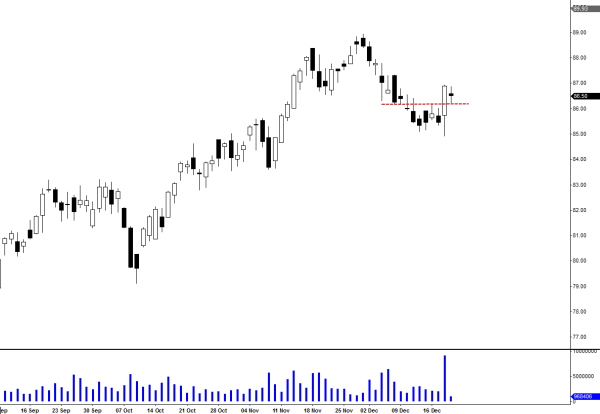 Huge day yesterday with huge volume and it's not surprising to see little bit of digestion today and about 50% retracement.  I've decided to entered calls here thinking that as long as we hold above this level, it can go higher.
[divider]
12.20.13 Friday
[divider]

I worried a bit this morning as it was breaching that 50% retracement of Wednesday's long candle but towards end of the day, bulls fought back and brought this thing back up and closed above Wednesday's highs.  Next level of resistance $89ish and my target is about $92.50ish.
[divider]
12.23.13 Monday
[divider]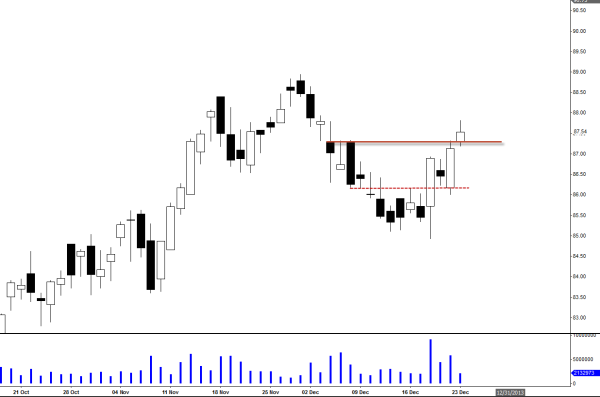 Looks like we are moving higher and just cleared recent resistance. $89ish is the next resistance.  I am still holding full positions.
[divider]
12.27.13 Friday
[divider]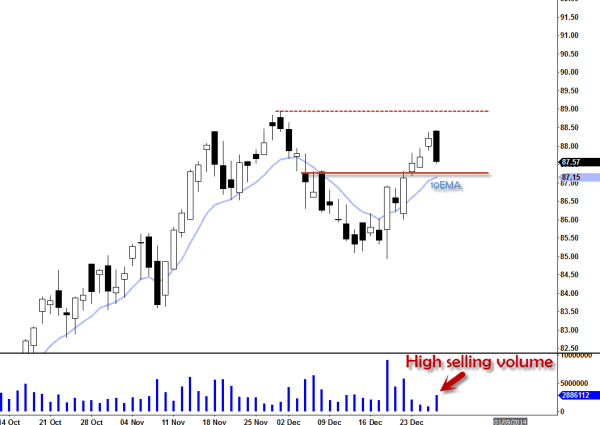 So we got a problem here because we have bearish engulfing pattern with high volume to confirm (lot of distribution today) but good news is that we are still above 10EMA and the horizontal pivot level.  What bulls need is what I call "nullification process" which means we can't let bears gain momentum here thus slowing today's selling pressure down by forming some kind of counter active candles next week (such as doji, hammer or such).  Bulls can't afford to have another long dark candle with volume but slowing down action with some sort of bullish reversal candle and must stay above 10EMA.  I am still holding full positions here holding over the weekend.
[divider]
12.31.13 Tuesday
[divider]
Well 10EMA was the level to hold and we definitely did that on Monday and bounced today. This is a great sign for the buyers because now we are nullifying ("nullification process" as I have mentioned on the previous update) the selling pressure from Friday and neutralizing that bearish engulfing candle into consolidation pattern (last four days).  I can see $XRT going higher near future and I am still holding full position (calls) since $86.50.
[divider]
1.6.14 Monday
[divider]
[11:30am CST] Positions Closed @ $87.03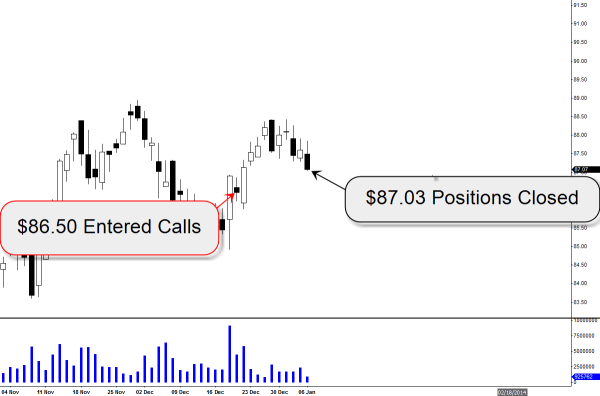 I had been holding March ITM calls, and earlier today, I closed it out with pretty much breaking even (actually tiny gain) on this trade.  It looks further downside is imminent for $XRT and I have no plan get back in anytime soon.