[divider]
Last Update: 1.2.14
[divider]
12.19.13  Thursday
[divider]
[8:37am CST] Entered Calls @ $91.86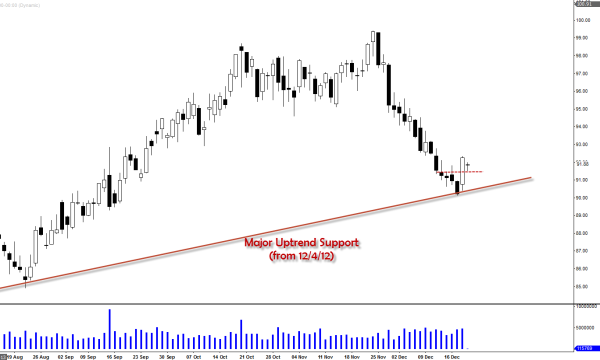 [Market Close]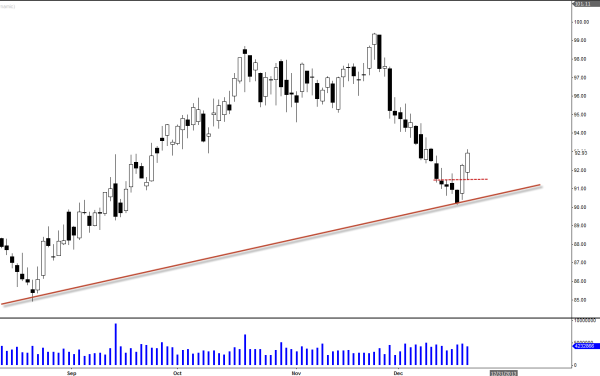 This is one of those setups you have to just go for it as one day (yesterday's bullish candle) does not make a trend. This time around it worked out for my favor but with low risk setups, you can really minimize that risk.  Still below 20 and 50EMAS so I guess nothing to be excited about as of today yet but hoping to see some strong follow through next several days.
[divider]
12.20.13  Friday
[divider]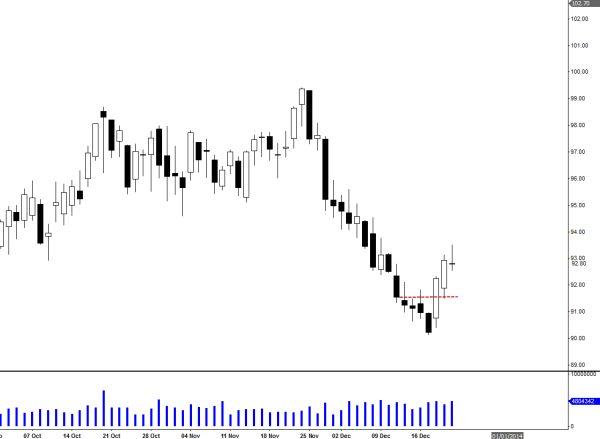 Still holding full positions here as we have formed Doji candle today.  This could be a problem or just could be a resting pattern and as of today, there is no way of knowing that.  I will need to see where it closes on Monday to get a better idea.  We are still above 10EMA and hopefully it can act as support next week.
[divider]
12.23.13  Monday
[divider]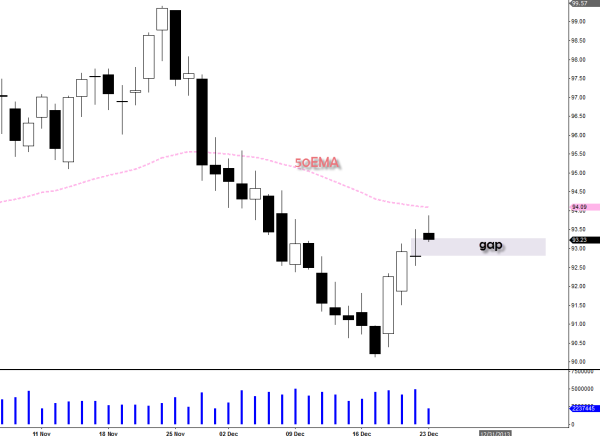 Last two days, it has been grinding higher and it even gaped up this morning with gap still open as of today.  50EMA is level to watch for possible resistance for several days here.  $OXY must close well above 50EMA to able to keep this run going so it will be interesting to see how it reacts to that next 2-3 days.  Keeping the gap open will help with the buying pressure to continue but if gets closed, 10EMA is next level of support.  I am still holding full positions.
[divider]
12.26.13  Thursday
[divider]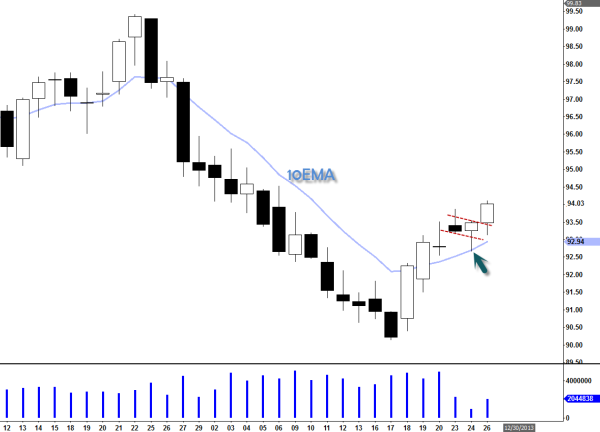 Nice bounce on 10EMA forming mini bull flag there.  Today we made new highs with some volume and currently just below 50EMA which could be served as resistance.  Let's see how it reacts to that 50EMA. Still holding full positions here.
[divider]
12.27.13  Friday
[divider]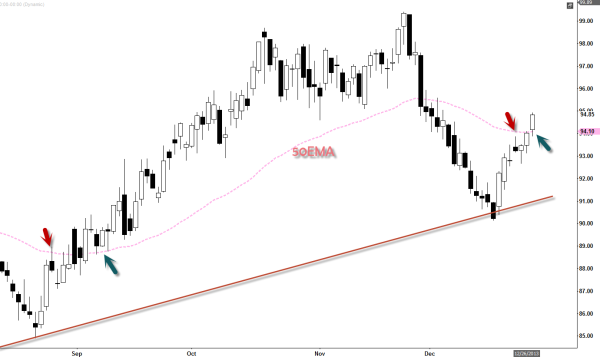 50EMA with pretty impressive resume as it had been served as strong support back in September and lifted the trend up for over a month and I am wondering if we can do that again.  Well I am certainly willing to find out but the next resistance is at around $95.50ish.  Still holding full positions.
[divider]
1.2.14  Thursday
[divider]
[11:14am CST] All Positions Closed with 26.28% Gain
Looking at the closing action, it does look like we are holding above 10EMA for now but it was a tough decision to close this positions here. I guess this morning's action pretty much wiped out last three days gain, so I made the judgment call. I don't have plan to re-enter anytime soon on this name but I will take the gain for now (I had been holding Feb ITM Calls).