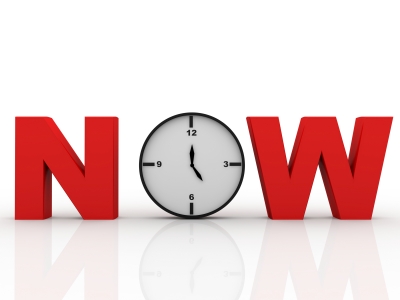 [divider]
Last Update: 1.13.14
[divider]
12.19.13 Thursday
[divider]
[At Open] Entered Calls @ $161.42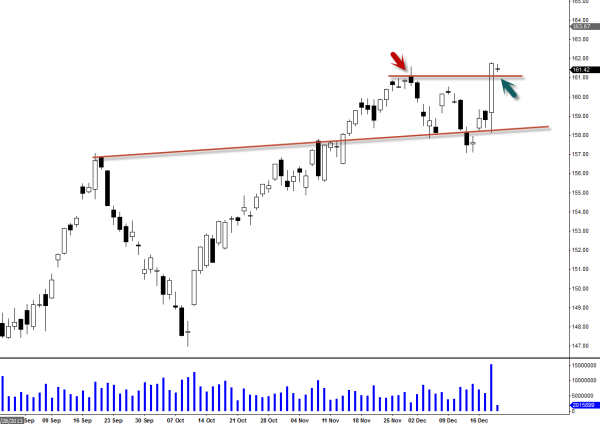 It's simple strategy here as it retests the old resistance as new support level (see arrows) and I've decided to enter long with calls right at open as it gaps down and now is the time $DIA can really shine after about month of choppiness (but faithfully bounced right on that 50day EMA). We need to hold ABOVE this level (new support) next few days before it can continue higher.
[divider]
12.23.13 Monday
[divider]
[12:38pm CST]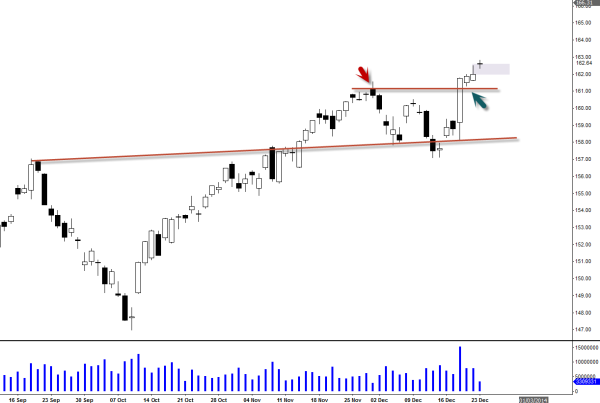 Last three days move (including today) has been somewhat sluggish but also faithfully held above this new support level so I won't be surprised to see it comes down to retest the new support level but then again, with that gap up today (as long as it remains open), I could also see this thing just continues to GRIND higher.   This afternoon's doji, nothing I would worry about as long as this morning's gap is open. My target $167-$168
[divider]
12.24.13 Tuesday
[divider]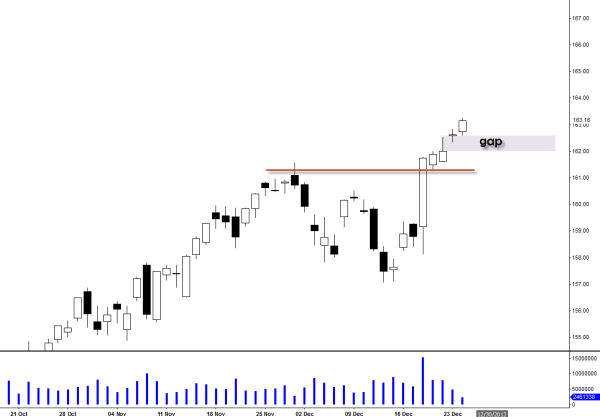 Gap remains open and $DIA made new highs today. I expect grind higher action all week.
[divider]
12.26.13 Thursday
[divider]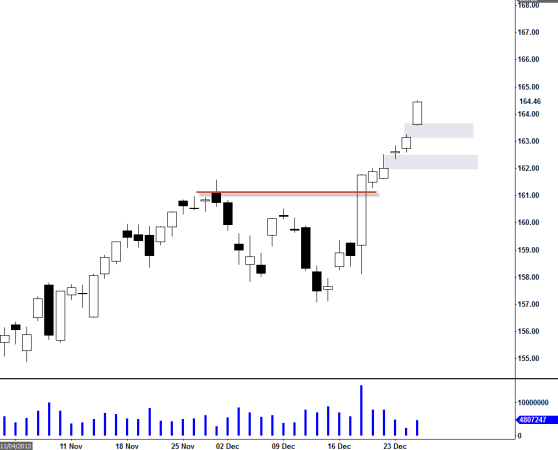 "Trend is assumed in effect until it gives us definite signal of reversal" – Charles Dow
"Trade in the direction of the gap(s)" – Japanese Rice Traders
[divider]
12.31.13 Tuesday
[divider]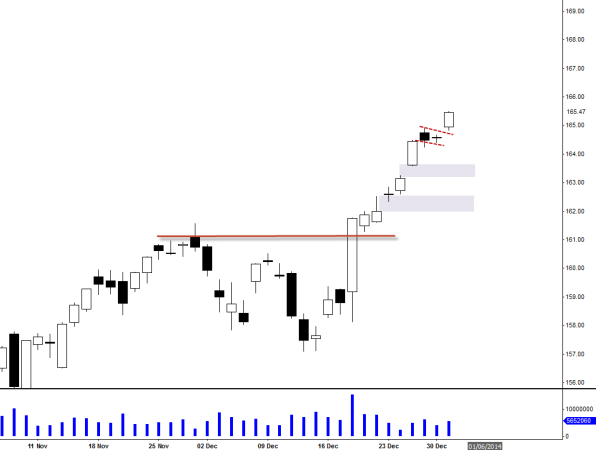 Still holding full positions as we have confirmed bull flag (mini) today.
[divider]
1.2.14 Thursday
[divider]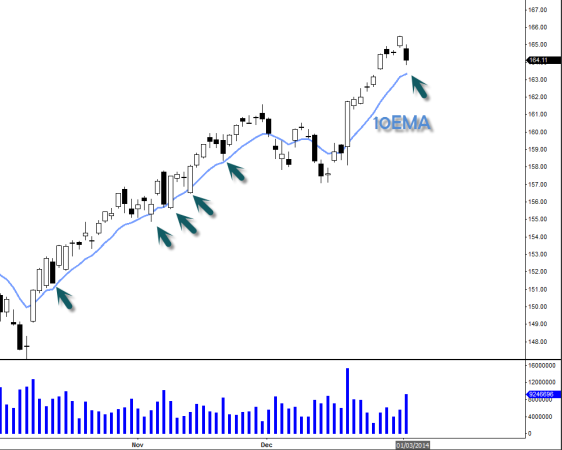 Still in this trade as we are still above 10EMA.  I did close my $SPY call positions but keeping this one.  Let's see how it reacts to that 10EMA next few days.
[divider]
1.7.14 Tuesday
[divider]
Well we did bounce right on that 10EMA this morning as we gaped up and held up well through out the day. You noticed how that previous gap is still open and is acting as support, that's a good sign for bulls.  We must break above $165.50 to continue higher so next few days will be important. I am still holding full positions from $161.42 (12/19/13).
[divider]
1.8.14 Wednesday
[divider]
Gap from 12/26/13 remains open and 10EMA still holds.  Benefit of the doubt still goes to the buyers as of today.  Still long.
[divider]
1.13.14 Monday
[divider]
[11:58am CST] Exited Positions @ $163.12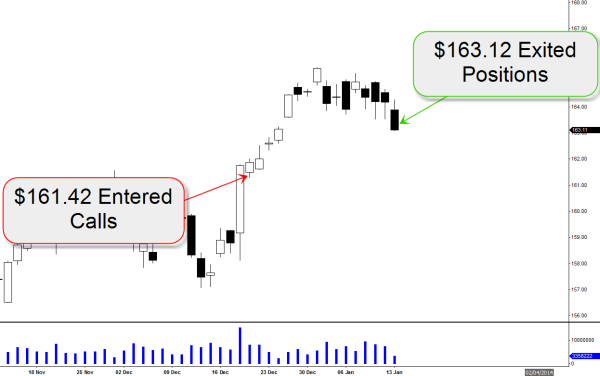 I was able to exit this position with small gain but again, its disappointing because I was hoping for some more upside move.  I guess its better than a loss.  I have no plan to re-enter anytime soon as we might be going down to retest that $161ish level.