12.19.13 Thursday
[8:44am CST] Entered Calls @ $170.35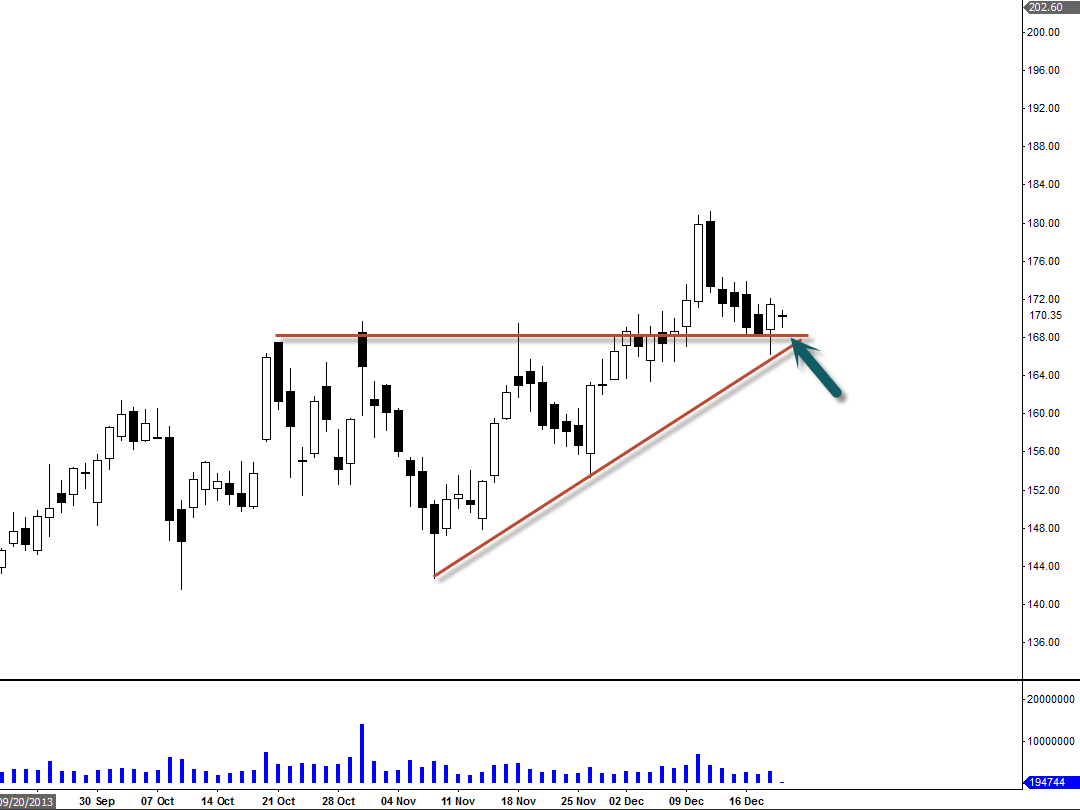 Last several days it has been holding up above this pivot level quiet well and I've decided to enter call positions here.
---
12.20.13 Friday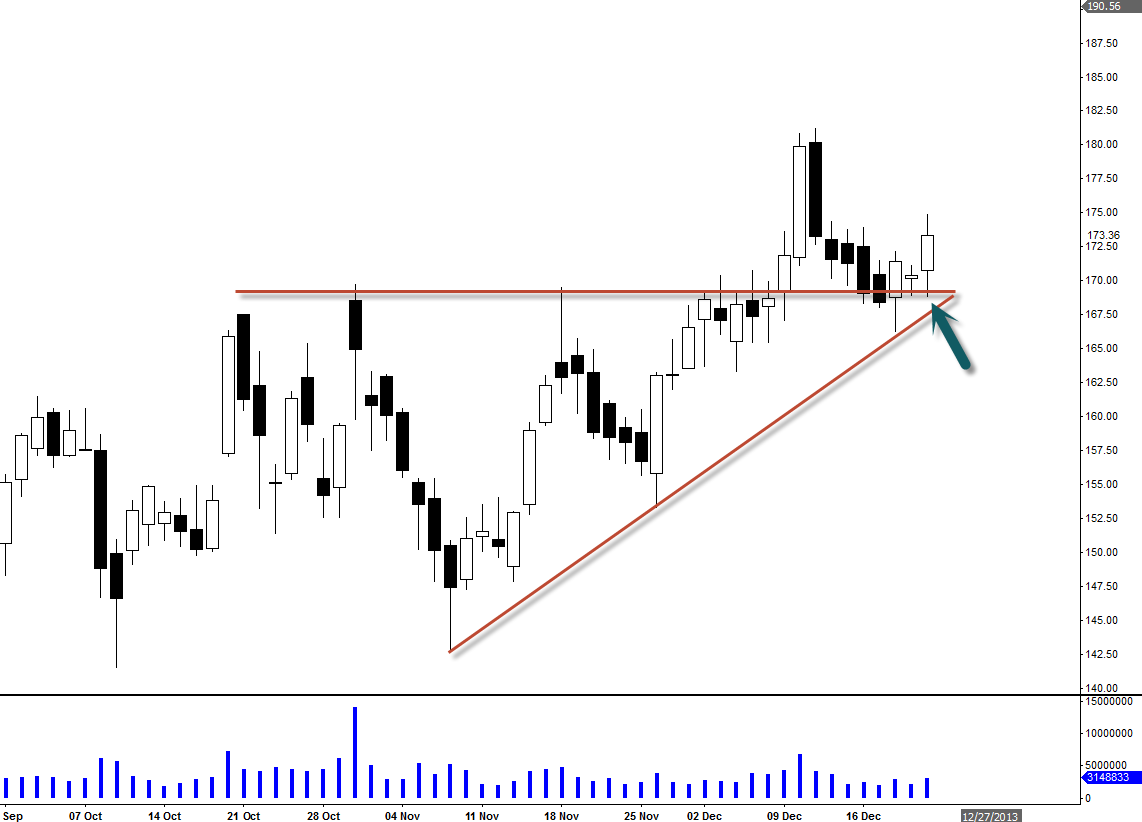 I thought it had nice bounce right on that pivot with increasing volume last three days.  $180 next level to break and my target is at $198-$200.
---
12.26.13 Thursday
I am still holding full positions (DITM Feb Calls) at a loss as we are getting down to the wire here.  This is the LAST level of support (long term uptrend support) if buyers can not protect this level, I do think $BIDU can come down to about $162ish to retest that 50EMA.  Good new is that we have been coming down with declining selling volume last three days so possibly we can see some bounce tomorrow and early next week (if not, I would have to take a loss on this one).
---
12.27.13 Friday
Nice bounce today right on that long term uptrend support.  We have possible double bottom continuation pattern here if we can break above and close above $174.50ish on Monday. And this double bottom can be strong pattern for higher move because it has formed right on this uptrend support and the horizontal pivot.  I am still holding full positions over the weekend.
---
12.31.13 Tuesday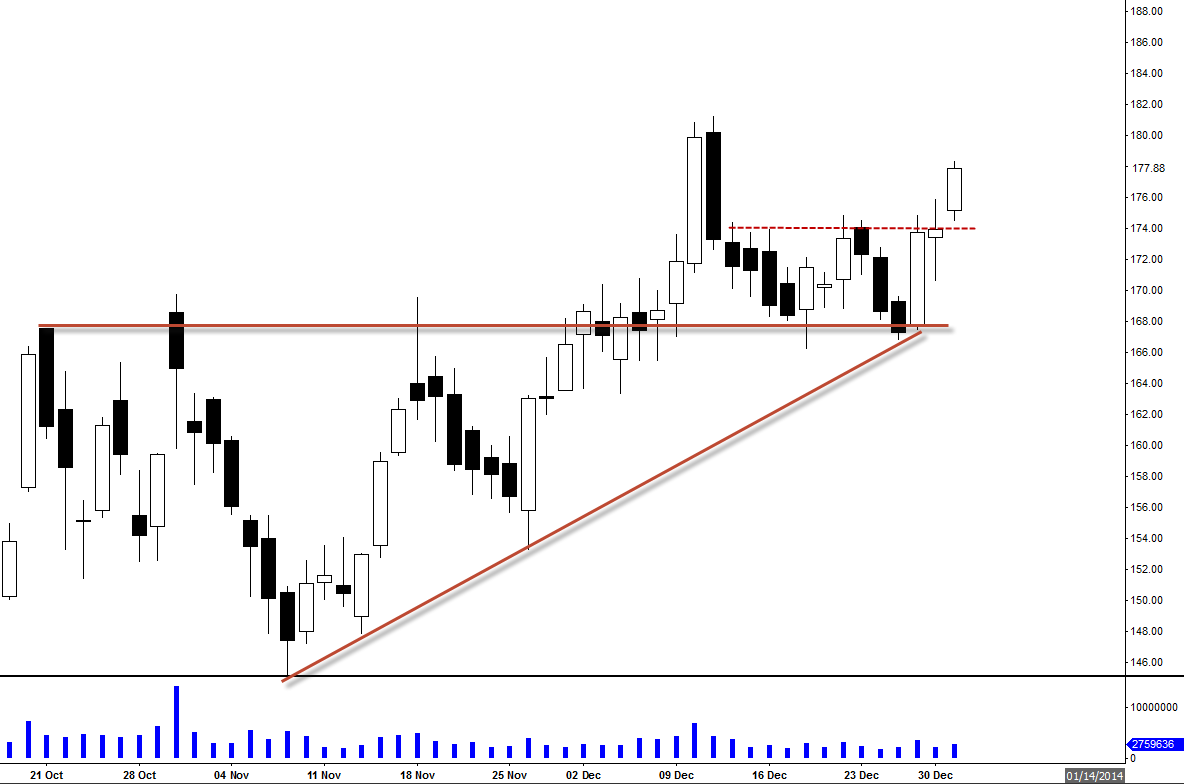 Double bottom continuation confirmed and now closed above the neckline.  $180ish next resistance to take out. I am still holding full positions.
---
1.2.14 Thursday
$BIDU was only thing green in my current positions and it held up very well (this is why I ignore intraday volatility -it looked bearish in the morning) despite of the market condition.  As we can see that the volume has been inclining while the stock rose, this is definitely sign of a accumulation and hopefully we can break above this recent resistance of $180ish.  Still holding full positions and quiet curious to see if we can break above this resistance here.
---
1.3.14 Friday
I am still full positions (since $170.34) as we were not able to make new highs today and came back down to possibly retest that double bottom neckline resistance as new support ($174ish).  This is the level to MUST HOLD if the bulls really want this thing to move higher.  Let's see if we can possibly bounce here early next week.
---
1.7.14 Tuesday
Double bottom neckline did hold and because of that, I am still in this trade.  That $180ish resistance must be broken for $BIDU to fly again.  I am willing to hold even longer to see how it reacts to that.  LONG!
---
1.8.14 Wednesday
Even with that long tail today, I still think we can go much higher if we can stay above $180 pivot and keep that gap open from this morning.  Shooting star candle loses it's potency when it forms above pivot level so I would think as long as we stay above $180, we can see higher prices. $195ish is my next target. Still long.
---
1.9.14 Thursday
[11:15am CST] Position Closed @ $178.05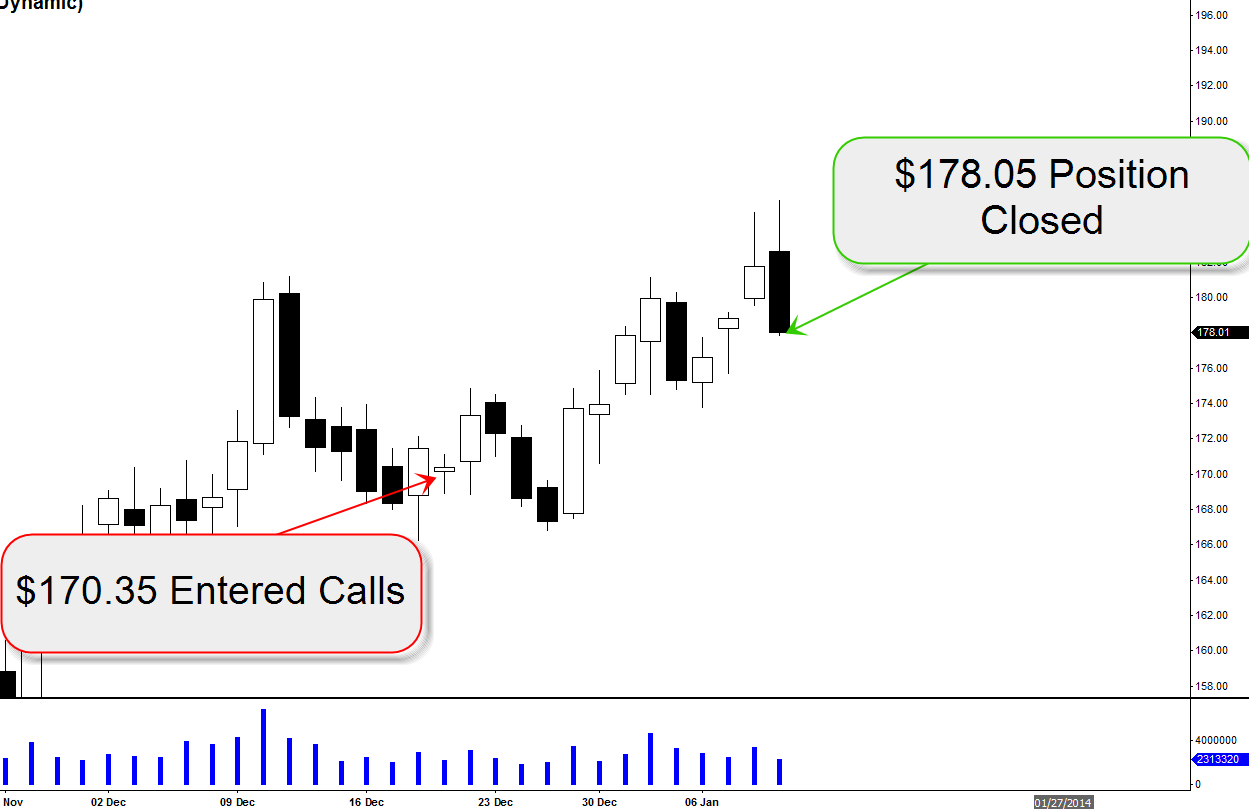 Well closed out my position with about $8 gain on $BIDU but its disappointing because I thought we can go much higher (was shooting for about $195ish).  Old resistance is not holding as new support and gap from yesterday morning is now filled.  Possibly 10EMA could act as support but I don't want to deal with it once the pivot level gets breached.   I will take the gain and be content with it.