[divider]
Last Update: 10.17.13
[divider]
Related Article
10.5.13 "$GLD May Be Setting Up for a Short"
[divider]
10.11.13 Friday
[divider]
H&S Was Already Confirmed
*10/9/13 12:25pm CST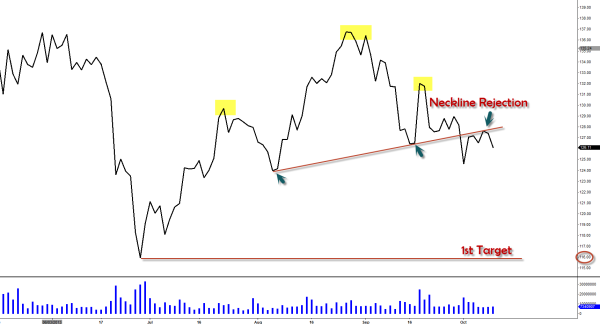 This was the analysis done last Wednesday during the day for the club members and many people forget to look at line chart where many times you can able to see the H&S neckline much more clearly. As you can see, the H&S formation was already confirmed and it was in that neckline testing phase and got rejected.  Many traders thought the H&S was confirmed today but actually it was confirmed last Wednesday.
Entered Puts @ $127.74
*10/7/13 9:00am CST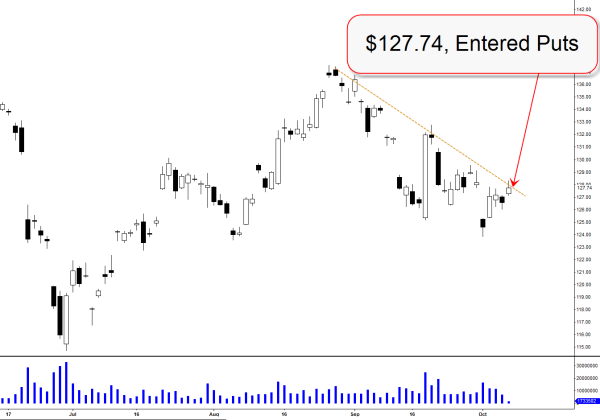 Based on my analysis on my last article on $GLD on 10/5/13.
This is what I call "predictive entry" foreseeing the possible outcome of roll over looking at the downtrend resistance level.  It could be risky if you are trying to short bullish uptrend stock but it's safer when you are trying to short beaten down stock/ETF like $GLD.
Today
*9:50am CST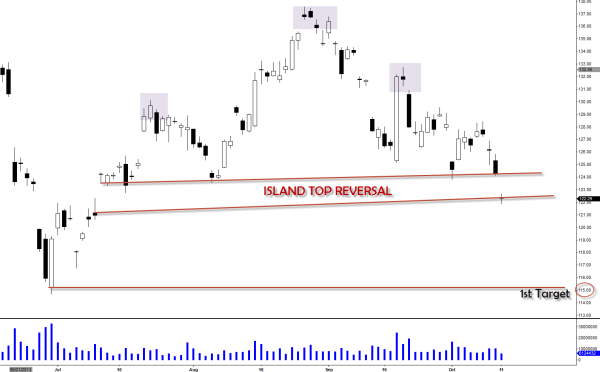 Here are the several things I see.
H&S reversal is now fully confirmed
Lower highs and lower lows are in place (we put in lower lows today)
With gap down today, created Island Top Reversal on top of H&S reversal (VERY BEARISH SIGN)
Next target $115 as we have talked about on my last article.
[divider]
10.14.13 Monday
[divider]
[At Open] Added More Puts @ $124.01
*8:37am CST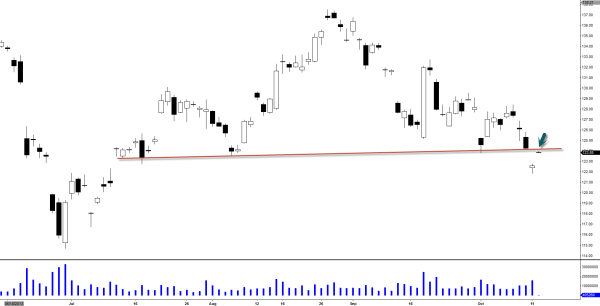 $124 level is a very strong resistance level and especially after H&S reversal breakdown, retest is almost too easy to see in this morning's gap up.  I decided to add more puts at this level.
[After Close]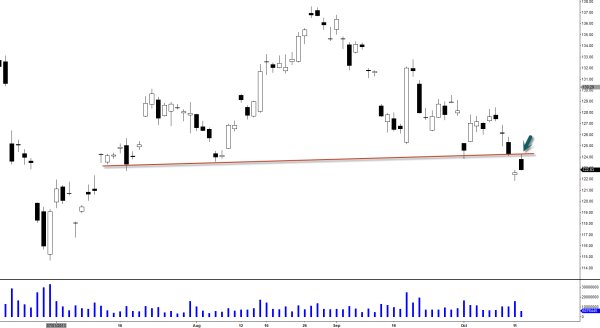 I see much lower prices. Holding full put positions.
[divider]
10.15.13 Tuesday
[divider]
Reduced Positions @ $123.77
Old Support New Resistance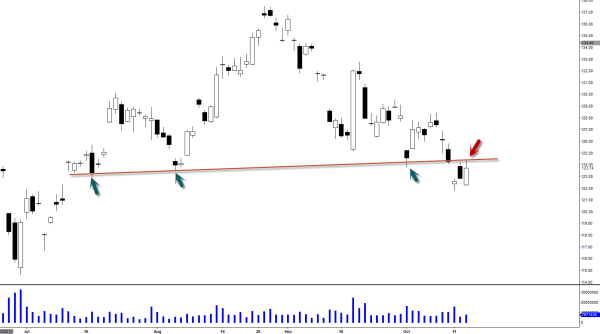 I did reduce positions with gain before closing but still holding remaining shorts (puts) since $124.74.  As long as $124.33 level holds, I do think we are going to see much lower prices.  Today's candle can be categorized as "bullish piercing" reversal candle pattern but I think location is rather bleak and because it has rather low probability of actually playing out in my opinion.  If bulls are going to make this thing work, they can't hang around below $124.33 too long and make some move to the upside as soon as tomorrow, if not, we probably going to see another leg lower.
[divider]
10.16.13 Wednesday
[divider]
Added More Puts @ $123.50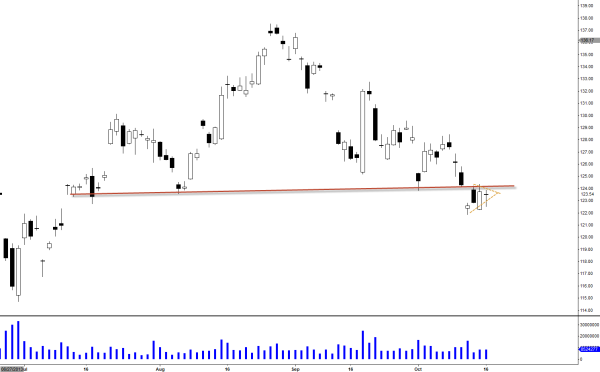 As we continue to struggle to break above this resistance level, we are now forming bear pennant pattern which is a continuation pattern.  I've decided to add more puts right at open as $GLD continues to struggle to break above this resistance level.  If it breaks out of this bear pennant, it could come down pretty fast.  Still holding big size of put positions since $127.74.
[divider]
10.17.13 Thursday
[divider]
All Positions Stopped Out @ $127.02 with Loss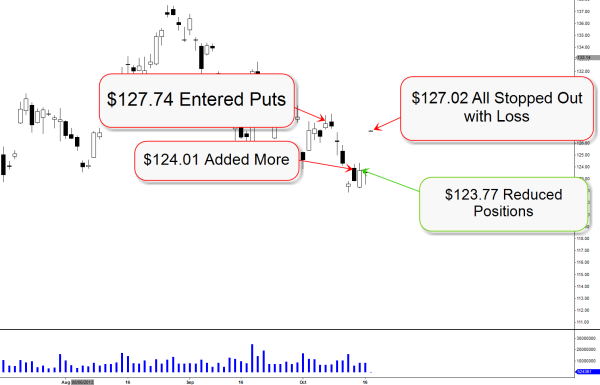 I got stopped out with loss this morning and I guess by reducing some positions did help but still a losing trade here. That big gap up move this morning was something I did not expect and I guess those are the things that you would have to live with trading the metals.  I have no plan to get back in or go long at this time.