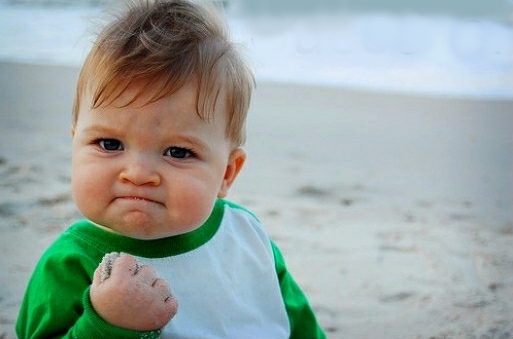 [divider]
Related Article
9.28.13 "$SPY Few Charts 2 Consider"
[divider]
10.5.13 Saturday
[divider]
Perspective 1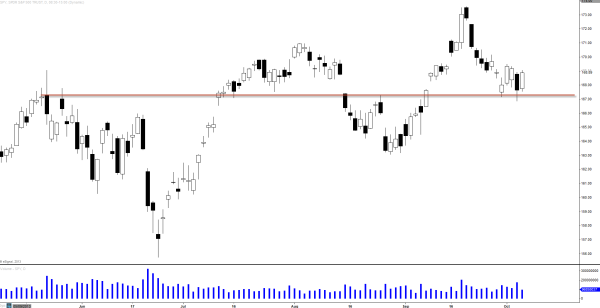 Something I was emphatically talking about on one of the major pivot levels was this $167 level (check last Wednesday event video).  This is the "must hold" level for the bulls if they want to keep this uptrend going.  Obviously we do have some warning signals in the big picture (check last week's post) but without the chart pattern confirming (breaking below $167 pivot), we can put that on hold for now.
Perspective 2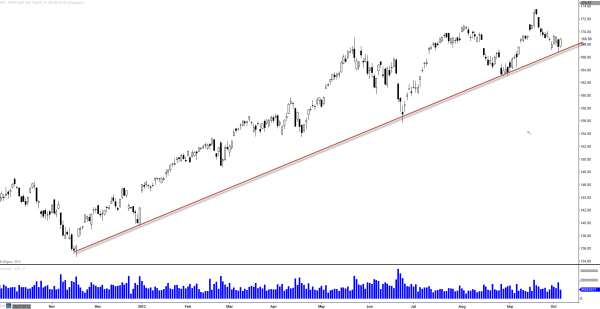 Its tough to "guess" or say it "feels" like it's going down when this uptrend support has been monstrous since last November.  This is truly a "fist pumping" victory for the bulls even if we breakdown from this level.  I wouldn't "feel" like it's going to crash until I see convincing candle that pierce well below this support level. But as long as this uptrend support is in tact, the perspective remains bullish.
Perspective 3
*$SPX weekly chart with 10EMA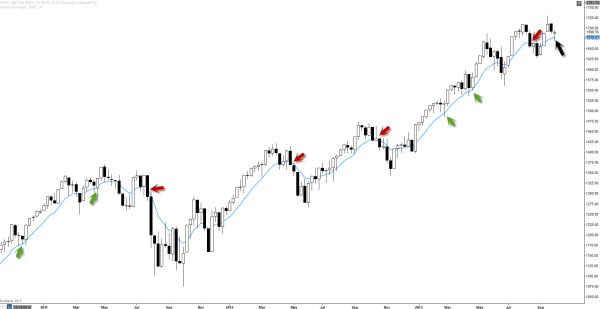 Perspective on this chart is 10EMA.  We can see that once we break below 10EMA on this weekly chart, bearish pressure can be seen however once that 10EMA has been defended and protected, the higher prices also can be seen here.  Looking at the last week's candle, we can see some lower wick there giving us sentiment of resiliency from the buyers right on that 10EMA (see black arrow).  So the question remains, are we going to bounce or are we going to break below 10EMA.  No one truly knows how that's going to play out however one can predict possible outcome in "probabilities".  I would have to say that we have to give benefit of the doubt to the buyers because of the fact that how resilient the buyers have been all through this week and holding above that $167 pivot level and also that long term uptrend support.  Now that we are looking at this weekly 10EMA, we can see that the attempt of bounce is starting show here.
However, anything is possible in the market but it's always tough business if you try to guess and trade with "feelings" especially if you are going against the trend.  Trend is STILL up in the S&P 500 and therefore "benefit of the doubt" goes to the buyers as of today.
[divider]
Bonus Chart
Fibonacci Retracement Level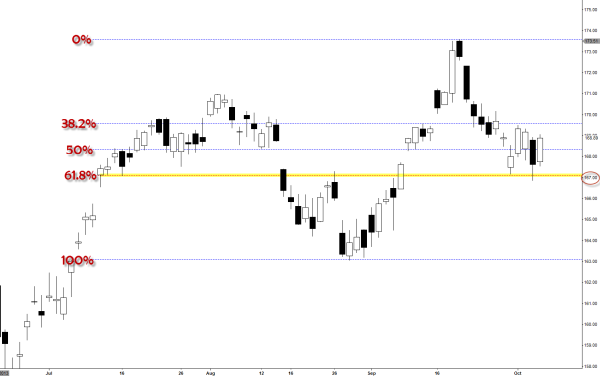 Fibonacci levels suggesting 61.8% is the last level to bounce if its going to bounce.  Warning signal is that if we do break below this level, we will lose all the bullish momentum and bears are probably going to roll out of their craves. So again Fib. levels suggesting this is the "must hold" level and confirming other analysis we've done this post.