[divider]
10.5.13 Saturday
[divider]
Trouble Below $124

Now trading below all moving averages including 50EMA and 100SMA
Intermediate downtrend line has been suppressing the stock for sometime now
Break below $124, $115 is imminent
 Looking at the big picture, we just couldn't able to make higher lows
Looking at the intermediate term, we have been creating lower highs
Break below $115, around $105 is probable
Oscillators Insinuation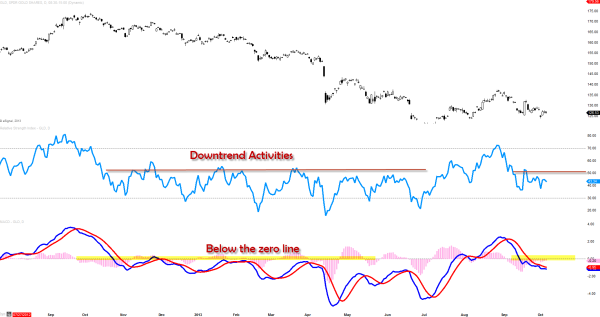 (Daily RSI, MACD)
RSI: Realize that once the downtrend gets established, RSI never get up to the upper band but oscillates in the lower band vicinity
MACD: Below the zero line, bears territory and we are now entering that zone
Fib. Levels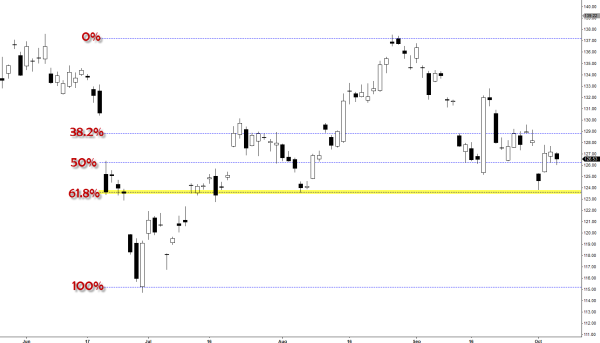 This is the last level if its ever going to bounce as the Fib. levels suggest. But as we break below this level, things could get ugly.
H&S Reversal Pattern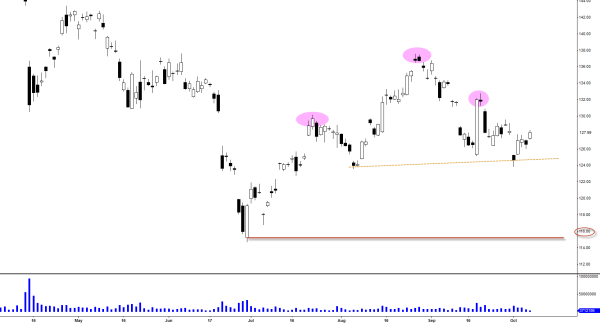 This is another troubling sign while making lower highs since the peak on 8/28/13 and that process, we have created H&S reversal that could add to the fuel to the selling pressure.  Again $124 is the pivot level on this H&S pattern (neckline) which confirms the price other analysis we've done on this post.  $116 is the next target when we break below $124.