[divider]
Last Update: 10.8.13
[divider]
9.28.13 Saturday
[divider]
Weekly Candles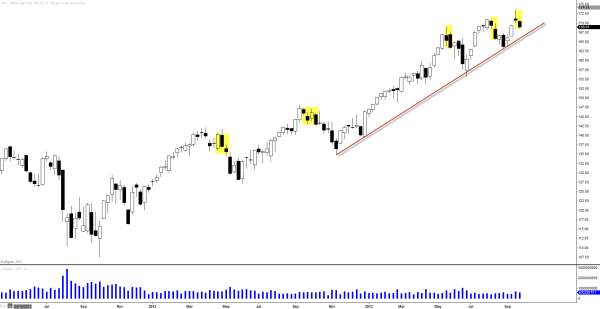 This weekly chart can be significant as bears are trying to find some momentum to the downside.  Last several occasions, (see highlighted) we can see that once we get some momentum to the downside 2-3 weeks of pullback was imminent.
Two weeks ago, we formed gravestone doji and with follow thru this week, I am wondering if bears are starting to find some momentum here for continuation.
Best bet for the bulls is to nullify last two weeks bearish candles with bullish engulfing candle this week.  If not, if another week of weakness, I can see at least few more weeks of bearishness in the overall market.
But here is more concerning pattern developing for possible steep market correction if or when we break below the uptrend support.
Weekly Indicators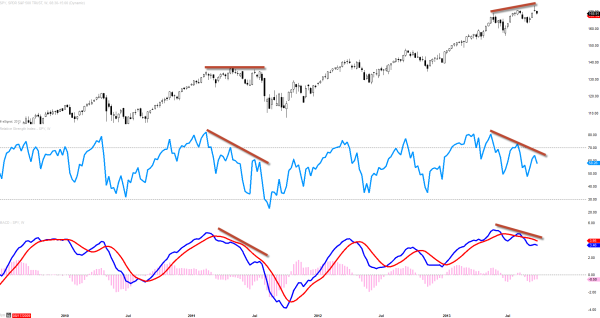 (Weekly RSI, MACD)
These are troubling signs especially when we have two of the weekly candles with reversal patterns (gravestone doji with follow thru following week) because these divergences are the patterns I take seriously when we start to see some confirmation in the price action (which we've seeing last two weeks).
As long as bulls can protect the price above the weekly uptrend support line, I am going to give benefit of the doubt but once we break below that level, I do think the fullness of these divergences could play out with steep market correction in the broad market.
I will be keeping an eye on it next few weeks.
[divider]
Updated Weekly Divergences
*Chart screened on 10/8/13 after market close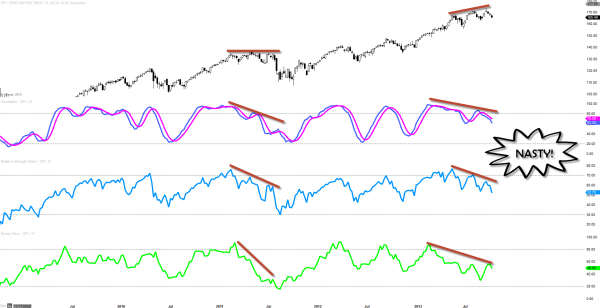 (Weekly Full Stoch, RSI, MFI)