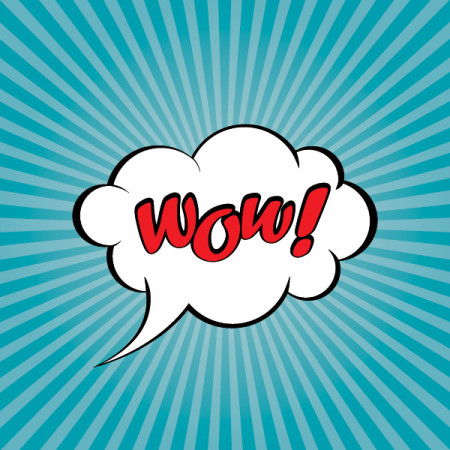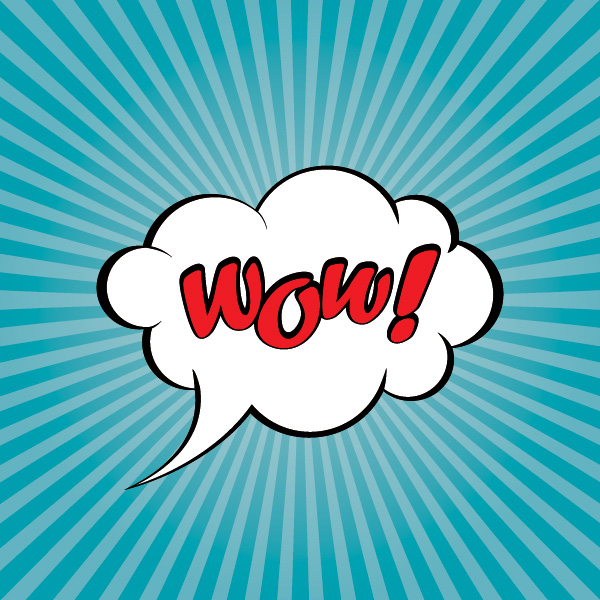 [divider]
Related Article(s)
9.11.13 "$SPY Quick Fib Forecast"
9.13.13 "$EEM $SPY $XLF Raging Bull Hero"
[divider]
9.19.13 Thursday
[divider]
Breaking All Time High
Weekly Chart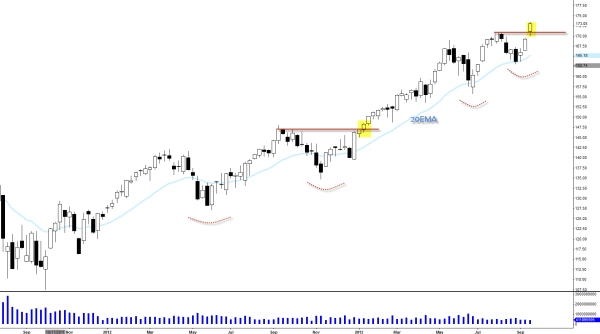 Looking at this weekly chart of $SPY, we can able to see how orderly we have been trending to the upside creating higher lows on every dip.  This is a truly remarkable uptrend that has been sustained and continued since the 2011 of October correction.
As I have highlighted (yellow) the pivotal levels including back in late January of this year, when we cleared above that pivot, market rallied as it shifted to the next gear and we saw the uptrend continue for the next 4 months until the shake out on late May of this year.
I am starting to think that $SPY has shifted to the next gear and getting ready continue it's bullish run until the end of the year looking at this weekly chart (obviously the weekly candle is not finalized as we have 2 more trading days this week but I am writing this analysis assuming we close strong).
20EMA has been served as strong support this whole rally up since the may of 2013, and I think as long as we are above this level, we can see much higher prices.
I've Been Long Since $168.88
*Daily chart screened @ 11:30am CST on 9/12/13*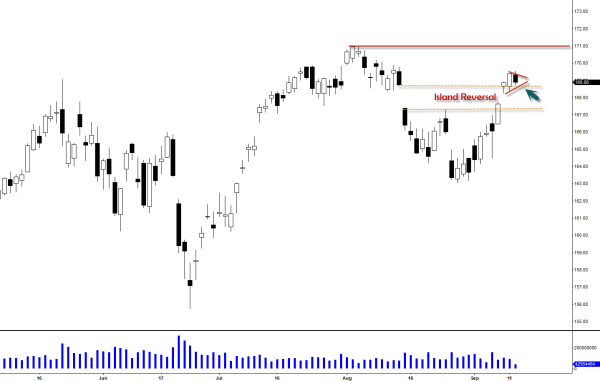 I have been long since it formed this island reversal and when it was sustaining to hold above this level.  I am still holding my call positions and I am willing to hold and add to my positions as I see it fit.  This morning, the market is gapping up after a huge surge from yesterday and I am wondering if we are going to have some sell off into the gap.  But the long term forecast is that as long as bulls protect $171 pivot level, I do think we can see much higher prices.
Fib Extension Levels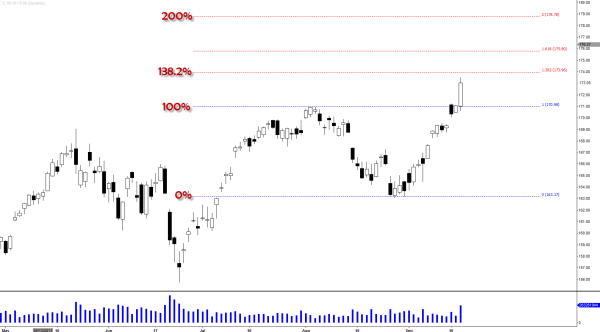 Possible resistance levels using Fib. Extension tool. (click on image to enlarge)
Possible scenario would be that we hit one of these fib levels (138.2% or 161.8%) and come back down to $171 to retest old resistance as new support before thrusting much higher.