---
Last Update: 9.20.13
---
9/12/2013
---
[Morning] Entered Calls @ $22.72
*Chart screened @ 8:53 AM CST*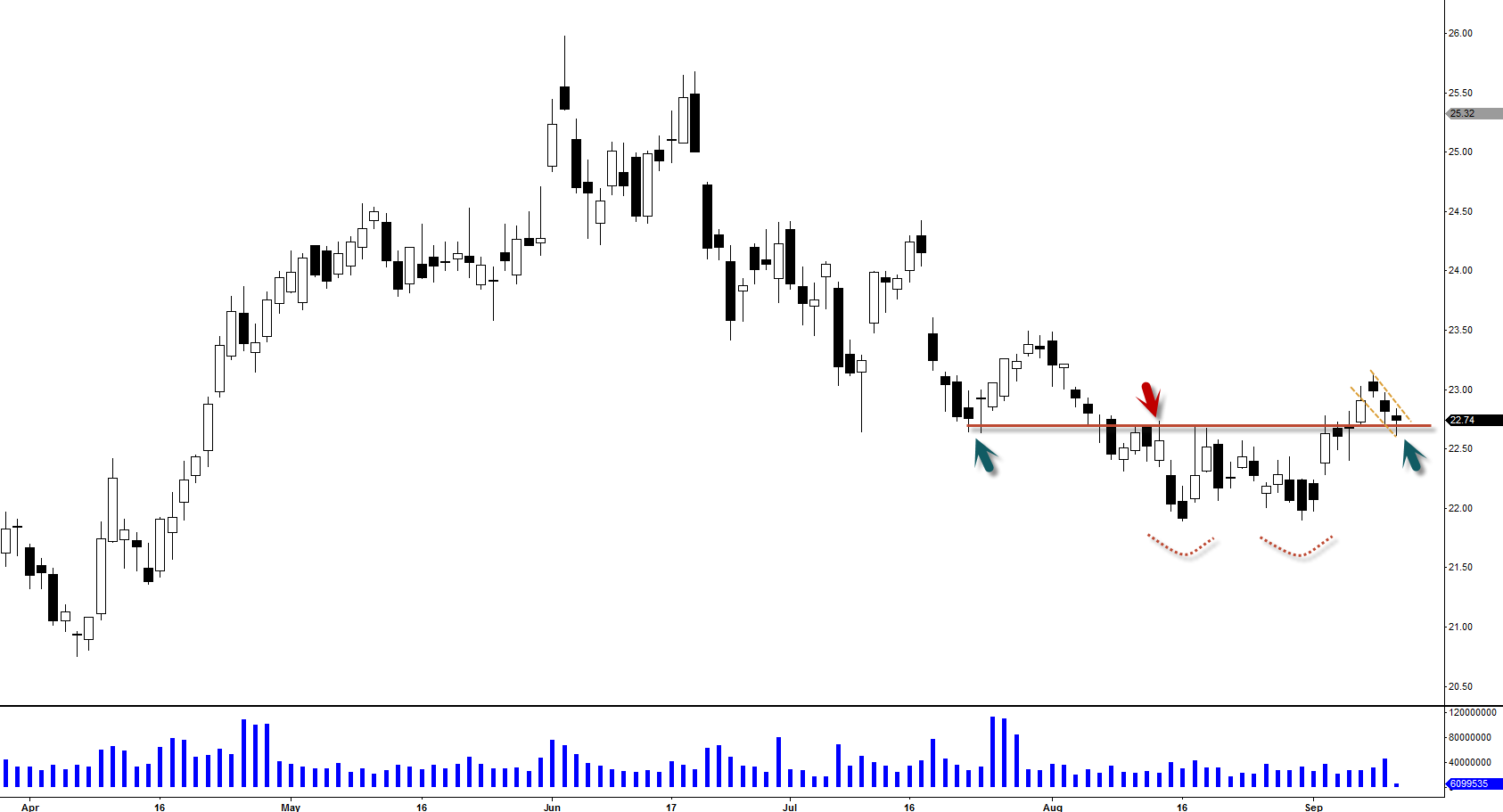 Horizontal pivot holding so far
Forming bull flag (last three day)
Double bottom reversal confirmed and retesting the neckline (today)
We hold this level by end of the day, I do think we can see higher prices
---
9/13/2013
---
Big Move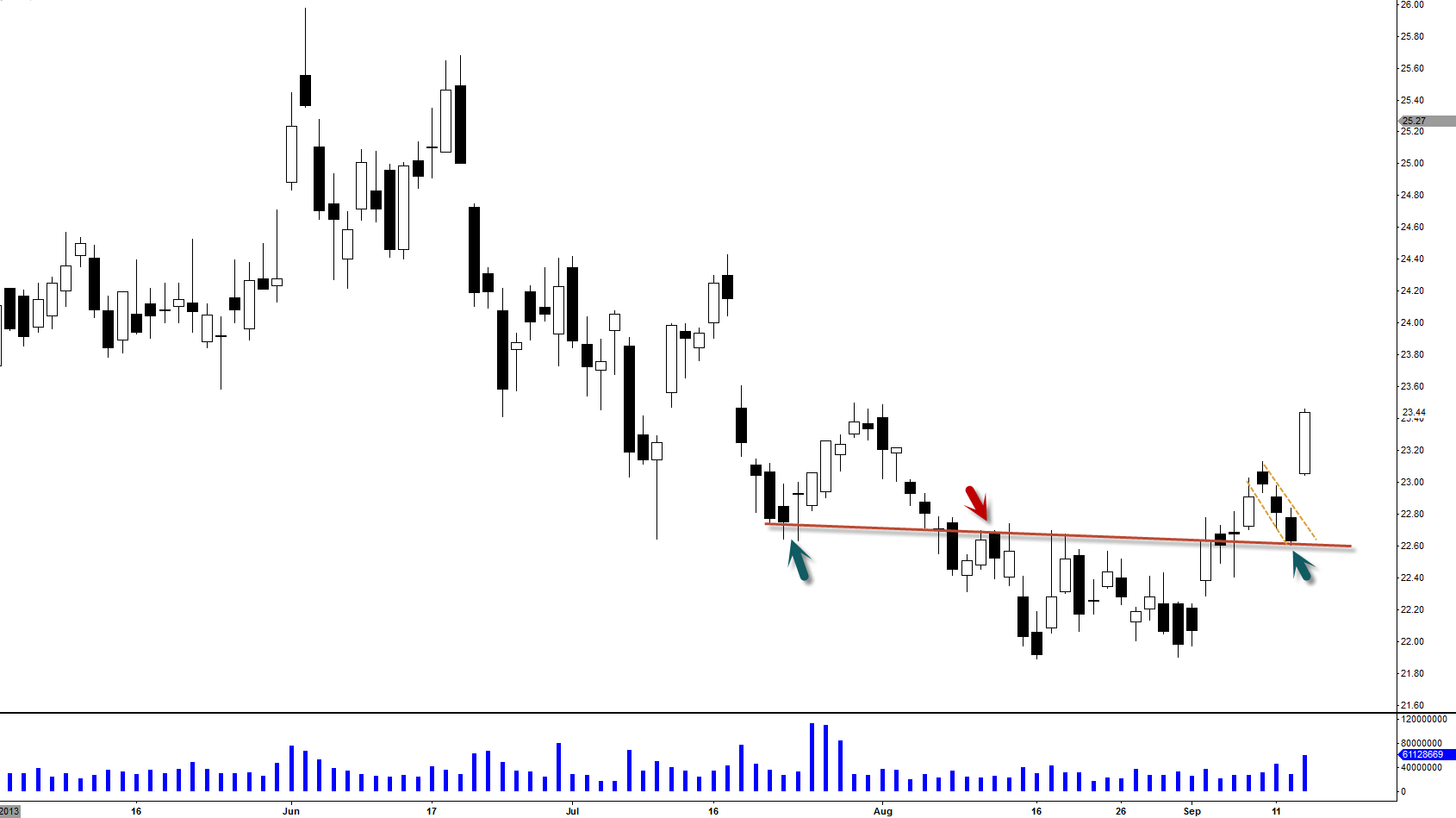 We had a huge gap up and follow through day today.  Now just hanging out below the gap area from 7/8/13 which could act as resistance but once it starts to puncture that gap, I do think it would want to fill the entire gap in a quick manner.  Huge volume thrust today confirming the move and my next few targets are $24.50 and $25.50.
---
9/16/2013
---
Level 2 Hold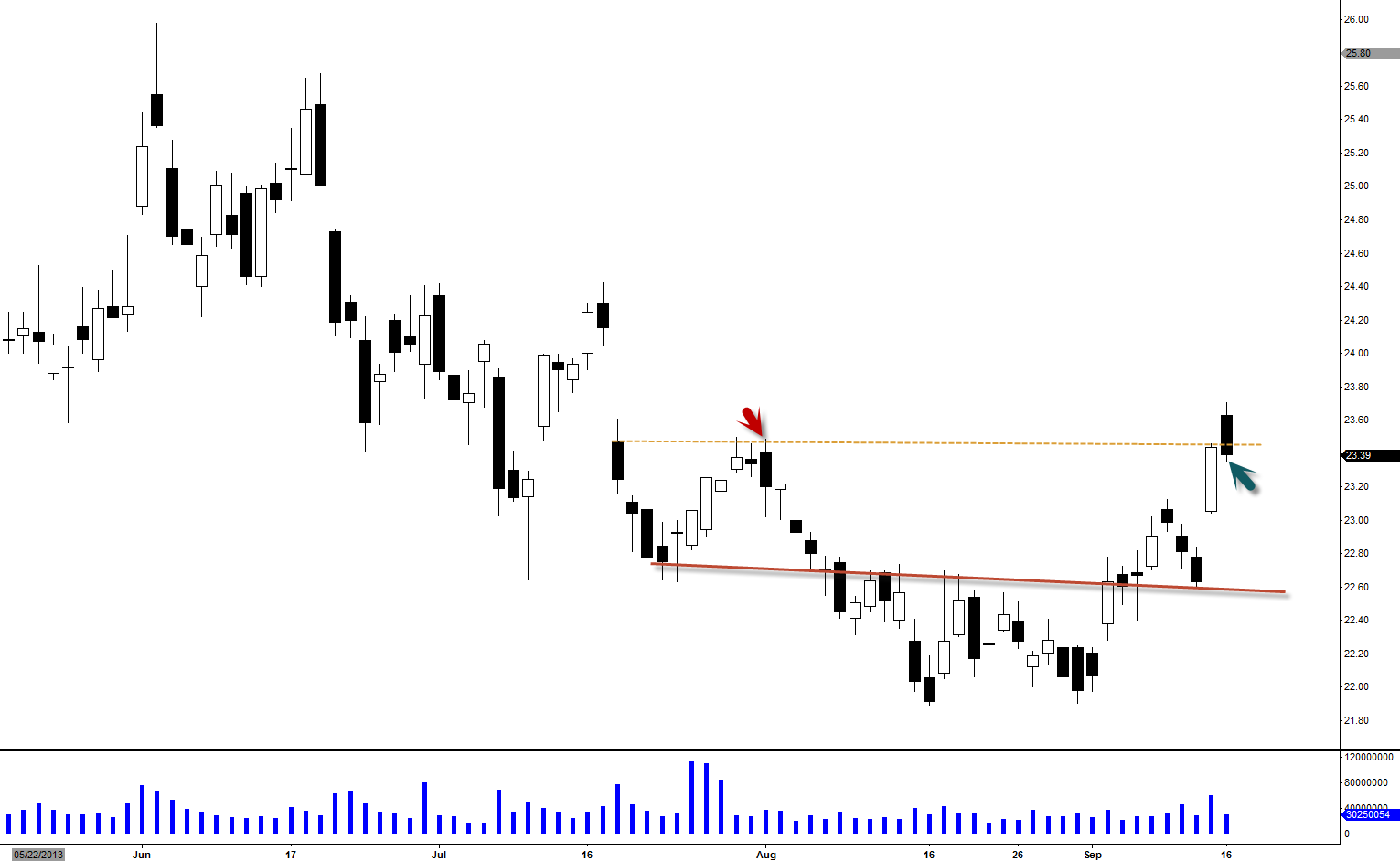 We are now slightly sitting below that gap pivot level (7/18/13) of $23.40 and this is the level to hold before going higher. If this level is breached to the downside, I do think $23 is the next support
---
9/17/2013
---
Looking Much Bullish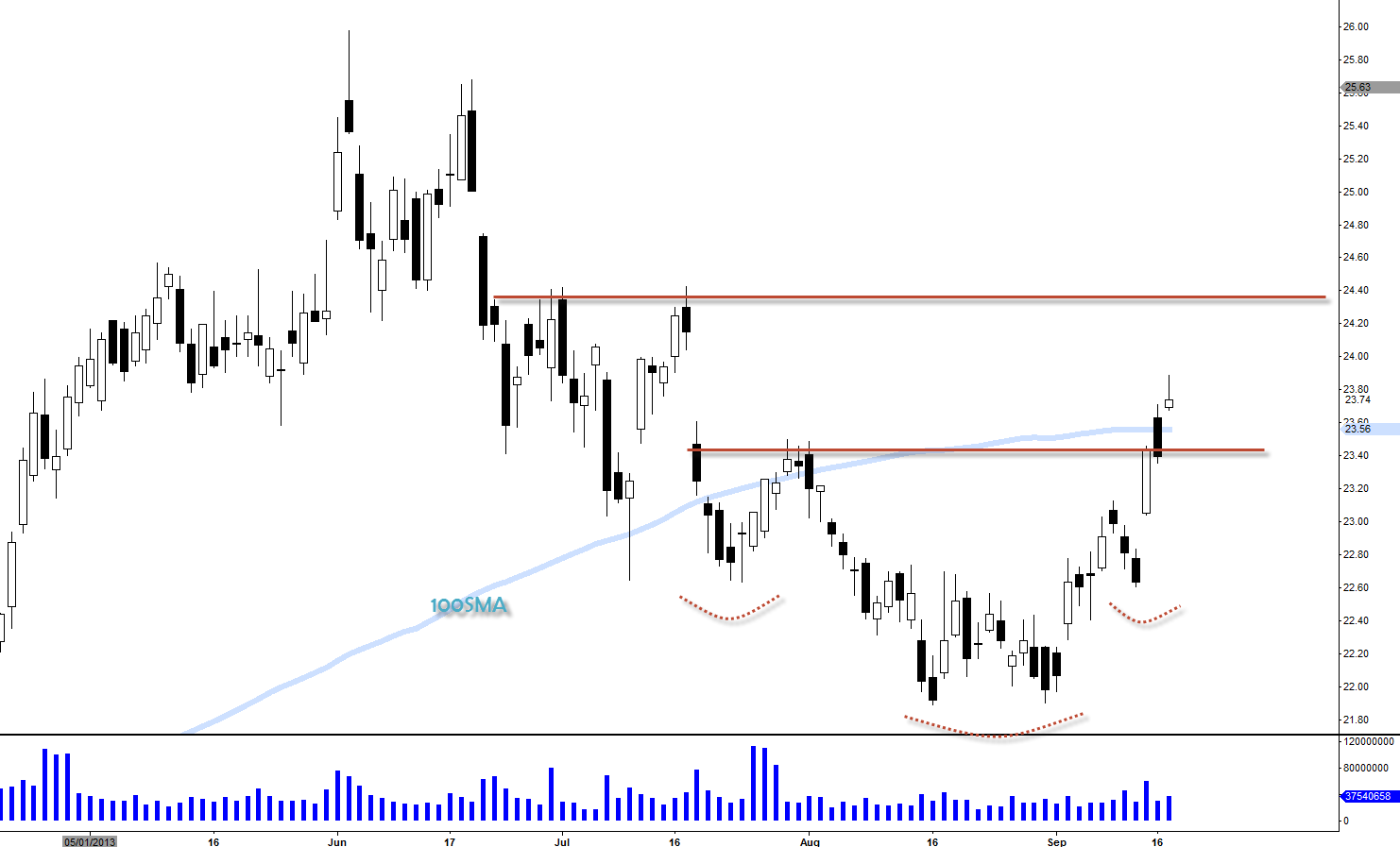 We had another monster gap up this morning and completely negated yesterday's selling pressure. Here are few very bullish signals as of today. We are now above pivotal level ($23.40) and also above 100SMA (this is a big deal given the fact that on 8/1/13, 100SMA acted as strong resistance).  This is very bullish signal even though we might get some pull backs here and there. As you also can see that we have what it looks like inv. H&S reversal formation playing out at the same time.  I am still holding full positions (since 9/12/13) and willing to hold as long as the $23.40 pivot holds.   Next target is at around $24.50.
---
9/18/2013
---
Found Support @ 100SMA
Found support at 100SMA and looks like it wants to go higher.  This trade has been a great trade since the entry on 9/12 morning without much hassle.  Next target $24.40ish and I am still holding full positions.
---
9/20/2013
---
All Positions Closed @ $23.70
*Chart screened @ 2:29pm CST*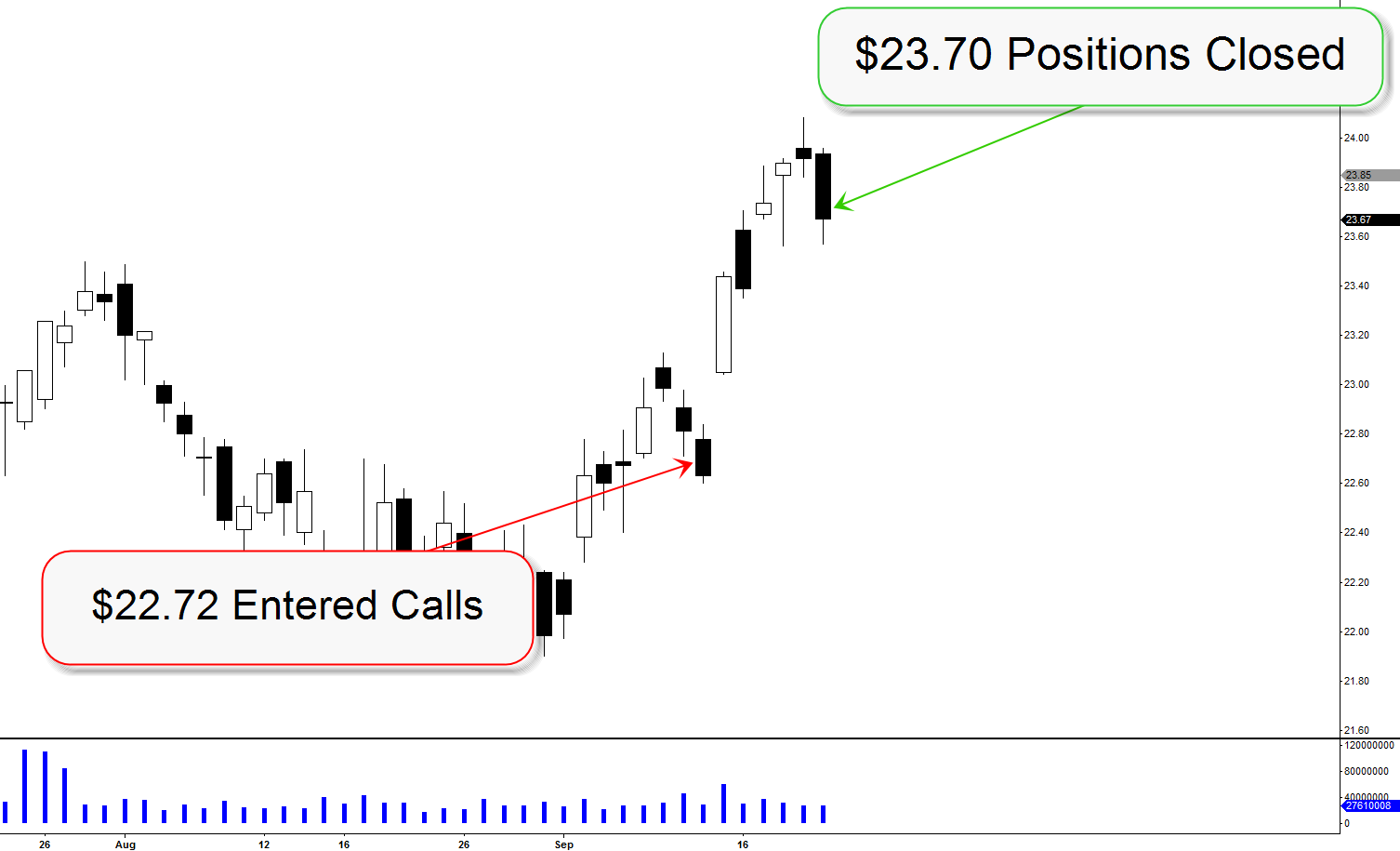 Overall it was a good trade and happy with ROI.  Looks to be forming a evening star reversal and with extremely weak day in the overall market, I've decided to bail out 30mins before close.