[divider]
Last Update: 9.20.13
[divider]
9.10.13 Tuesday
[divider]
[Morning] Entered Calls @ $121.84
*Chart screened @ 9:05AM CST*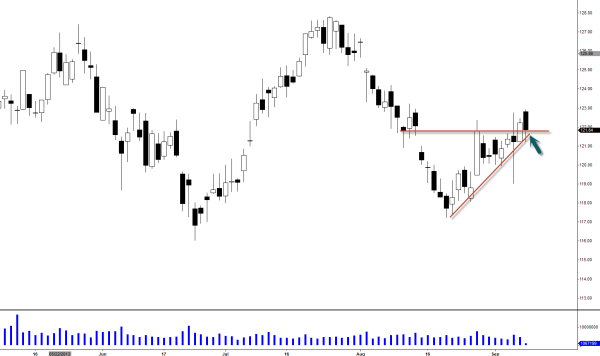 This is one of those strategies where I look for weakness in the morning when you see strength in the overall market.  But the condition has to be that the stock is in the primary bullish trend and starting to clear recent pivot levels (in this case $121.75 was the recent pivot).  And $CVX definitely had that attributes while showing weakness this morning as the whole market seemed to showing much strength.  I like to call them, "late-bloomer" or "lag-er".
[After Close]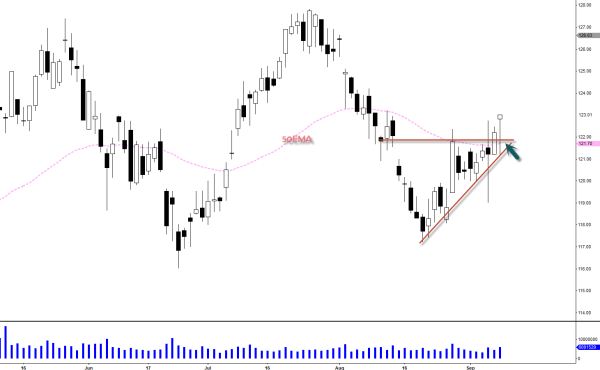 Well towards end of the day, like a "late-bloomer" $CVX showed some strength.  What I like most about today's move is that we've cleared and now trading above 50EMA  but really, now, trading above all moving averages including 100SMA which has been served as resistance on 8/28/13.
My target is at around $128 (I think we can get there as long as the whole market continues to make its move to the upside).
[divider]
9.11.13 Wednesday
[divider]
Making Progress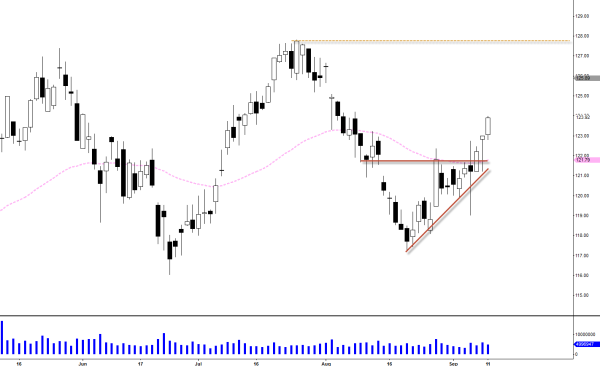 Making good progress here and now trading above all moving averages including 100SMA and many of them are ready to cross to the upside.  We might get hiccups here and there but I think it's on its way to about $128ish level.  Still holding full positions.
[divider]
9.13.13 Friday
[divider]
Poise 2 Go Higher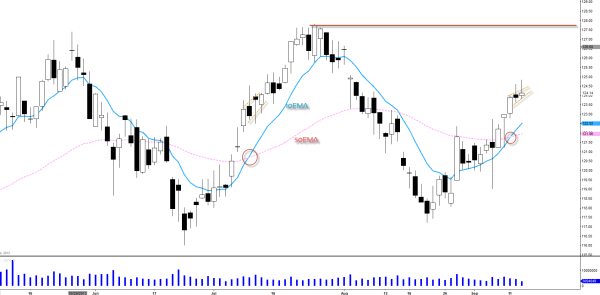 Gap area from 8/2/13 is acting as short-term resistance but looking at the last three days candles, it does look like it wants to go higher.  Also with the moving averages cross, momentum is definitely favoring the bulls.  Some might say we have shooting star candles (last two days) but the size of its candles are not suggesting it is one.  We might get slight pull back on intra-day action on Monday but I do think generally it's going to continue to the upside and filling that gap and head on to $127.50ish next week which is my target (Still holding full positions).
[divider]
9.16.13 Monday
[divider]
Bearish Counter Attack Candle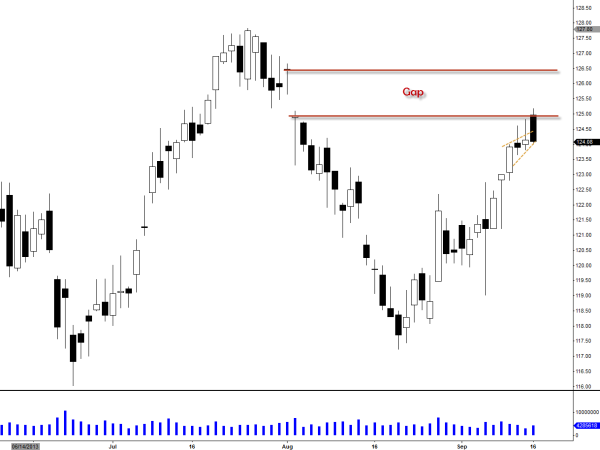 We did gap up very nicely this morning but ended the day with Bearish Counter Attack reversal candle.  Obviously it needs confirmation by closing below today's low but to be sure closing below 9/12/13's low ($123.62) would make more sense for more downside.  So in the event that we close below 126.62, I do think this thing is probably coming down to next support of $121.80ish.  I am still holding full positions but did tighten my stop.
[divider]
9.18.13 Wednesday
[divider]
Gap is Filled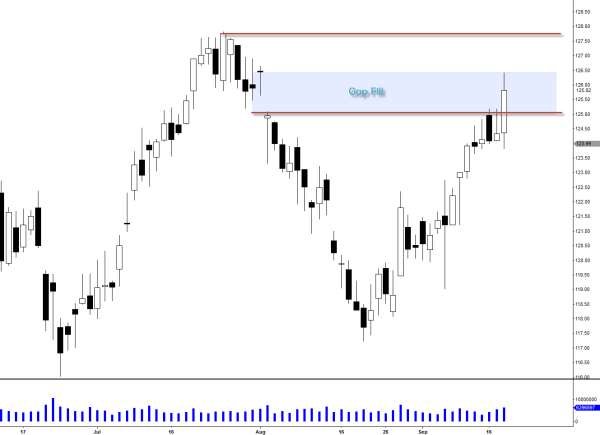 It was a bit concerning to me that last four (excluding today), we were not able to break above the gap resistance but today we thrust higher and filled the gap.  I do think we can get to $128ish level soon here.  Still holding full long positions.
[divider]
9.20.13 Friday
[divider]
All Positions Closed @ $124.80
*Chart screened @ 2:29am CST*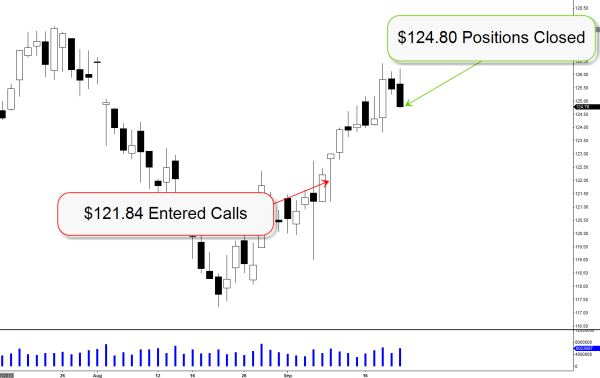 Overall, I thought it was a good trade. I thought I could juice little bit more out of it but with the broad market tankage today, $CVX just couldn't hold.  I closed all of my positions about 30mins before close.  Happy with ROI.