[divider]
9.8.13 Sunday
[divider]
Uptrend Support & Double Top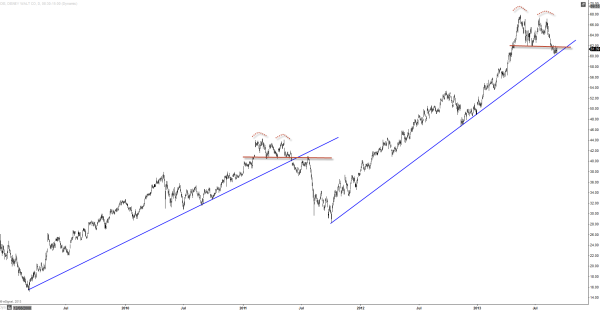 As you can see this is going to be that CRUCIAL level to hold for $DIS to survive. It's going to be now or never.  We break below this level of uptrend support, we might see $DIS coming down hard.  I do think that the broad market move this week will help the fate of where $DIS might be going.
For this massive double top to be nullified, we would need to see $DIS close above about $63 level and hold above for about 3 days. If not, we break below this uptrend support, we could see some massive selling thought I won't be surprised to see the "denial" phase after some bearish move to go back up to re-rest that double top neckline resistance of $62.00 before falling even harder (again if we break below this uptrend support).
MACD Bearish Divergence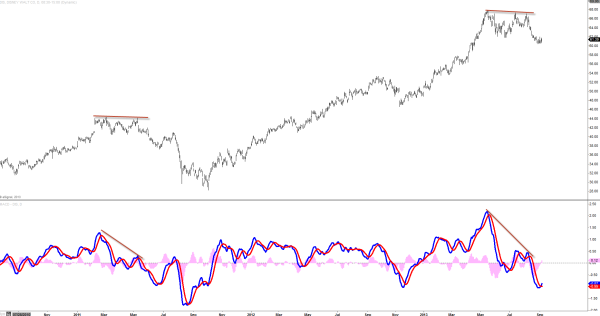 MACD is suggesting that we have very similar sentiment happening today like it did back in May-June 2011.
[divider]
Final Thoughts
I've been playing short side when it break below $62 but last Wednesday, I closed my short positions with small gain when $SPY started to find some bullish momentum. Now $DIS is stuck below $62 (double top neckline) and above the uptrend support of $60.60ish.  I am watching this stock very closely to play either up or downside though I think there are much more money making opportunities to the downside.
If it does break to the downside, possible scenario might be that it comes down to about 200SMA level (on daily) and then bounce back up to test that $62-$61 level before the true sell off happens.