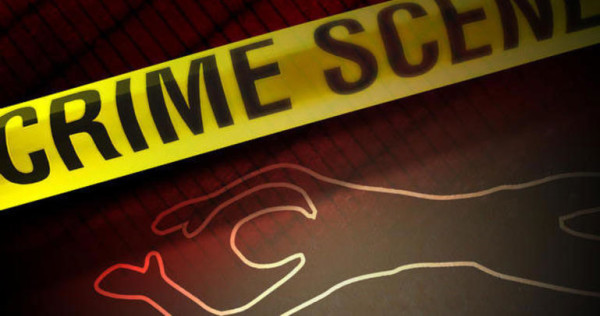 [divider]
Last Update: 8.23.13
[divider]
8.16.13 Friday
[divider]
[Morning] Entered Put Positions @ $50.65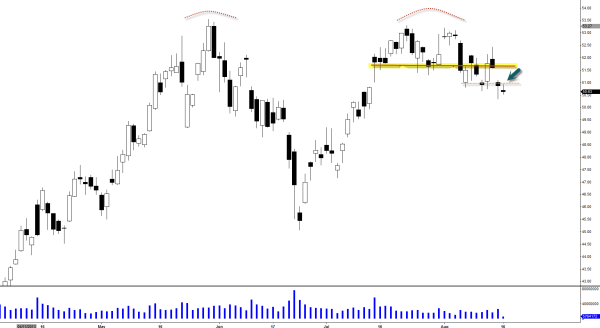 We have several things going on here
We do have mini double top pattern from 7/23 and 8/2 and broken below the neckline (yellow highlighted)
We have massive double top "M' (for Murder) pattern possibly developing (5/31 top and 7/23 top)
Bearish divergence on MACD (chart is not shown)
So I decided to go short at this level (see arrow) as it looks like it's barely dangling around in that resistance level.
[divider]
8.19.13 Monday
[divider]
Tanked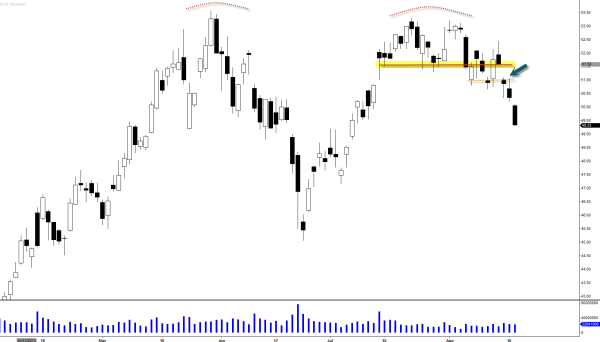 As the whole market started to show some weakness today and especially financials sectors being very weak, I guess $C could not contain that pressure and it came down pretty hard today.  We do have slight gap fill at around $48.52 and the next support looks like its going to be around $47.15 and then the ultimate double top neckline of $45.45.  Near term does still looks bearish.  Massive double top ("M" pattern) will not be confirmed until we break below the neckline of $45.45 (we break below this level, true crime scene might take place for Murder).
[divider]
8.20.13 Tuesday
[divider]
Closed 70% Put Positions @ $50.17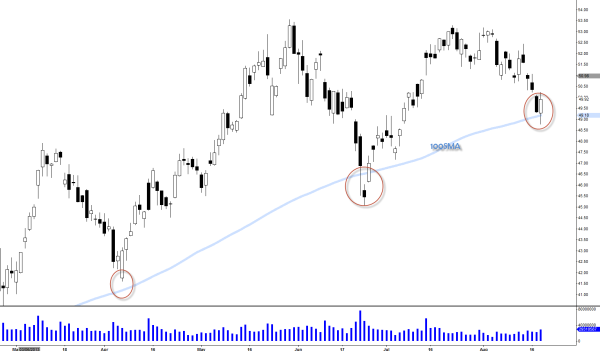 I decided to close about 70% of my Put positions about hour before close today as I see strength right at 100SMA.  It looks like we have formed bullish piercing/tweezer bottom reversal pattern which that requires confirmation by closing above today's upper wick.  Volume also came in today which that confirms the strength of today's candle.  For bears to nullify this possible bullish reversal pattern, it needs to form some kind of doji or spinning top right inside of today's bullish candle and by doing so bears can form bearish pennant pattern in few days.  If not, it can go higher from this level.
[divider]
8.21.13 Wednesday
[divider]
[Morning] Got Back in with Puts @ $49.80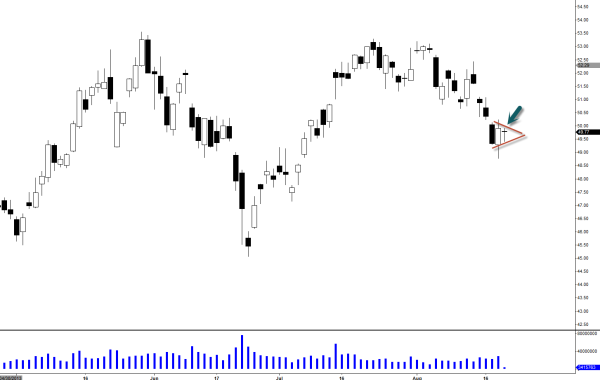 I got back in with Puts this morning as it started to look more like bearish pennant as it was forming doji candle inside of the candle body from yesterday (bears trying to nullify yesterday's buying pressure).  So I decided to get back in and hoping that we stay below yesterday's open (or at least yesterday's intraday high).
[After Close] Bearish Separating Lines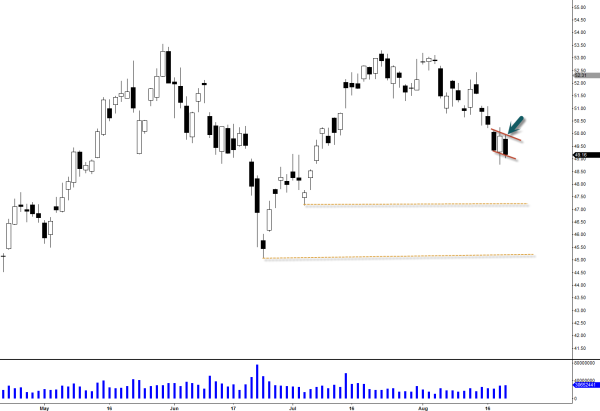 Well we did have crazy day today but when it was all said and done, $C came down hard and created Bearish Separating Lines (bearish continuation pattern) instead of bearish pennant and by doing so it completely nullified yesterday's buying pressure.  My next target is at around $47.21
[divider]
8.23.13 Friday
[divider]
[1 Hr Before Close] All Positions Closed @ $49.75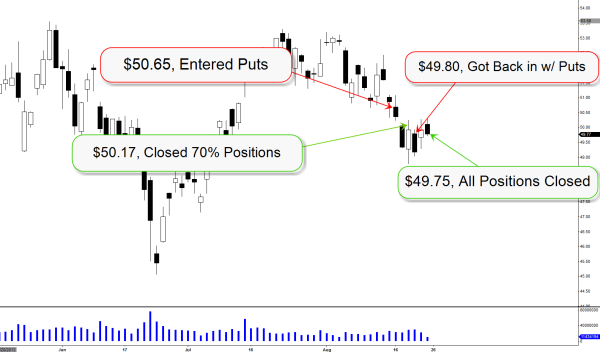 As you can see it was a bit hectic to short this as it wasn't finding good traction to the downside but instead showed some choppiness with bouncing element.  So I decided to close all of my put positions about 1 hour before close with tiny gain.  Still looks bearish as $C is still trading below 10, 20, 50EMAs but with the broad market and financial sector seems to find short-term bounce, I thought it would be best to get out and wait.