[divider]
Last Update: 8.23.13
[divider]
Related Article(s)
8.17.13 Saturday "Warning Signal on $SPY (Also covering $AAPL $GG) [VIDEO]"
8.21.13 Wednesday "LIVE Mid-Week Update $SPY $AAPL $GG $XLF $C [VIDEO] "
[divider]
8.16.13 Friday
[divider]
[Morning] Entered Put Positions @ $20.14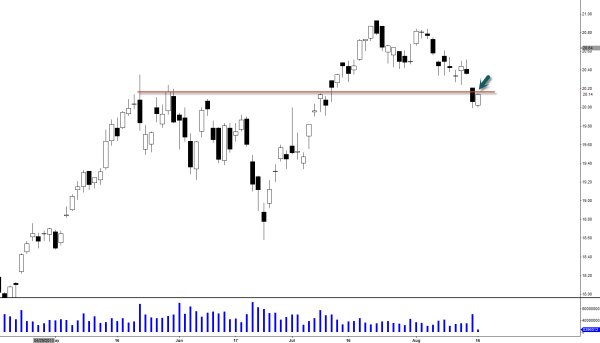 Yesterday, we've broken below this pivotal level (with high volume) which I have been watching and today as $XLF got back up to possibly retest that level, I decided to get into short positions with Put options.  My only goal for today is that we stay pretty neutral with some kind of doji candle or spinning top instead of long white candle.
[divider]
8.19.13 Monday
[divider]
TANKED | 100SMA 2 Watch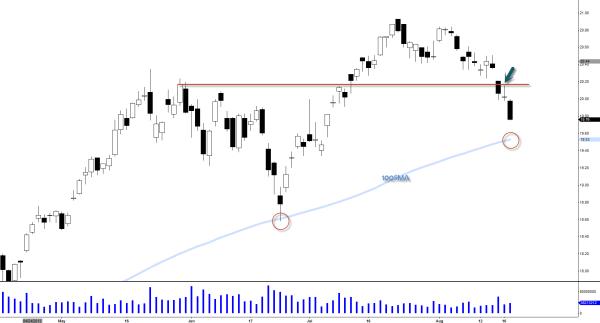 Financials tanked today as the whole market seems to be showing much weakness towards to close.  After closing with gravestone doji on Friday, we have a Marubozu candle today with 100SMA coming in very close.  100SMA (see red circles) did act as strong support back in 6/24/13 so that's definitely the level I will be watching next few days.
[divider]
8.21.13 Wednesday
[divider]
Bearish Pennant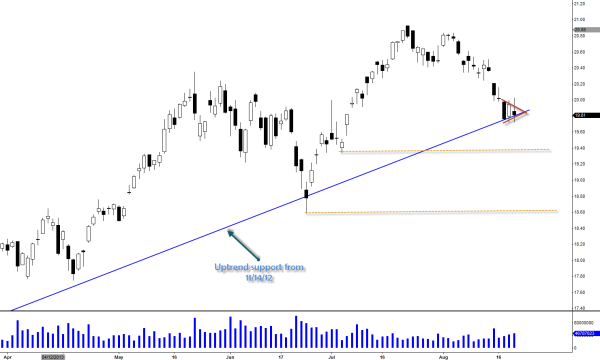 Well the good thing about my current positions (Put options) is that we are forming bearish pennant continuation pattern but the bad news is that we are forming that pattern right at this uptrend support.  But I'd rather see bearish continuation pattern at this level than a bullish reversal pattern. If we start to breakout of this pennant pattern, I think $XLF is coming down to about $19.33ish.
[divider]
8.23.13 Friday
[divider]
[1 Hr Before Close] All Positions Closed Out @ $20.02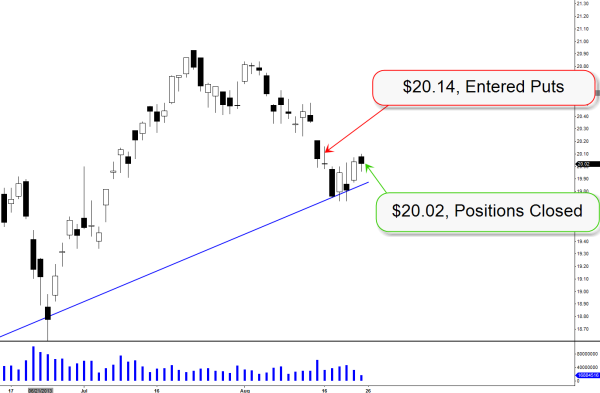 Wednesday bear pennant never played out as it started to breakout to the upside.  Now that we are bouncing off of uptrend support, I decided to get out of my put positions about 1 hour before close (tiny gain).  I do think short-term bounce is probably in stored but I do not completely feel bullish just yet.