[divider]
LAST UPDATE: 8.6.13
[divider]
Related Articles
7.13.13 "$DJIA $SPX $COMPQ $RUT Bulls Dodging Bullets"
7.17.13 "Mid-Week Update (Recorded LIVE Webinar) $SPY $QQQ"
7.26.13 "$SPY Keep Going (Target Price $174)"
7.27.13 "Looking at $SPY $AAPL (Comprehensive Analysis) [VIDEO]"
[divider]
7.29.13 Monday
[divider]
[Before Close] Entered Calls @ $75.27

"Old resistance new support" happening here but because of that gap down and with some selling pressure on 7/23, I wanted waited until we see some strength of support before initiating call positions.  Well on 7/26 Friday, we got a nice bullish engulfing candle pattern thus giving us good indication of the solidity of the support.  As I was watching today, I wanted to make sure it doesn't fail to hold up and we didn't.  So about 30mins before I close, I entered call positions here.
[divider]
7.31.13 Wednesday
[divider]
[At Open] Added More Calls @ $75.84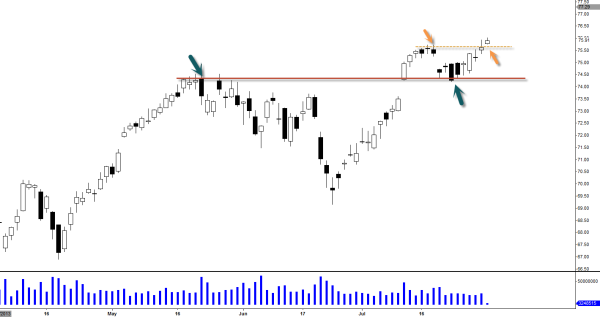 "Old resistance new support" happening here again as we gaped up this morning above the recent pivot so I decided to add more calls here knowing that the recent high can possibly act as new support. Yup as simple as that.
[divider]
8.1.13 Thursday
[divider]
Making New Highs!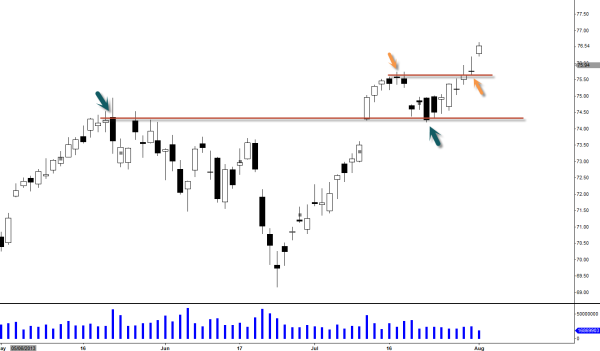 So yesterday the old resistance did act as support and today we gaped up and stayed up.  Very nice run and solid close there.  We do have low volume but I wouldn't worry too much about that in this bullish market and especially on the indices.  Again I don't "trim and trail" so I am hoping that I can fully swing this and my ultimate target is about $79ish.
[divider]
8.3.13 Saturday
[divider]
Holding Full Positions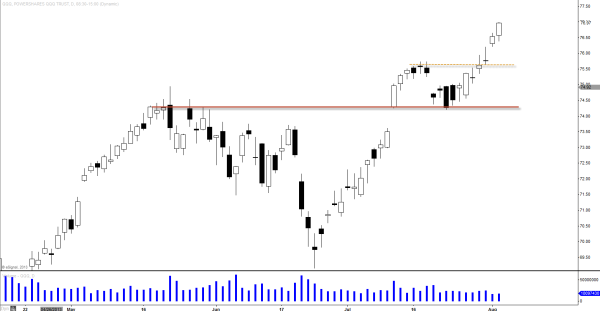 Nice run last Friday and I think the market is going to continue to move higher.  We might get very small pull backs and rests here and there but I do believe the market will continue.  Holding full positions over the weekend.
[divider]
8.6.13 Tuesday
[divider]
[Morning] Closed All Positions @ $76.28
(chart screened this morning)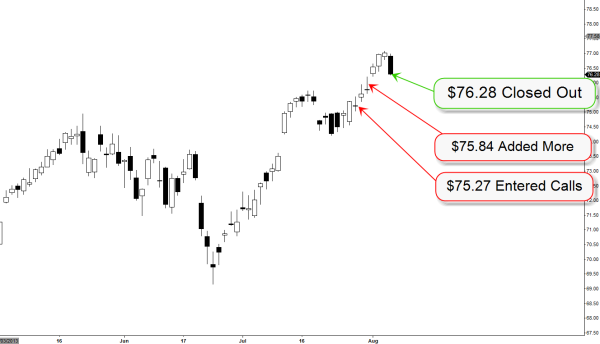 As I was getting stopped out of my call positions on $SPY this morning, I decided to just close everything on this $QQQ positions as well as it was forming evening star reversal.  Looking at the after close daily chart, we do see some lower wick but that the sentiment of evening star reversal is still in tact.  Obviously we would need a follow through by closing below today's lower wick which is about $76.20ish for a confirmation.  If we close below that level tomorrow or this week, I do think $QQQ can come down to test that $75.50 and $74.30 again.  But as of today, it still looks bullish to me so next few days will be critical.