[divider]
LAST UPDATE: 8.15.13
[divider]
7.25.13 Thursday
[divider]
Early Signal of Breakout on Monday 7.22.13
(Chart screened on 7/22 Monday Morning)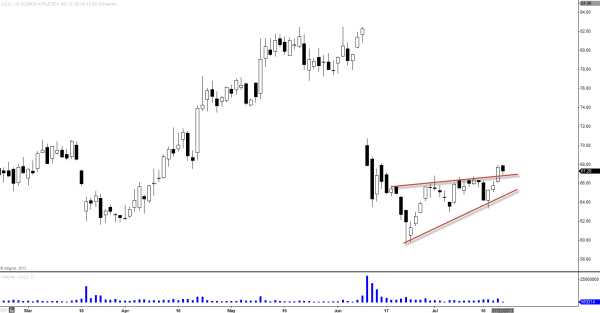 Last Monday, this was the early signal of possible breakout to the upside when it broke out of this consolidation pattern.  Since then what $LULU had to do was to hold above this level and possibly continue to rise higher and maybe then we could see $LULU filling that huge gap.  This was the level I decided to go long last Monday after confirmation of the breakout @ $67.28.  Since then, we didn't see much of move until today when it broke higher.
Reclaimed 50EMA Today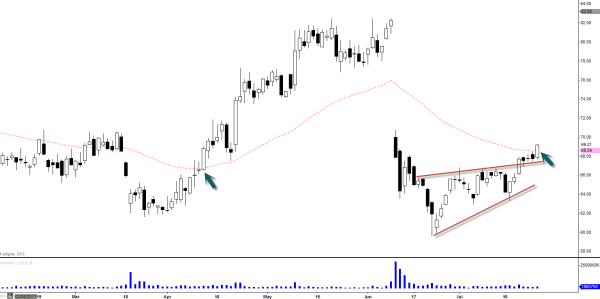 Well just because it closed above 50EMA today doesn't mean we are going to have next one month of bullish run like it did last time but at least its a good momentum building indication for now.  I am a bit worried that the volume is still pretty light despite of the run today but generally $LULU does run on light volume so I guess it's not a huge matter.
Gap fill starts above $70ish and we are now at $69.21.  I do think since the momentum is starting to build here, $LULU really needs to start moving up and keep this bullish momentum alive.   If we can close above $71 (6/11's high), I think $LULU can reach $80 or higher.
But here is the real reason why I think we have high possibility of a breakout.
BBands Squeeze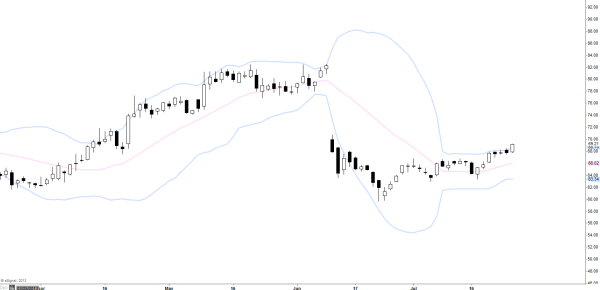 One of the ways to use BBands is to look at the "squeeze".  This is when the pressure is built up and ready to burst.  As you can see with today's action, we are piercing above the BBands top band while the BBands has been squeezing.  This is potential "BBands breakout" play that could possibly be very profitable to the upside.
Check out the BBands Squeeze play I did on $CME last October.
ADX Sees Momentum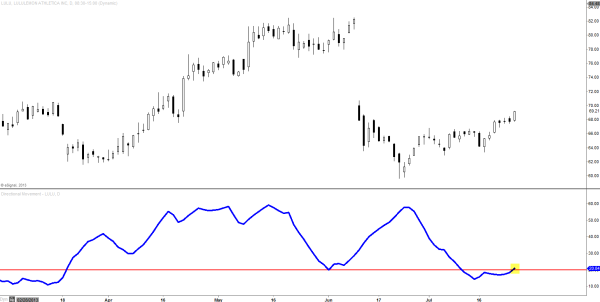 I love to confirm with ADX when the trend is starting to be established. As you can see, we can't fully say that the bullish trend has been established but we are getting there and ADX is starting to also confirm this trend starting by getting above the 20 line (red) and curling up.  When ADX starts to curl up, it means the trend is beginning to find some strength and momentum.  Obviously this is very early stage according to ADX so its not fully confirmed but its a start.
I think if we can have another day of bullish thrust to the upside and close above $71ish, I think we can see this thing really starting to build that momentum and really thrust higher.
Target Price: $82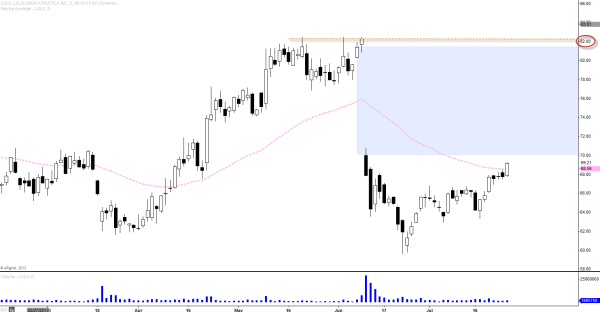 [divider]
8.3.13 Saturday
[divider]
"Taste the Rainbow"
This is the phase I like to call, "Taste the Rainbow" as $LULU made it's progress to fill this huge gap.  It's tasting the rainbow because once it starts to eat up these gap fill, stocks usually don't want to stop until all gap has been consumed. So looking at this chart I can't help to think that we might get all the back up to $82 which is my ultimate target. I do see some potential level of resistance at around $77-$78 level which could slow things down and I would have to watch out for that level.  One thing I do know about $LULU is that everything can be seen as 'all good' but without a notice, it can reverse that much quickly so I am always look out for that subtlety.
Check out this weekly chart, looks very strong.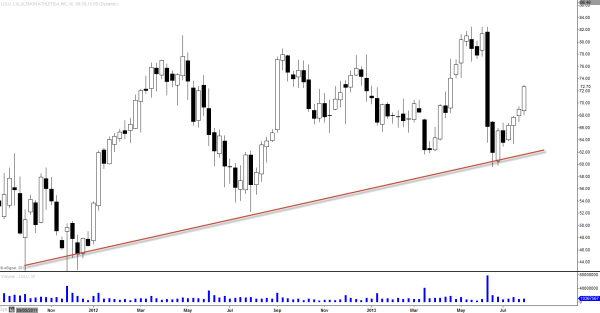 After bullish piercing reversal candle on 6/24, it started it's 'accumulation' phase and now safe to say that we are in 'public participation' phase where it's driving the stock to higher prices.  Great looking candle this week though volume isn't where I would want to see after this kind of thrust.
[divider]
8.5.13 Monday
[divider]
BBands Break Out / Trend Trade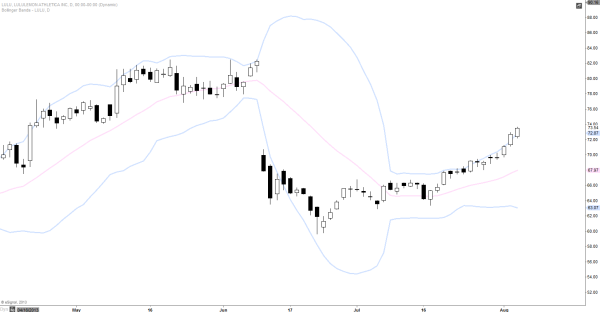 You notice how it's continue to follow that upper band and breaking out at times, this is how you use BBands to see a trend developing and trend trade.  BBands was originally created for a trend trade purposes and not so much as relative tops and bottoms (though it can be used in that perspective in choppy conditions).  We could have slow downs here and there like we did back in 7/22, 7/23, 7/24, but as long it stays with that upper band, I would have to assume that the trend will continue (until of course it gives me some kind of reversal signal).
$77 and $82 still my next targets.
[divider]
8.10.13 Saturday
[divider]
Bull Flag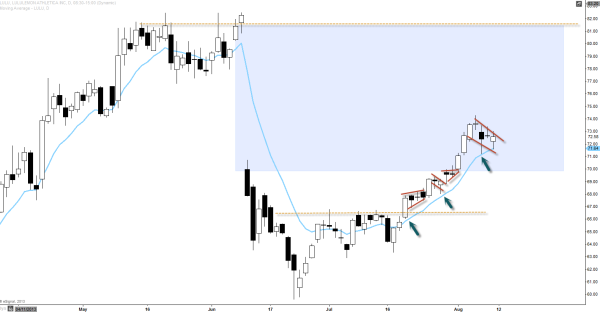 Since $LULU broke out of $66.50 level back in 7/19, it has been moving to the upside with continuation pattern such as flag, pennant and such along the way.  I think we are forming bigger scale of bull flag (last 4 days).  As you can see that 10EMA (see arrows) has been also teaming up with the bulls to protect that level as it has been bouncing off of that last three days.  Honestly though, the flag is starting to look extended so we will need to breakout preferably on Monday otherwise it could fail and roll over.  10EMA is level to watch and I think as long as 10EMA holds, we should see the breakout to the upside. *Still holding long positions (since 7/22).
[divider]
8.13.13 Tuesday
[divider]
Bull Flag Breakout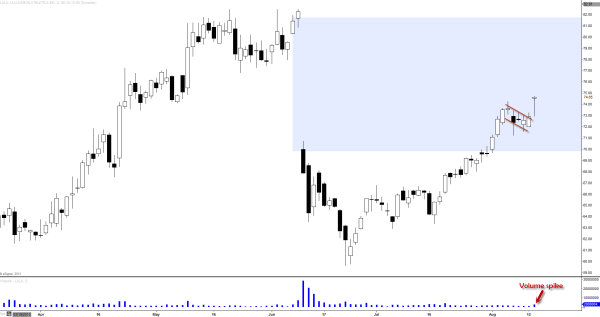 We had massive volatility this morning on $LULU as I was watching this thing fluctuate from $74.30 to $73.00 (up and down 2-3 times first hour!) and really giving fear for the traders.  Well I decided to add more at around $73.70ish this morning and it seems as though that was a good decision.  My targets still remain at $78 and $82.
[divider]
8.15.13 Thursday
[divider]
20 Days of Swing Trade Ended this Morning @ Open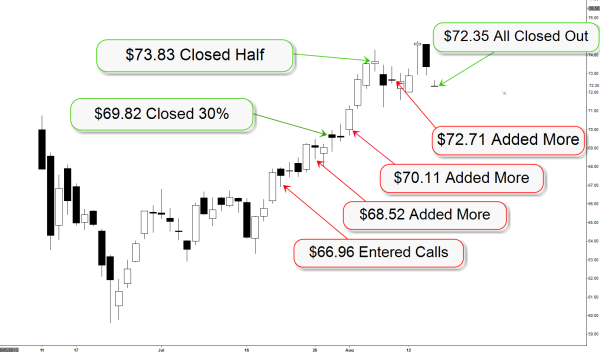 I thought this was very smooth ride until just recently (last three days) the volatility started show and this morning when it gaped down I've decided to close all of my remaining positions completely.  I think this was a very successful trade and I am very satisfied with the ROI.