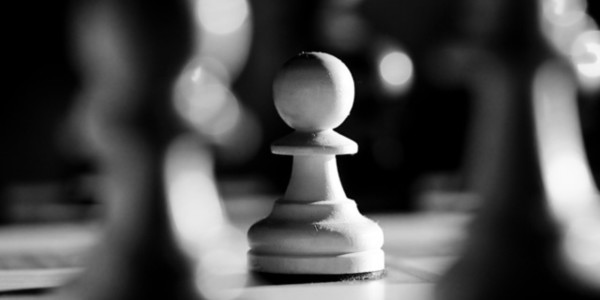 [divider]
Last Update: 7.26.13
[divider]
7.22.13 Monday
[divider]
Entered Call Positions @ $77.90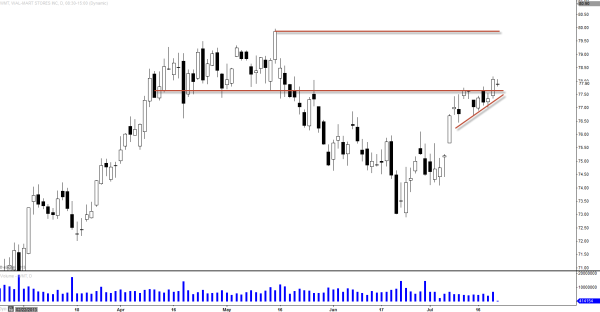 Identifying $77.70ish as a pivot level was somewhat difficult because of choppiness in its movement but when it started to consolidate just below $77.70ish pivot, it was more clear that it was the pivot level.  On Friday, we broke above this consolidation pattern with some volume and today, we retraced back down (which is not surprising for stock like $WMT).  This is the level where I decided to go long ($77.90) and as long as that $77.70 pivot level holds and buyers protect that level, I think it has very good probability that we can see higher prices.
Next target: $80
[divider]
7.23.13 Tuesday
[divider]
Making Moves Higher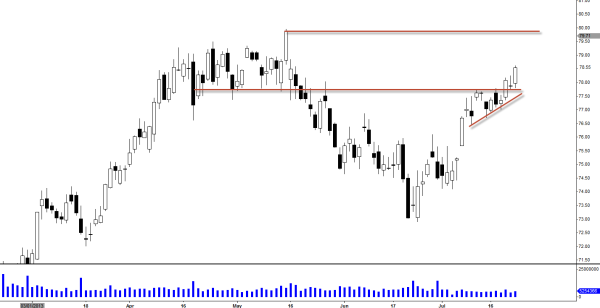 Nice breakout today despite the fact that the whole market saw some weakness.  Volume has been pretty light last few weeks in my opinion but because we are in a bullish market and this is a bullish stock, I think that shouldn't be a huge problem.  $80, here we go.
[divider]
7.24.13 Wednesday
[divider]
Nice Save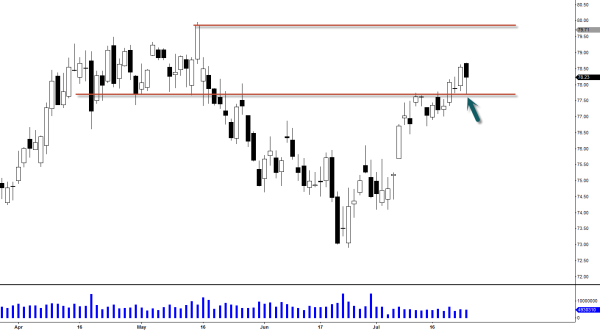 Throughout the day, it looked very bearish and was forming huge bearish engulfing pattern.  But towards to the end of the day, buyers came in and left a long lower wick giving confidence back in that support level of $77.70 (see arrow). If we can just close above today's high ($78.68), I think we can see $80 here very quickly.
[divider]
7.26.13 Friday
[divider]
Stopped Out with Loss @ $77.60
(Chart screened this morning)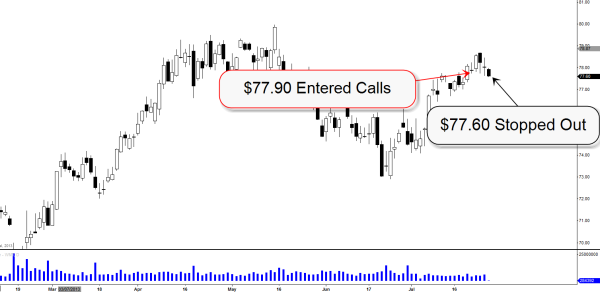 After end of the day action, it still looks bullish to me as we are still above all MAs.  It was just such an wild move intra-day today and it was tough to trade or hold onto any longs. I will be watching closely next week for possible re-entry.