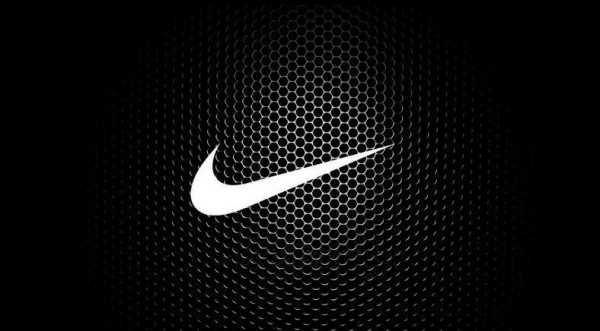 [divider]
LAST UPDATE: 8.3.13
[divider]
7.21.13 Sunday
[divider]
Likes to Stair-Step Higher
Weekly Chart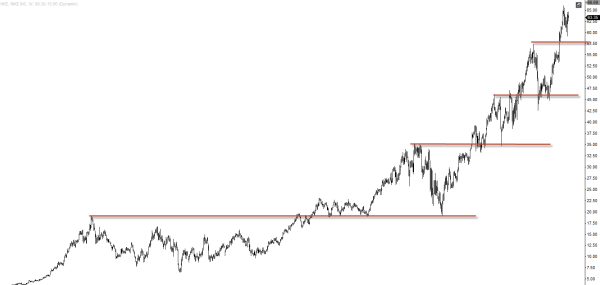 Look at this incredible run since 1995!  Theme is similar all through out.  Old resistance new support, stair stepping is how it likes to climb up.  Recently though as you can see, we've cleared prior high $56ish and thrust higher.  Well once $NKE breaks the recent high and goes up from that level, it tends to make new highs as you can see in this chart. So can we expect something similar here in long term?  I think so.  I think the worst case scenario would be that it comes down to retest that $56-$60ish support level but as long as the buyers protect that level, I think we can make new highs.
Bull Flags
Weekly Chart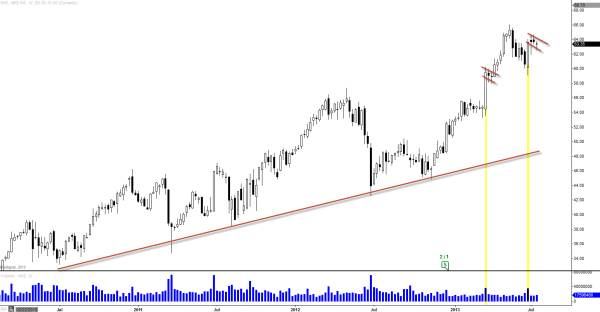 Big volume thrust (see yellow highlighted) and then few weeks of consolidation with bull flag pattern and then 6 weeks of bullish run.  That was the action last March and April of 2013.  Can we expect something similar here?  If we can break out of this bull flag formation, I believe we can see another several weeks (at least) of bullish run (as long as the market doesn't tank).  But I love this kind of pattern here and the consolidation.  Not only its healthy for this stock but it gives more solidification to this bullish trend and the recent bullish run.
Loves 2 Consolidate
Daily Chart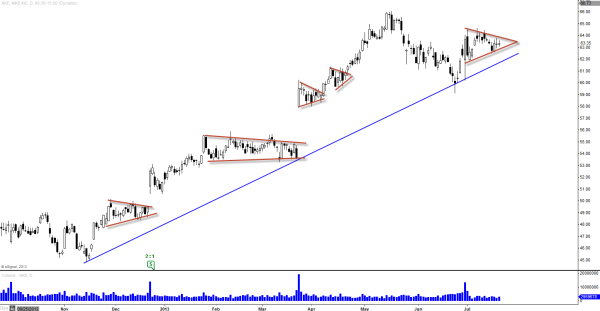 $NKE is one of those stocks that loves to consolidate before thrusting higher.  It can be exhaustive if you are sitting there waiting for it to break but if you are more like me (swing/position trader) and willing to hold positions over a month or two, this is a great position trading signal.  As you can see uptrend support is still in tact and consolidating above that level is very healthy action which I believe we can break higher to the upside from this level.
May 2012, Target Price was $57
Weekly Chart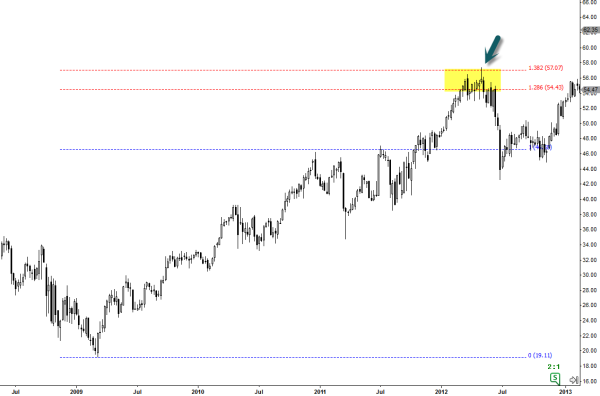 May 2013, Target Price was $65
Weekly Chart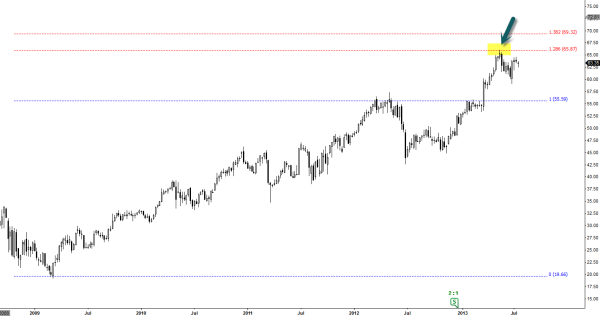 My Next Target Price is $73-$75
Weekly Chart
As you can see the past examples of how well Fib. Expansion levels has been respected, I think $73 is very doable level that I am willing to position trade.   Obviously recent high of $66 is must be taken out first before we can expect higher prices but I believe as long as the market continues to grind higher, I think $NKE will do very well.  What time frame? Well I really don't care as long as it continues to trend higher but if I had to guess, I'd say in about 6-8 weeks?
Next Resistances to Overcome
Daily Chart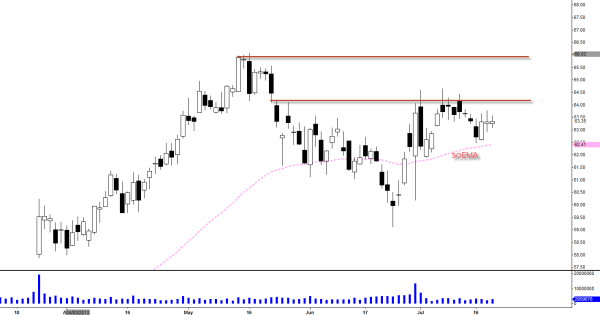 $64 & $66 is going to be short-term resistance to overcome to make new highs.  I have to say it has been holding up very well and as long as it stays above 50EMA, I think we can break those levels and continue to trend higher.
[divider]
8.3.13 Saturday
[divider]
Looks Good for Higher Prices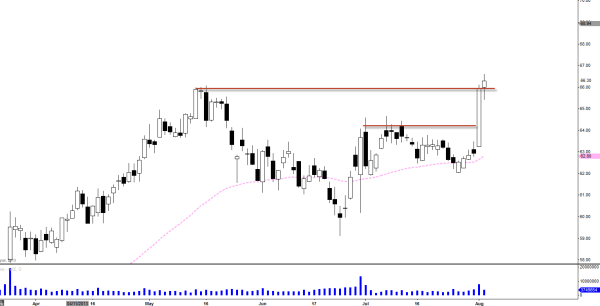 We broke out in a big time last Thursday and we didn't give anything back on Friday, in fact, it closed above prior high (5/16/13) of $69.50. Indicative of very strong breakout here and able to close above the prior high is remarkable.  $NKE loves to have these consolidations before resuming to its bullish run so I wouldn't be surprised to see some consolidations before it's bullish runs.
Target price is still $73.