[divider]
7.13.13 Saturday
*All charts are WEEKLY in this article
[divider]
$DJIA: Dow Jones Industrial Average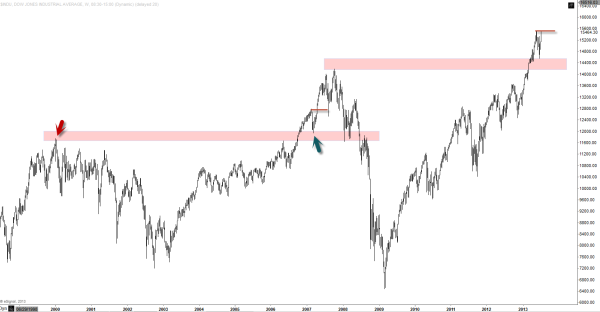 Looking at this weekly chart, I would have to say it's looking VERY bullish because of the fact that it came down hard late June with HEAVY selling volume but found support and going straight up since then (Neo dodging that bullet!). Its very similar to what we saw March – April 2007.  That band of support really did the work (March 2007) after breaking above all time high of January 2007.
Today something similar is happening here.  Broken above October 2007 all time high and then came down to that band of support June 2013 and found support and gone straight up since then which reminds me so much of what we saw back in March – April 2007.  In that time (2007), after clearing recent resistance, the market continued bullish for about 7 weeks (that's almost 2 months!).  Can we have two months of bullish run from this level…? Possibly.
$SPX: S&P 500 Index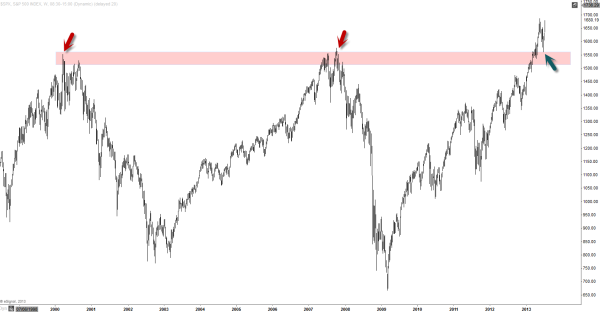 S&P 500 weekly chart also showing great strength here. Very simple theory can be applied in this chart.  "Old resistance becomes new support".  That's exactly what the bulls have done. Sellers did come in fast and the furious fashion but it was amazing how all of that work went to nothing when the buyers continued to game without fear.
Bulls dodged the bullet there and now moving up consistently last several weeks here.  We already have put in all time high last Friday so can we continue from this level?  Well looking at the Dow Jones, it looks it can continue higher and we already put in higher low and possibly time to put in higher high.
$COMPQ: NASDAQ Composite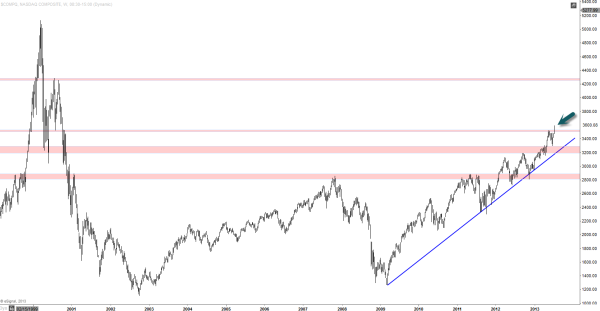 This chart is probably the MOST bullish looking chart of all the charts I will be sharing in this post.  I want you to look at the arrow where NASDAQ is breaking out of.  Bulls are coming out fiercely and we don't have any major resistances until about $4,250 level.  That's a HUGE move if that's where NASDAQ is eying on!  Nonetheless, looking at this weekly chart, looks very very bullish here and its not surprising knowing that $GOOG and $AMZN have been doing very well.
$NYA: NYSE Composite Index
Unlike the other indexes, NYSE index is lagging a bit but still looks bullish for another week or two until it gets to about $9,700 which is the next resistance.  But also look where it found support (see arrows).  It found support at May 2011 resistance and went straight up.  Very similar to what we saw back in September 2000 and May 2005.
$RUT: Russell 2000
Russell 2000 has been MIGHTY bullish going ahead of all other indexes but can it just continue higher like this without any kind of pull back?  Well back in May 2006 we did see something similar where this thing started to soar like crazy but once it got up to 161.8% Fibonacci Expansion level, it had SHARP pull back (May-June 2006).  Today, $RUT is yet again soaring very fast looking at this weekly chart and now hitting the 161.8% Fibonacci Expansion level (See arrow). Can it continue higher from this level or will it retrace to about 123.6% Fib level like it did back in late July 2006.   I get more cautious when a index like $RUT soars this fast this quickly with this kind of angle (just look at that angle!).
But then again we do not have any kind of reversal pattern as of today so as the Dow theory suggests, "Trend is assumed in effect until it gives us definite signal of reversal", I would have to assume that the trend could continue but definitely a level to watch and to be cautious of those Fib. Expansion levels.
$VIX: S&P Volatility Index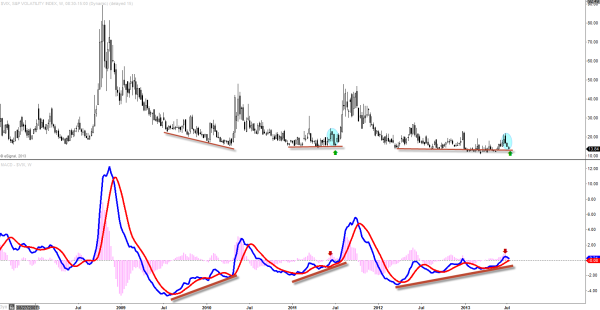 This thing still lingering around and to be honest who knows when this thing is going to pop.  For this being a weekly chart also, we can continue to grind like this for another few weeks and no one truly knows when the bullish divergence is going to play out.  As I have annotated here with arrows, we do have some signals that are similar to July 2011 to consider and to keep in mind that this massive bullish divergence can still play out and upset the bulls with surprise attack.  To be honest, this pattern was more threatening when the market looked like it's going to have it's correction. Now that all the indexes are breaking out to the upside, I won't be putting too much weight on this chart until I see some reversal pattern on the indexes.
[divider]
Final Thoughts
Well as you know I do have some bullish positions I am currently holding and from the looks of it and the resiliency the bulls have shown last several weeks, I'd have to assume that they can continue in that fashion.  We did have many many warning signals of a steep market correction in the recent past (which I have been posting articles about it) but it never happened and bulls yet again dodging sharp bullets from the bears.  I won't be surprised to see some kind of consolidation for short period of time which I think its healthy before resuming uptrend.    In closing, even with much bullish speculations and sentiment, I am still very cautious of this market and taking cautionary measures to be ready for any kind of early signals of correctional move but I will continue to trade long positions as long as market grinds higher or move sideways.