[divider]
Last Update: 7.22.13
[divider]
7.11.13 Thursday
[divider]
[Morning] Entered Long Positions @ $69.84

I've been watching this stock for sometime now and I've been closely monitoring that $69.20 resistance level which also coincides with 100SMA.  I was waiting for a confirmation to break higher but as it gaped up this morning, I decided to go long after it started to come down a bit.   Few good signs on this level is that $HES is now above 100SMA and 50 & 10EMA golden cross is about to happen if we can get some follow through today to the upside.
[After Close] Strong Finish with Volume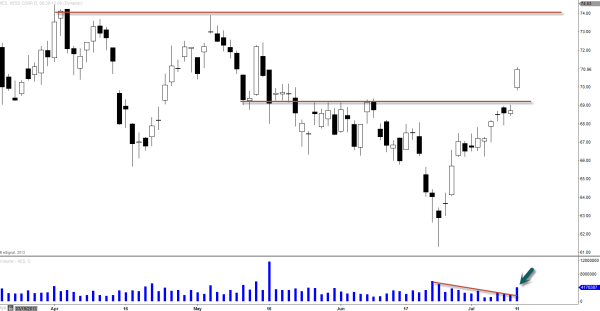 One thing I was looking for was the spike in the volume because we've been having declining volume and we really needed that volume spike today and we got it.  That's what I call "Volume Breakout".  Also closed with very strong candle there and looks mighty strong as of today.  $73-$74 is my 1st target.  It probably is going to be tough to break that level but I will deal with it once it gets to that level.
When 10EMA Crosses 50EMA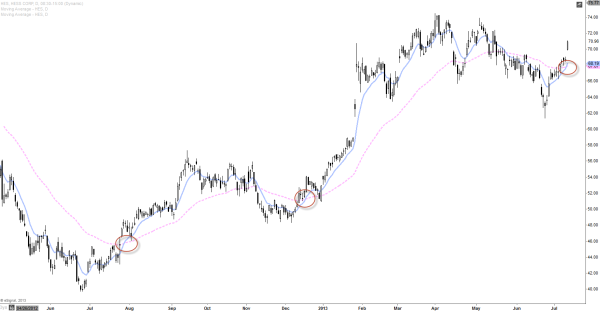 Generally speaking when these two crosses, we get great uptrend for about 2-3 months.  I do think it won't be that easy this time around because of those tops $HES has created at $73-$74 level back in April and May.  But so far so good.
[divider]
7.12.13 Friday
[divider]
Poise to go Higher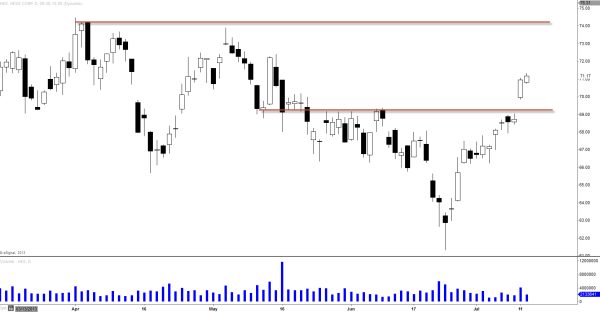 Low volume trading today but I have to say it is holding up well after a huge jump it took yesterday. Weekly chart looks very strong and it's poise to go higher in my opinion. $72.25 is going to be minor resistance level and of course the $74 level as pivotal level to break before making any kind of new bullish run.  Those are two levels I will be watching next week.
[divider]
7.15.13 Monday
[divider]
Dark Candle but Low Volume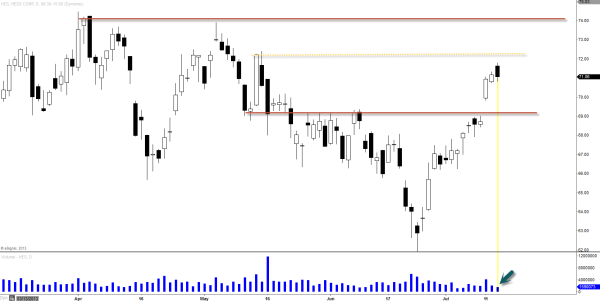 We do have possible bearish counter attack candle pattern here but with extremely low volume I am not putting much weight on it.  $72.20ish level could become resistance and we can have some pull back at that level next few days but I think as long as the gap is still open and protect the $70 level, we can get up to $74.00.
[divider]
7.16.13 Tuesday
[divider]
Closed 40% Call Positions @ $70.71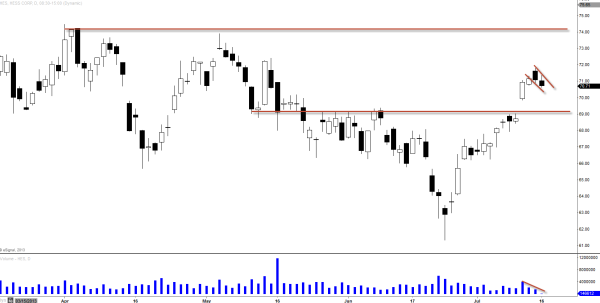 I did close about 40% of the positions earlier today as a cautionary measurement when $SPY started to see some weakness. But after close, I can see that it is still holding up well with possible bull flagging pattern here (also declining volume last two days = selling pressure is very low).   We may expect another day of lower but I think it can get up to about $72-$73.
[divider]
7.18.13 Thursday
[divider]
Nice Run Up Today
I am still holding rest of my Call positions and we had nice run up today (after breaking out this bull flagging pattern) with increasing volume.  $72.20ish (yellow dotted line) is the potential resistance but it seems like we can break above that tomorrow.  The strong resistance is going to be the $74 level which I will be closing most (if not all) positions at that level.
[divider]
7.19.13 Friday
[divider]
[Open] Added More Calls @ $72.33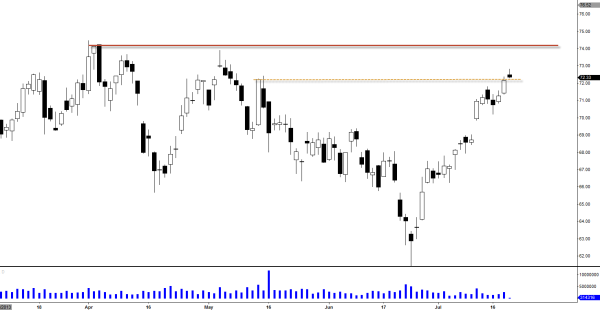 This morning it slightly gaped up above the recent resistance level (yellow dotted line) and I waited a bit to tag that resistance before going long.  Sure enough it came down and I decided to added more Calls at this level because it had high probability that the resistance is now going to act as support.  $74-$75 is going to be next major pivot and my target.
[Close] Flying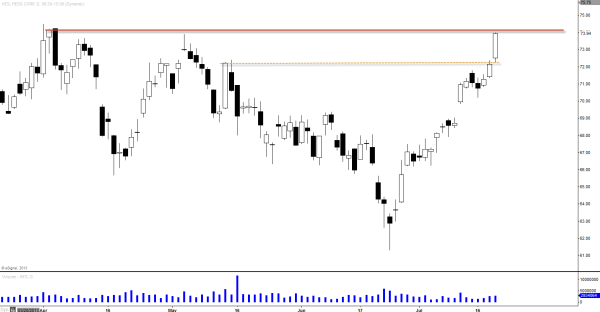 Last several mins it soared about $0.40. Absolutely amazing.  Holding rest of the calls over the weekend and I am kind of expecting a gap up Monday morning which then I will be closing everything at open.  We are right at the major resistance level but it looks so strong.  Volume has been weak in general sense but we do have increasing volume last three days to support his recent move.
[divider]
7.22.13 Monday
[divider]
All Positions Closed @ $73.07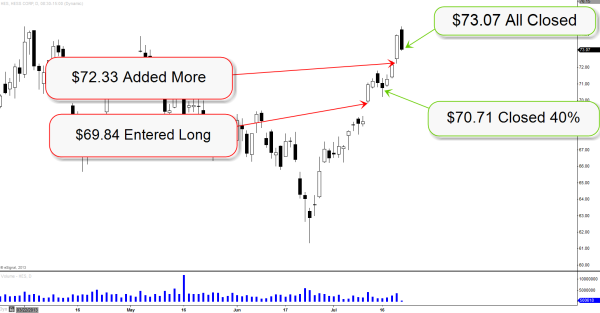 We do have Bearish Dark Cloud Cover reversal pattern at resistance so I decided to completely closed out at this level.